Update: After several weeks of permitting delays, the Meatball Shop is opening on Friday, October 19 for dinner.
All the bad "balls dropping soon" jokes aside, we're pretty excited for a branch of NYC's Meatball Shop to open in DC. The niche chain started on Manhattan's Lower East Side as a fun, moderately priced restaurant that's open late for night owls and industry folks—and they've continued the same over eight years across five locations. The 70-seat branch on 14th Street (formerly Cork Wine Bar) will be the company's first venture outside New York. 
Chef Daniel Sharp, who came to the first Meatball Shop from upscale restaurants like SPQR in San Francisco, created a few new dishes just for DC. For a starter, try Chesapeake crab balls rolled in a salt-and-vinegar potato chip crust, served with Old Bay aioli for dunking. Sharp says they're using local crab to celebrate the debut, but will likely switch to Louisiana or another domestic product to keep the cost below $10. 
The goal is to keep things casual, though Sharp uses quality ingredients like natural Angus beef and Heritage Foods heirloom pork. While steaks and chops from the same animals go to pricier restaurants, the shop's house blends utilize cheaper cuts like leg or shoulder meat. All of the meatballs are blended, seasoned, rolled, and roasted in-house.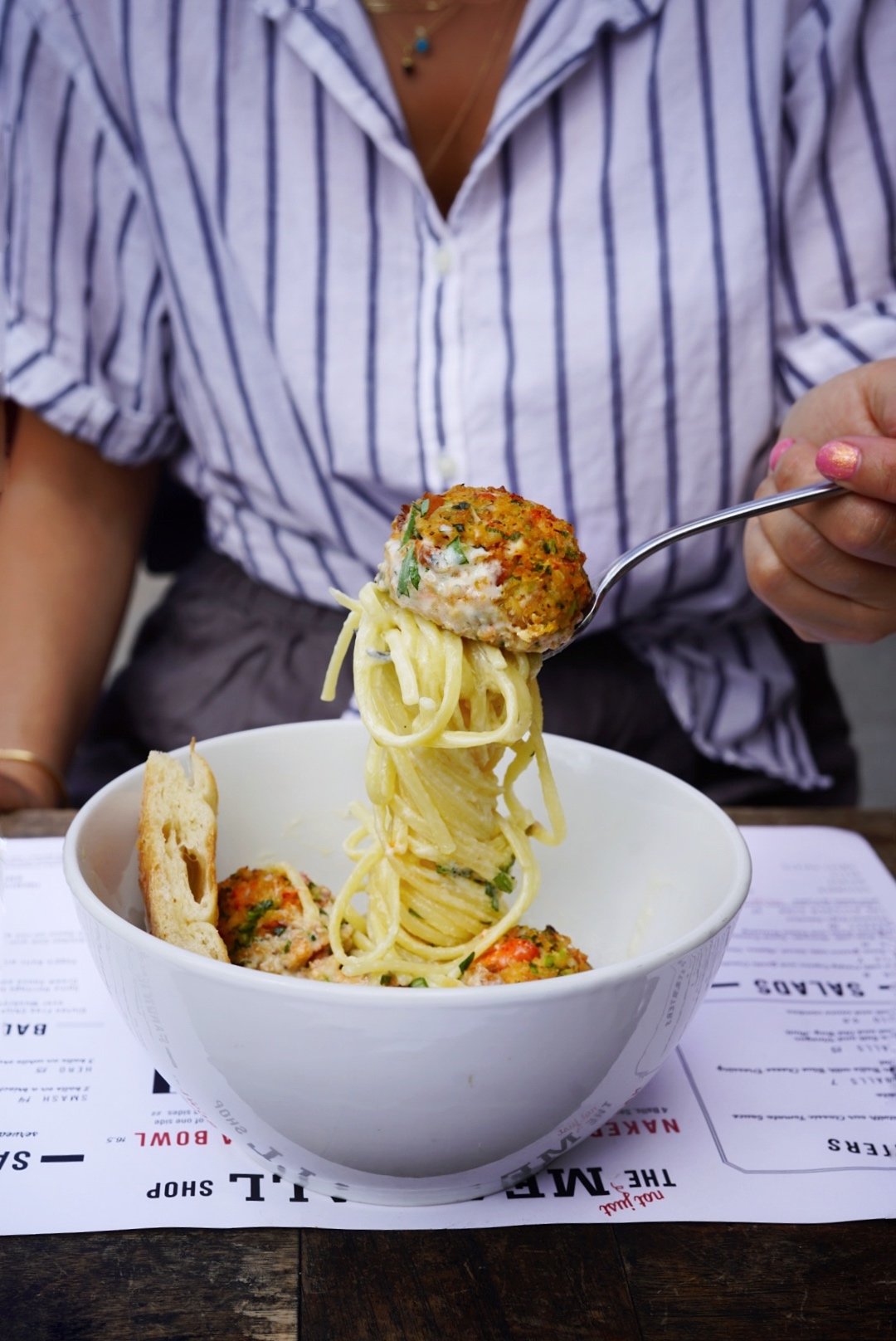 The team is also opening with two local chef collaborations: duck and foie gras meatballs from the folks at Le Diplomate across the street, and Iberico pork and manchego "bienvenidos balls" created with José Andrés (all proceeds from the $10 starter go to his charity, World Central Kitchen).
"We're just going to volley back and forth with meatballs and have some fun with it" says Sharp. In the future you may find more specials like chicken pot pie balls, pepperoni pizza balls, and the illusive ramen balls. 
Besides specials and collabs, the customizable core menu is the same as the New York locations. Patrons can mix-and-match seven types of meatballs and sauces. In addition to the classic beef or pork, there're options for vegans and vegetarians, pescatarians (lobster, salmon), and gluten-free chicken. Orders can be as simple as balls and sauce with focaccia for sopping, or more elaborate: meatballs in sandwiches, over bowls of pasta, polenta, or buttery mashed potatoes, and for the healthy-ish, salads, lentils, or roasted veggies. Entrees generally run under $21 unless you splurge on seafood. And good news for the 14th Street nightlife crowd: the full menu will be served until closing, around midnight on weekdays and 1 AM on weekends.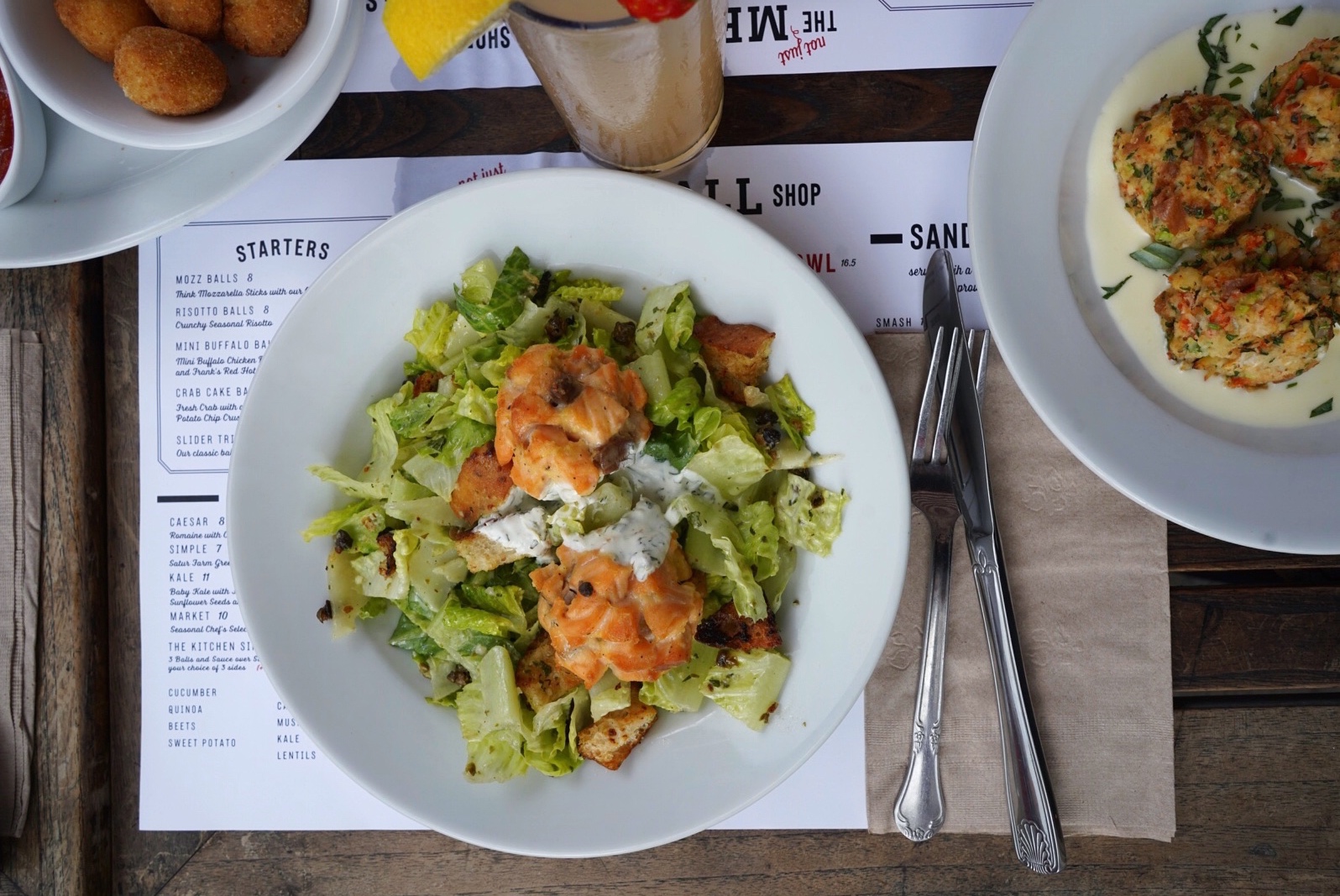 The dessert menu is also DIY, with five flavors of ice cream that can be sandwiched between different types of cookies—or for a night out, scooped into a whiskey-spiked root beer float or a Negroni affogato. The nostalgia factor runs into the cocktail menu (note the $4 Jello shots). More adult palates can opt for wallet-friendly wines by the glass, bottle, and carafe, or pick from a list of whiskeys. Drinkers can post up at a long bar, while the best date night tables are in the cozy cellar. 
Given the umpteen possible flavor combinations, there'll be some better results than others, but unless you go rogue with salmon balls and spicy meat sauce, you're in pretty safe territory.
"I generally keep the flavors in the Mediterranean region, so for the most part everything comes from the same sandbox and plays well together," says Sharp.
The Meatball Shop. 1720 14th St., NW.