These nine style-setting Washingtonians embrace the bold.
Christylez Bacon
Grammy-nominated hip-hop artist
A graduate of the Duke Ellington School of the Arts who grew up in Southeast DC, Christylez Bacon tours the world performing as a lyricist and a multi-instrumentalist—including as a beatboxer who uses his voice as a drum. He talks about his childhood and his launch into music in his Tedx Talk, "Reinventing Hip Hop."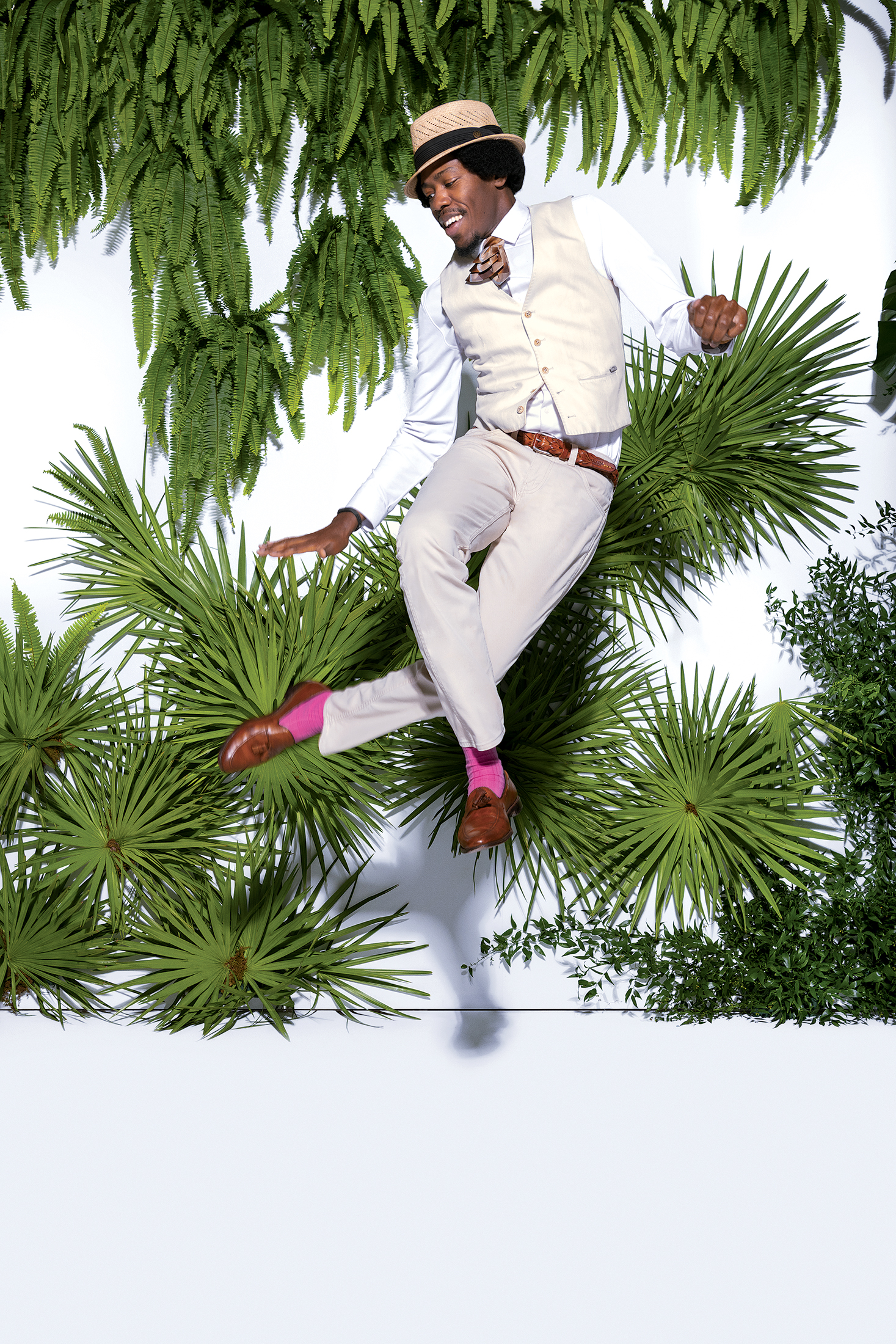 This look: "This straw hat has a special weave for ventilation to keep cool. I added the blocking to look more like a fedora. The woven leather belt is one I purchased in Brazil. I like that the white vest has pockets on both sides so I can carry whatever smaller items I need close at hand. The socks: I like to wear the color pink. In adulthood I wear it often, but it was taboo when I was kid. It's crazy that we assign certain colors to genders.  
I like the minimalist design of these shoes; I don't have to lace them up—saves me time! I can also ride a bike without problem.
A standard tie is too Capitol Hill for me. A bow tie seems too pretentious. The ascot appeals to me because it's in between. The ascots that I wear were originally designed for women, but I'm not hung up on gender norms. I like to wear the color pink."
I feel my best when I'm wearing: "Pressed clothes and shined shoes. I dress like this 100 percent of the time. I do not own T-shirts. It's simpler this way."
Style tip: "Find your courage and your own sense of style. If someone likes or dislikes your style, you can't take it personally. Your perception of yourself is what matters." 
"Start a capsule wardrobe that could last you decades instead of buying items every time there's a new trend. My philosophy is to have a modular wardrobe—everything can fit together and is multipurpose. Focus on personal style versus trendy fashion and you'll never be out of style. "
What his style says: "My Afro is the acceptance of my heritage and my natural state of being."
---
Tamika Tremaglio
Greater Washington managing principal, Deloitte
Tamika Tremaglio oversees more than 10,000 Deloitte employees in this region—while maintaining an active Twitter account and a killer wardrobe of perfectly tailored pieces and knockout shoes.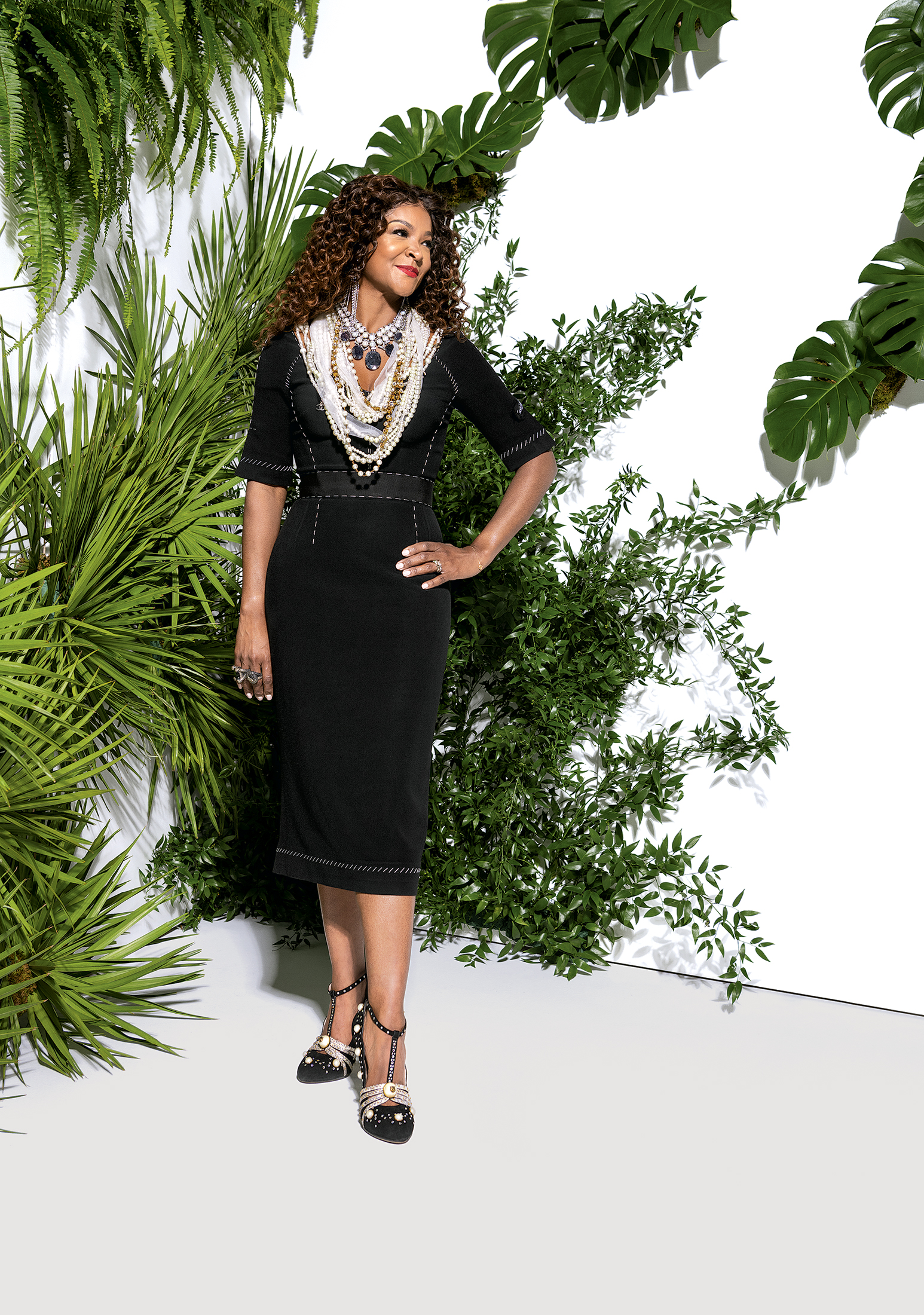 This look: "First of all, I love black. This little black dress from Dolce & Gabbana makes it easy to go from the office to an evening event—it's simple with a little detail. While these Gucci shoes may not necessarily be suitable for the office, they are among my favorites.  I keep them in my bag to spruce up an outfit if I'm headed out after work."
Style philosophy: "Quality over quantity. My mother taught me the importance of having a few really nice pieces that you can pair with other things. Plus, if you can wear it more than once in a week, you can pay a little more for it—for example, shoes, purses, a coat."
Favorite places to shop:"Doll House in Baltimore (personal shopper, Anita). Shoes at Esti's (Brooklyn; shopper, Karen). Christian Dior in CityCenterDC (shoppers, Kat and Ramez). Nordstrom in Tysons (shopper, Joyce). Net-A-Porter (shopper, Michelle Fields). Alice & Olivia (shopper, Desiree). And Lululemon."
Style advice: "Your clothes often make a statement before you do. Make sure it's the statement you want to make."
---
Ken Baker
Regional managing principal, Gensler
At six-foot-six, Ken Baker couldn't be inconspicuous if he tried. He doesn't: With Cary Grant as his fashion icon, the architect uses his eye for design to pull together a classically elegant, high-end wardrobe—think Ralph Lauren, Louis Vuitton, and Gucci.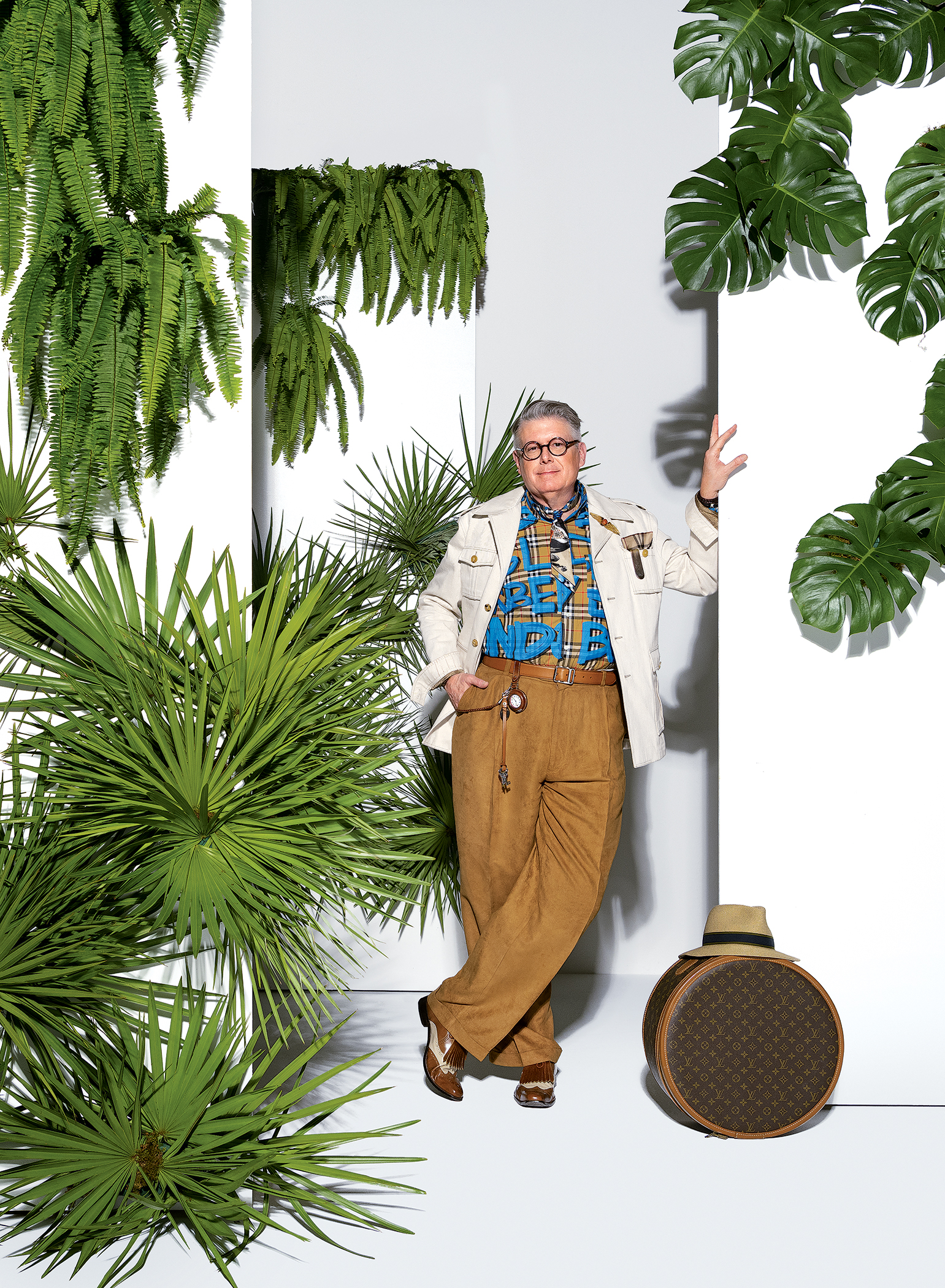 This look: "I really like the statement wide-legged pants make—it's a style making a comeback this season. The Gucci jacket gives a hint of safari to the ensemble, and the new [shirt] design for Burberry adds a fun splash of color. My style is a reflection of my passion for design. My clients have come to expect haute couture from me. If I showed up in a plain black suit, my clients would wonder if something was wrong with me."
Favorite places to shop: "I love the shops at CityCenterDC—it's about time we had luxury goods downtown."
Three closet staples: "My Hermès scarf collection, the Ralph Lauren suede jeans I have in four colors, my collection of E.B. Meyrowitz spectacles."
---
Holly Barzyk
Holly Barzyk's job managing public relations mainly for food and restaurant clients gives her freedom to wear almost whatever she wants—often, vintage finds and quirky accessories. For her, that typically translates to Asian-influenced essentials, vintage finds, and quirky accessories.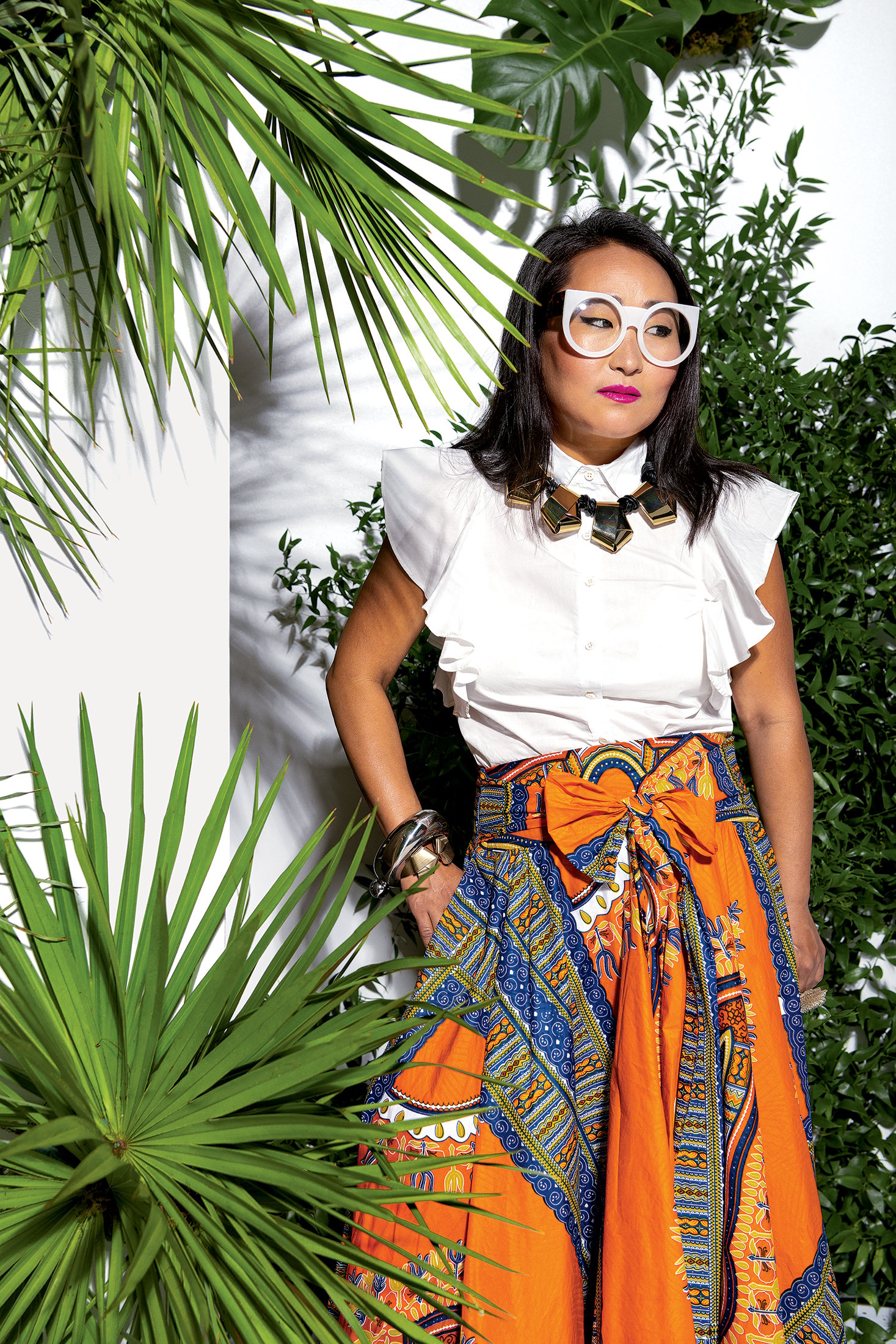 This look: "I like bold statement pieces and bright colors with classic lines. The skirt is made by a seamstress who imports stunning fabrics from Africa. I'm obsessed with well-preserved vintage clothing, and this Prada blouse has flowing, butterfly-like sleeves that I dig and an Asian feel that's representative of many staples in my closet. One bracelet doubles as a flask, and the other bracelet is a signature piece from Tiffany that I've had for over 25 years."
Style philosophy: "You are what you wear. Be anything but boring! I do also believe that the old adage 'You must suffer for the shoe' is necessary at times."
Closet staples: "Yves Saint Laurent over-the-knee boots, funky '60s and '70s designer eyewear, and a James Jean silk blouse with matching pants from Prada's 2008 Fairy Collection—one of the most breathtaking collections to grace the runway." 
Style philosophy: "You are what you wear. Be anything but boring! I do also believe that the old adage 'You must suffer for the shoe' is necessary at times."
I feel my best: "When I'm wearing all black and a badass pair of kicks."
---
Vernon Davis
Professional football player, Washington Redskins
A Super Bowl–winning tight end whose teams have included the San Francisco 49ers and the Denver Broncos, this alumnus of both the University of Maryland and Dunbar High School returned to DC in 2016 to play for his hometown team.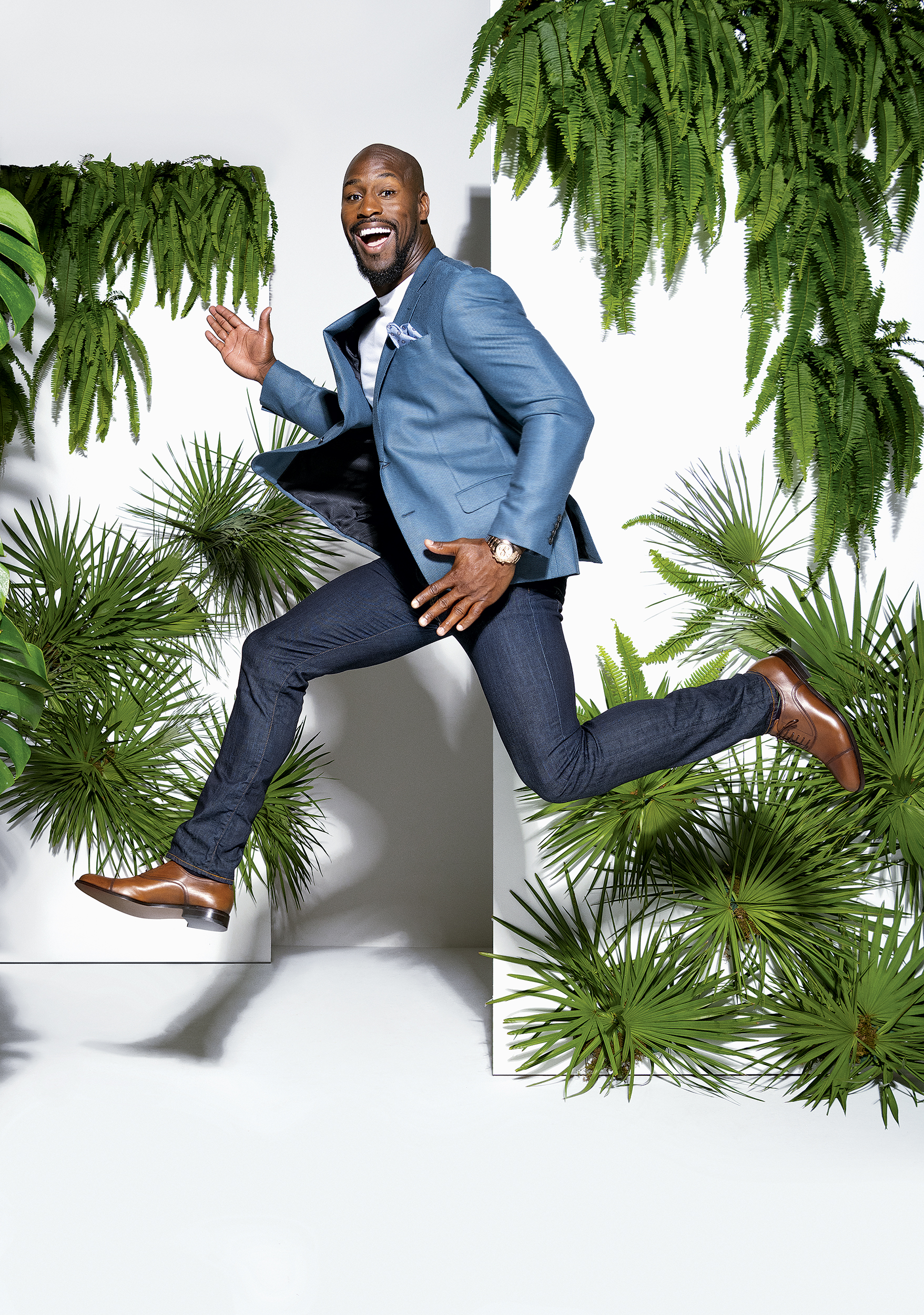 This look: "I love a nice blazer with a crisp shirt. I care about my appearance. I'm an artist. I'm not afraid of color, and I'm open when it comes to style. When you look good, you feel good—and feeling good catalyzes you to be your very best."
Favorite places to shop: Saks Fifth Avenue, Scotch & Soda.
Style philosophy: "Have a watch that coordinates with the color scheme of your wardrobe."
I feel my best when I'm wearing: "A nice pair of shoes, probably my Ballys."
Style advice: "Look at the color wheel for analogous colors and complementary colors. Those are usually colors that are meant to go together."
---
Vinoda Basnayake
Hospitality entrepreneur and lawyer/lobbyist
A DC native and Georgetown University alum, Vinoda Basnayake has a split professional life: As an attorney at Nelson Mullins Riley & Scarborough, he focuses on policy and legislation for foreign governments and international corporations. He's also the founder of Versus Equity, a lifestyle-and-entertainment company invested in venues such as Heist and Sheppard.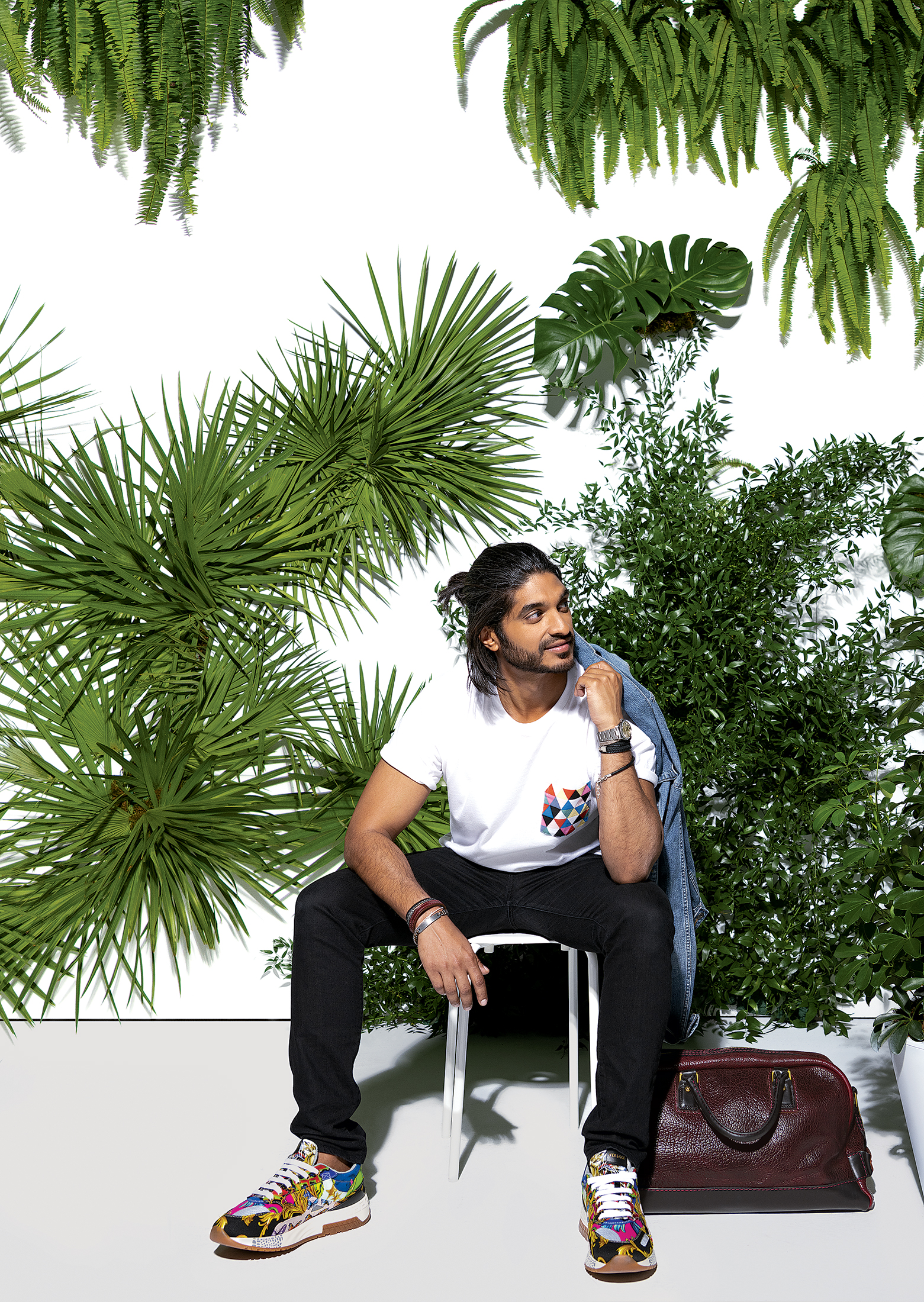 This look: "Black jeans from Rag & Bone, white tee with MoMA [Museum of Modern Art] print pocket, and Versace sneakers. A tee and jeans is my go-to for style and comfort. I add a pop of color such as the pocket on my tee. For me, what works best is keeping my style simple while incorporating edgy touches."
Favorite shops: "For suits, I love Tailor & Bond and Brimble & Clark. For daily gear, Rag & Bone, Zara, or G-Star Raw. Good style doesn't have to cost a ton of money if you invest in the right pieces."
Closet staples: "The bracelet my grandfather gave me—it's always on my wrist and is my good-luck charm. A plain white tee—if I'm not in a suit, chances are I'm in a white tee. And my Heist snapback."
DC dressing: "When I was growing up, I would take the Metro to school every morning. I remember noticing that people wearing suits looked like they were in a uniform. I'm always impressed with how much this has changed—we aren't LA, but tastefully pushing limits is becoming much more appreciated in this city."
Style tips: "Guys, invest in good accessories! A good bracelet can make an outfit stand out, and a pocket square or great cuffs can really step up your suit game."
---
Laura Ritchie
Founder of the event-planning firm Grit & Grace
Laura Ritchie majored in fashion merchandising in college. That's come in handy as the principal designer for a wedding-planning company: She uses fashion inspiration in an event's designs, she says, and dressing the part is also important.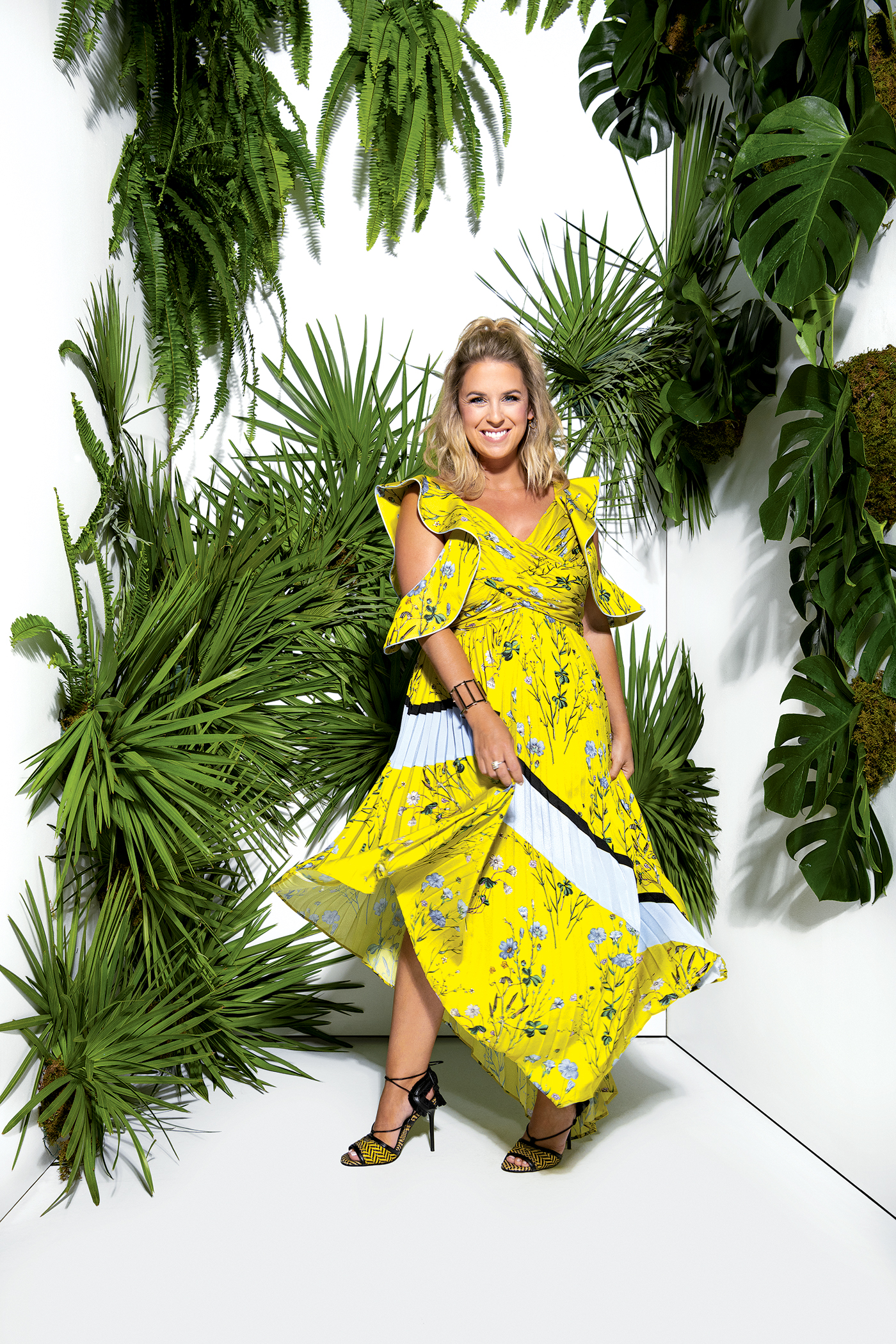 This look: "I had been eyeing the yellow floral-print Self Portrait dress for months. Yellow is a favorite color of mine since it's bright, happy—definitely a blonde's fashion friend. The fun sleeves and asymmetrical cut really speak to how I like style to be—classic with a chic and trendy twist."
Style motto: "Stand out in a crowd. I'm petite, but I always want to be memorable."
Favorite places to shop: Zara, Asos, Cusp, Madewell, Nordstrom, Topshop. "I love Athleta or Lou & Grey for casual looks with style."
Style motto: "Stand out in a crowd. I'm petite, but I always want to be memorable, not only for my outfit but for being happy, engaged, and positive. My style says that I'm creative and envelope-pushing."
Dressing down: "Black joggers with a fun, oversized sweater and slip-on bronze Vans sneakers is always a win in my book."
I feel my best when I'm wearing: "A sassy jumpsuit and a fabulous purse. I love feeling put-together in one sleek Catwoman look."
---
Barnette Holston
Social-media influencer
By day, Barnette Holston is a business analyst at National Cooperative Bank. But it's his moonlighting that captures his personality. Holston's blog, DC Fashion Fool, took off three years ago as a celebration of local fashion, and it's since evolved to a lifestyle brand. These days, he can be found just about anywhere there's a scene to be seen.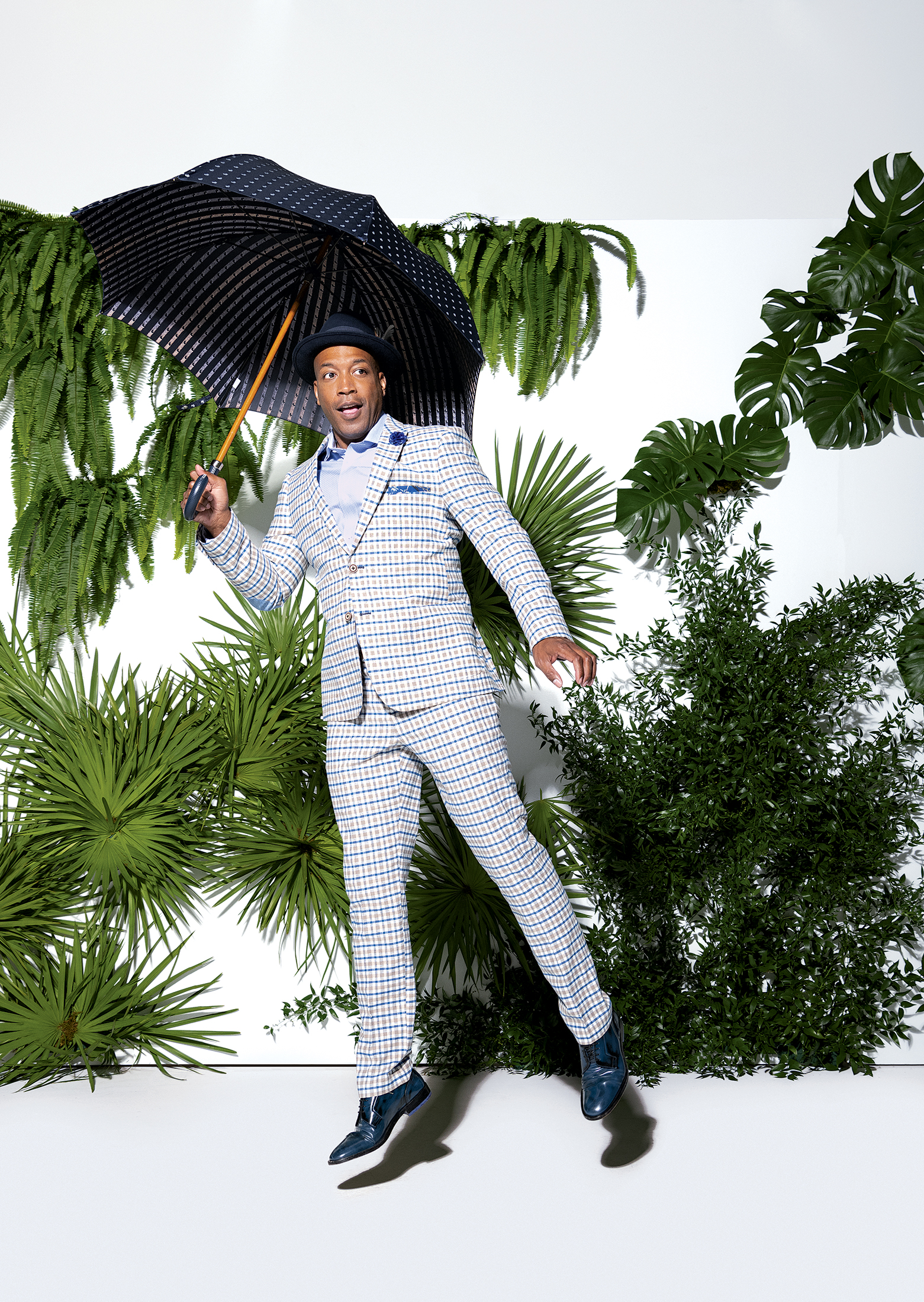 This look: "I'm a huge fan of this suit from Stitched. When I saw how bold the print was, I knew it would be fun to wear. It's still classic suiting but with an edge."
Favorite places to shop: Billy Reid, Paul Stuart, and Stitched for tailored but unique looks. Aspirationally, Gucci and Tom Ford. And Zara: "I'm also a fan of mixing high and low," he says, "such as having "fantastic Zara pieces in my Louis Vuitton keep-all."
Style tips: "Don't skimp on tailoring, and polish your shoes."
After hours: "If I'm home on my couch, it's sweats and a tee or pajamas—either way, they're going to match. That said, I may not answer the door if you visit."
---
Ascia Sahar
Social-media influencer
The mother of three is also a fashion-and-lifestyle blogger whose Instagram account, has more than 50,000 followers. Sahar blogs and keeps an Instagram journal (#wordsbyAscia) about family, faith, and her Afghan roots.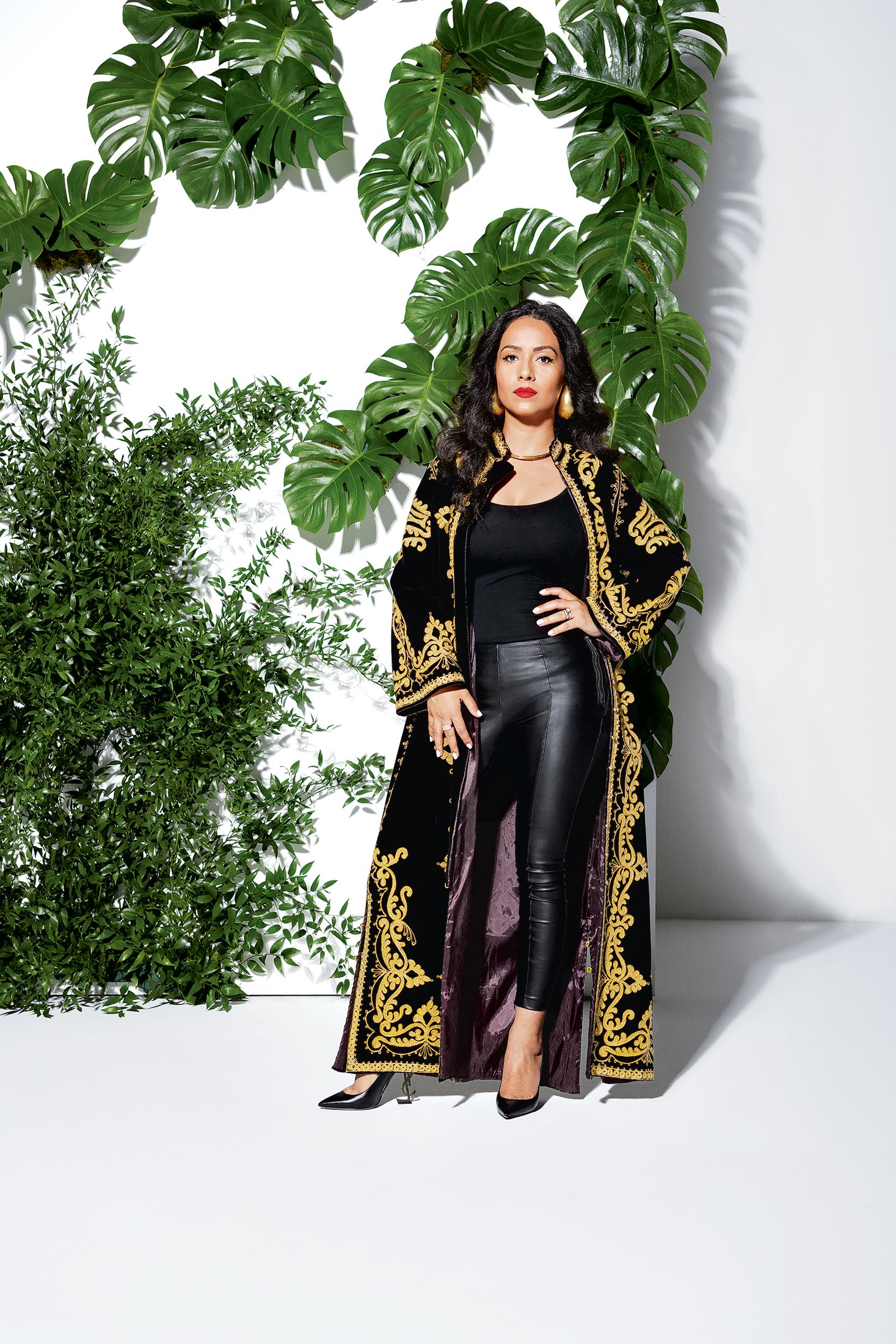 This look: "The velvet coat with gold embroidery represents so much of who I am. It's vintage, handmade, one of a kind, and from the Middle East. It holds history. It's art.  The more you look at it, the more details you pick up on. It brings my two worlds together, where I am from and where I am now. In the current fast-fashion world, it asks for a moment of pause, appreciation, and to be valued longer than just a season or two."
Favorite shops: "I love to shop at vintage stores. Anytime I travel, I research the local vintage shops and pay them a visit."
Three things she can't live without: "Although I love fashion, I consciously detach myself from material things. I understand that it's fun, yet temporary joy that things bring. That being said, I fully appreciate my vintage gold Rolex, my Geoffrey Beene vintage dress, and my recent anniversary gift from my husband, a classic Chanel brooch."
Daily uniform: "I can never go wrong with a button-down top, high-waisted jeans, and sneakers."
I feel my best when I'm wearing: "Modest clothing."
Style tip: "If you're looking for a style makeover, establish the basic essentials of your wardrobe before diving into trendy items."
Fashion Styling by Lindsey Nolan at The Artist Agency; hair and makeup by Carrie LaMarca at The Artist Agency.
This article appears in the September 2018 issue of Washingtonian.