It's a full house at Deana Fernandez's Great Falls home. She not only lives with her husband, Jorge, who works in commercial contracting and construction, and her two girls, Lily, 11, and Gigi, 10, but also a Boston terrier, two hamsters, and a pond full of tadpoles, frogs, and crayfish.
Deana, an assistant at Laura Metzler Photography and a Connecticut native, fell in love with Virginia when she went to Radford University. "Nothing beats the warmth and friendliness of the South," she says. She calls Great Falls "the perfect fit" for its small-town feel, rolling horse farms, and close-knit community.
With a clean, boho-chic feel, Deana likes to think of her home as a sanctuary. She and her husband personally remodeled the house, and it's been designed to be both beautiful and kid-friendly, with the ability to transition alongside the children as they grow up.
It's "a little country oasis away from the city," says Deana. "It's perfect for families with small children like us."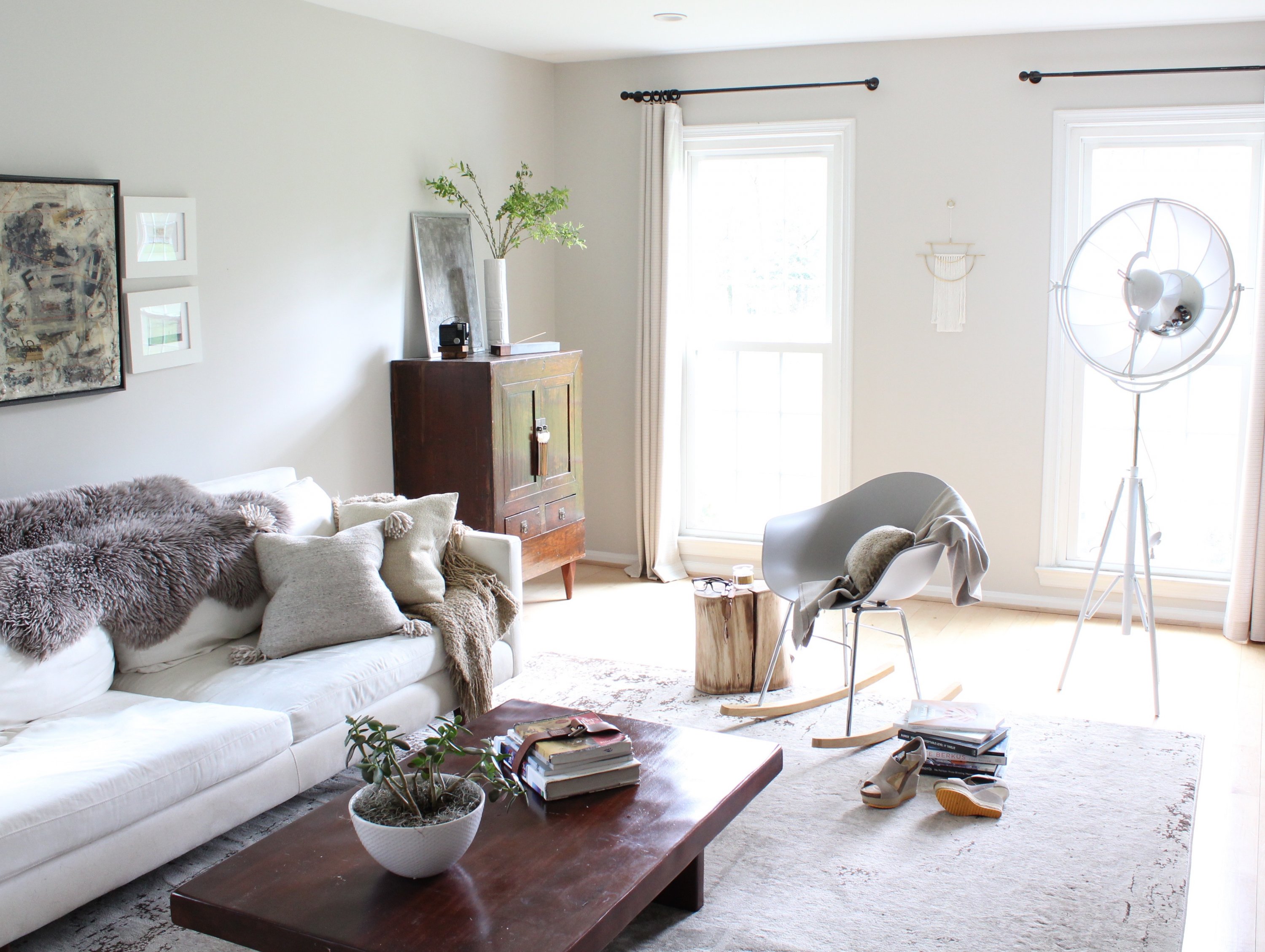 Who lives there: Deana, her husband Jorge, their daughters Lily, 11, and Gigi, 10, and their Boston Terrier, hamsters, tadpoles, and frogs.
Neighborhood: Great Falls, VA
How long they've lived there: 12 years
Approximate square feet: 3,000 square feet
Beds: Five
Baths: Three-and-a-half
Favorite piece of furniture: Her Eero Saarinen Tulip chairs, which Deana bought in her 20s when she purchased her first condo at 14th and Church Streets NW. "I spent my entire sales bonus check on these chairs, which were my first home purchase," she says. "It signifies to me finally becoming an adult and seeing one of my dreams [of purchasing a home] come to fruition."
Favorite home interior store: West Elm, Design Within Reach, Room & Board, and Industry West.
Favorite DIY: The office, which was originally a dining room covered in 1980s floral wallpaper. The couple put in maple hardwood floors, floating wood shelves, and chalkboard-covered cabinets for the kids' schedules and chores lists, with a desk and storage for each daughter. "It is a super practical and useful room now," says Deana. "I am a DIY nut."
Splurge: The honed, leather-finished soapstone countertops in the kitchen. "Thank gosh we were able to save money in other areas of our kitchen by putting up DIY floating wood shelves instead of cabinets."
Steal: The DIY floating vanity and shelves in the bathroom, which are made from a leftover piece of butcher block salvaged from a flea market for free.
Design advice: Make sure your home feels like you. "You don't have to follow the design trends or anyone else's advice," says Deana. "As long as you've created a home for you and your family, that's all that matters."
Have a house you'd like to be featured in a Look Inside My Home post? Post a picture of your space on Instagram and tag it with #WashMagHome.