You've probably heard the famous fashion rule of thumb attributed to Coco Chanel: "Before you leave the house, look in the mirror and take one thing off."
This place is the opposite. Wherever homeowner and interior designer Sara Tuttle can add color, texture, pattern, or something playful and unexpected, she goes for it.
"So much design I see now is so edited," Tuttle says. "There is appeal to having a very spare look because it is calming and soothing. But you can have a lot in your space and it can still feel sophisticated and inviting and just one of a kind."
On first glance, all the bold, saturated hues seem to dominate the living room of her Leesburg townhouse. But on inspection, you'll see that the large furniture pieces—the foundation of the space—are mostly neutral.
"Being a decorator myself, I see new things constantly and I always like things to change," says Tuttle. "I move things around all the time." Keeping the big stuff more subdued—such as the creamy, rolled-arm sofa she's owned for ten years and the pair of plush armchairs upholstered in a soft gray—allows her to easily add to and switch up the wilder accessories.
The space, though open, is divided into two distinct areas. Tuttle uses the half with the day bed as a favorite spot to nap and read with her 2½-year-old daughter. She found both the black armoire and the ornate gilded-wood coffee table secondhand. The latter—which she discovered in pieces at a "junk store"—is actually a Burmese drum.
A corner by the window felt "a little lack-luster," Tuttle says. She wanted "a dramatic moment" there that wouldn't be permanent, which led her to a pair of eight-foot-tall closet doors at Home Depot. She took them to an auto-body shop, had them sprayed high-gloss turquoise, and repurposed them as a screen.
As a statement for the opposite side of the room, Tuttle painted a piece of silk with yellow, greens, and blues to hang over the sofa.
The peacock—which is not real—came from an antiques store. "I thought it was too weird and quirky to pass up," she says. "I don't love a decorated look. I like a house to look like a collection of things found over time, which this certainly is."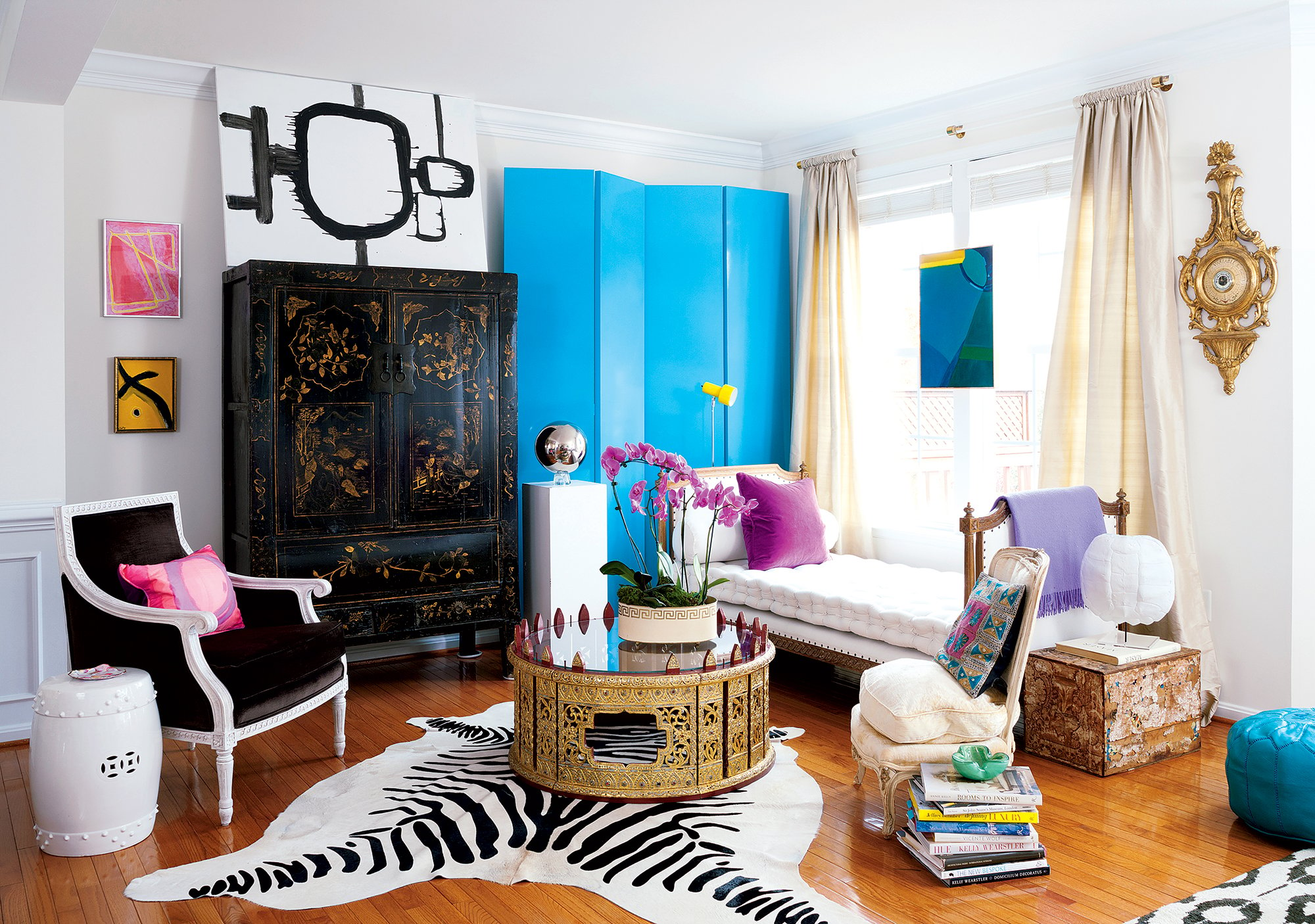 This article appears in the September 2018 issue of Washingtonian.