Plants are having a moment right now. In my neighborhood in Northwest DC, it may be harder to find a millennial apartment without a snake plant than someone with a car who can help you drive out to the suburbs to pick one up. But come this Saturday, heading out of town will be a little less necessary. Joining leafy stalwarts such as Logan Hardware and Little Leaf is plant studio Rewild, which plans to add a hands-on dimension to the traditional flower shop experience.
The founders of Rewild include Joseph Ressler, a professional poker player and current MBA student at Georgetown, Kyle Cannon, a professional daily fantasy sports bettor, Melissa Drew, a master gardener, and Lily Cox, a partner at the much-beloved Lemon Collective, an artist workshop and collaborative space in Columbia Heights.
So what exactly does an "experiential plant shop" entail? The 900-square foot storefront, which is located at the Shay (the entrance is actually on Ninth Street, next to Warby Parker), will feature a garden's worth of plant-related workshops, including a build-your-own terrarium bar. You'll also have the opportunity to pick out and pot your plants in-store, as well as to make bouquets. Of course, all of these elements are optional: Cox insists shopkeepers will be on-hand to assist, instruct, or create the goods. There will be no pressure for customers to make anything themselves. 
And yes, you'll still be able to just buy houseplants.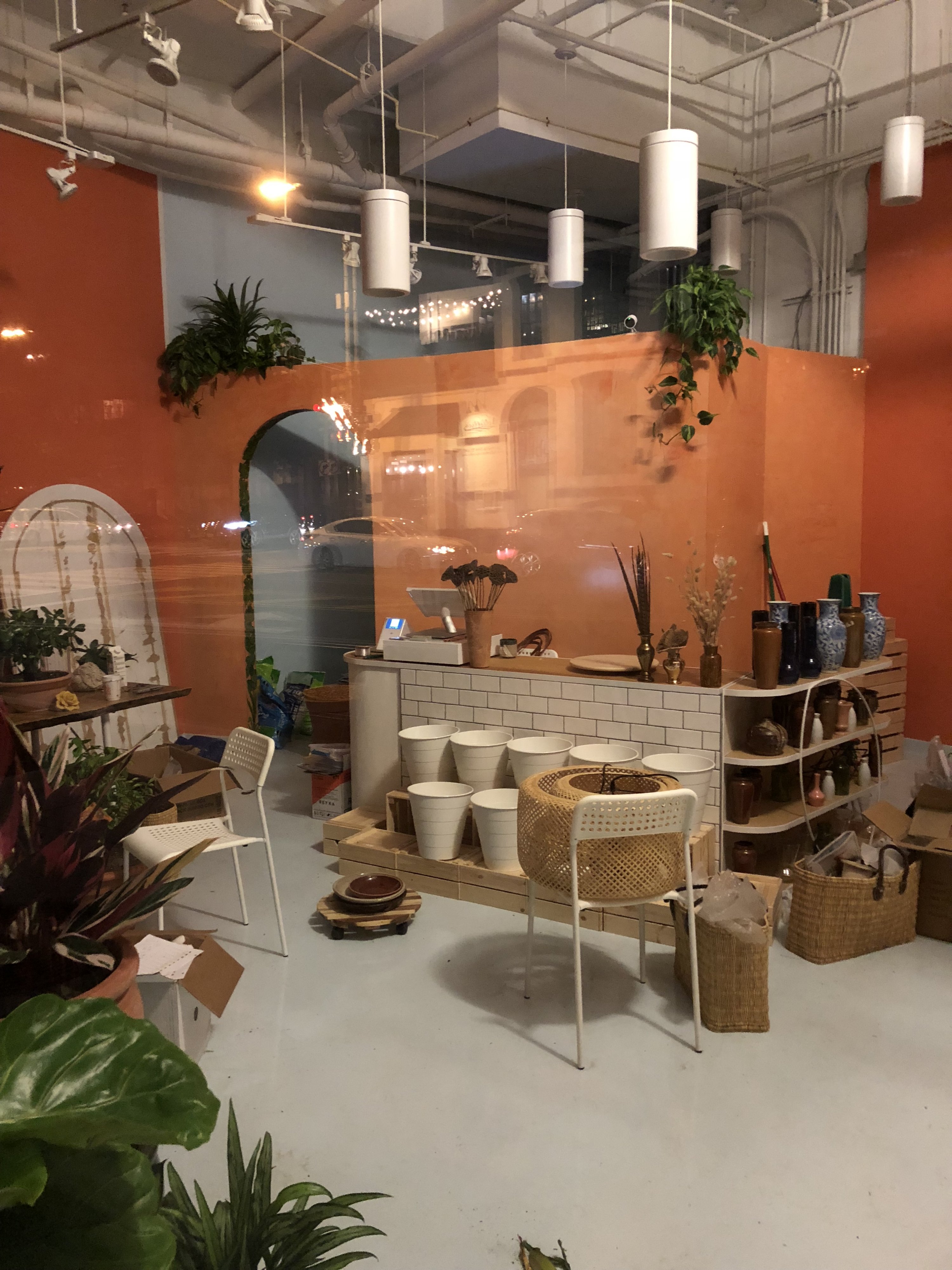 Cox was involved in the store's branding, coordination, and design, as well as developing a roster of plant-related events and activities. It was ultimately the building's roomy new space and abundant natural light—not to mention constant pedestrian traffic—that sold them on the Shay, despite its rocky retail history.
Cox was already in the plant game with her freelance company, A Strange Flower, which offered plant styling services to the DMV area. One project of hers included a huge plant installation at recently opened Gravitas restaurant in Ivy City, which required her to spend hours gluing moss onto the walls.
"What I learned as I started this career with plants and flowers, was that I got so much joy from working with the different textures and colors—working with my hands in soil," says Cox. "People go to the Botanic Garden during the winter just to be around plants. There is something about surrounding yourself with natural beauty—it energizes you and it boosts your mood. I wanted to see if we could bring that novelty to people."
The enthusiasm is shared by Melissa Drew, a master gardener and retail guru whose knowledge regarding the botany and history of plants is also expected to be a draw. "She knows everything," says Cox. "From their symbolism throughout history to the origin of all the flowers and names."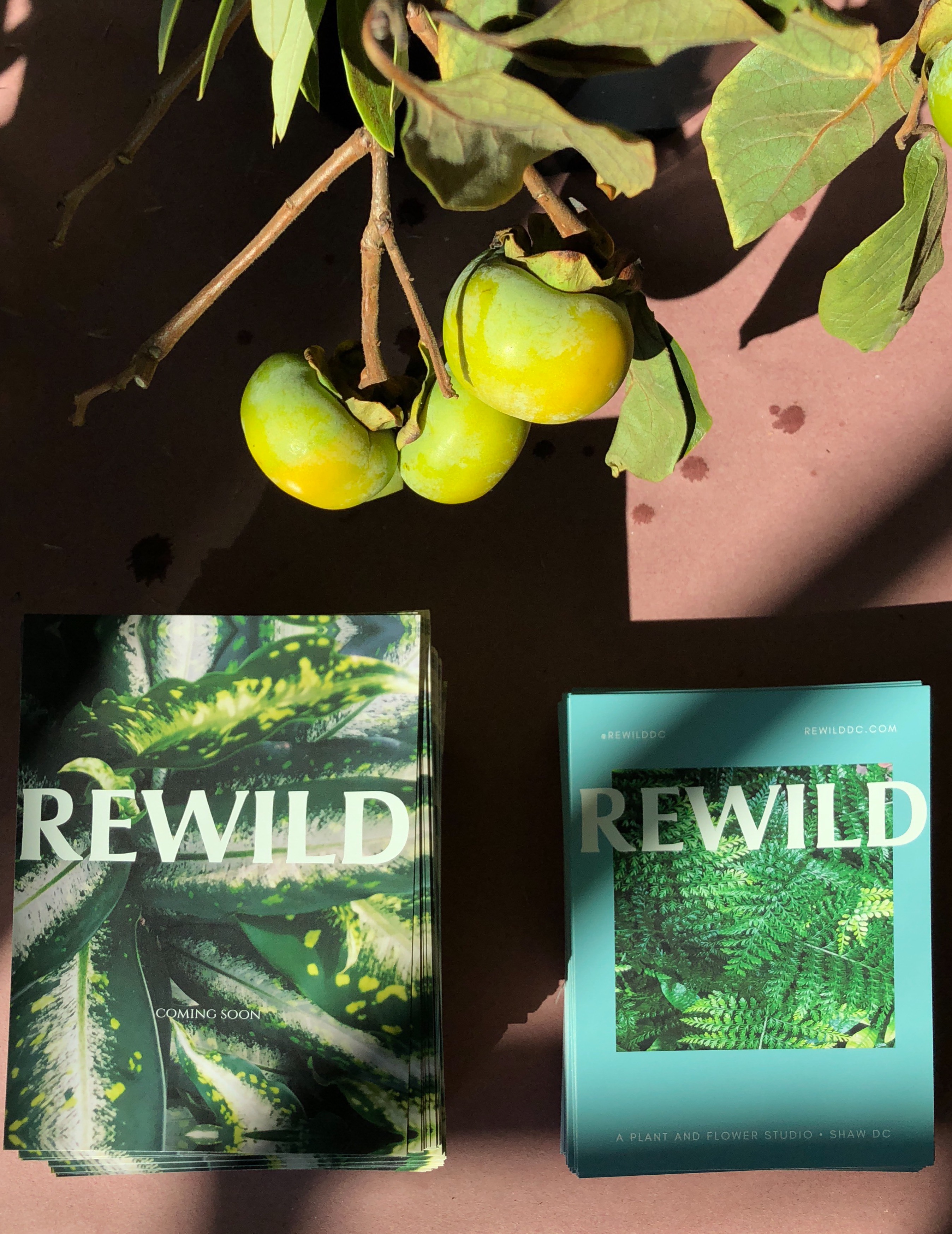 Rewild opens Saturday. Regular business hours are still TBD (they may run as late as 10 PM). The storefront, a saturated palette of terra-cotta oranges accented by deep greens and blues, was developed in collaboration with Composite Co., which did the space's branding. Other local companies were involved, too, including sculpture artist and fabricator Jordan Sanders, who made the the stunning live-edge worktable that serves as the store's centerpiece. Lemon Collective co-founder Linny Giffin will also showcase several large-scale weaving pieces on the walls. One of the main draws of the space is the workshops it offers, with tutorials for making everything from kokedama to mounted staghorns, macrame plant holders, flower crowns, and even minimalist wreaths during the coming holidays. Rewild will also sell candles, beauty products, and some stationery, and plans to stock crystals and books. Needless to say, it's all going to be very Instagrammable.
As for the name, Rewild was Cox's idea. She wanted the name to have energy, to reflect excitement about incorporating plant life into the home and city. "It's this overarching concept of actively growing life back into the urban environment," says Cox, "of making it more lush and green."
Rewild; 1924 8th St NW Suite #100; rewilddc.com; 202-981-6552. Current store hours: Monday to Friday, 10 AM-7 PM; Saturday, 11 AM-7 PM; Sunday, 11 AM-5 PM.