Sarah Beezy Keating, 27, has lived in this two-bedroom, West End apartment with her younger sister for five years—save for a span of nine months after a pipe burst in their building and flooded the unit. "I cried almost daily during this process, but I did get my dream kitchen out of it," says the digital marketing specialist of the home repair process. Not that she ever uses it: "The only kitchen appliance I cook with is the microwave for the safety of those who live in our building. I am incredible at making reservations, though!"
She says she loves their neighborhood for its proximity to Dupont and Georgetown. New additions like Blue Stone Lane and OrangeTheory don't hurt either, and she says she's never had trouble finding street parking.
When they were redoing their home, Sarah says her sister's only rule was no animal prints in the living room, so Sarah made up for the lack of punch with her Palm Springs-inspired bedroom—complete with plenty of gallery walls. "If I had to describe my style, it'd be 'frame-centric.'"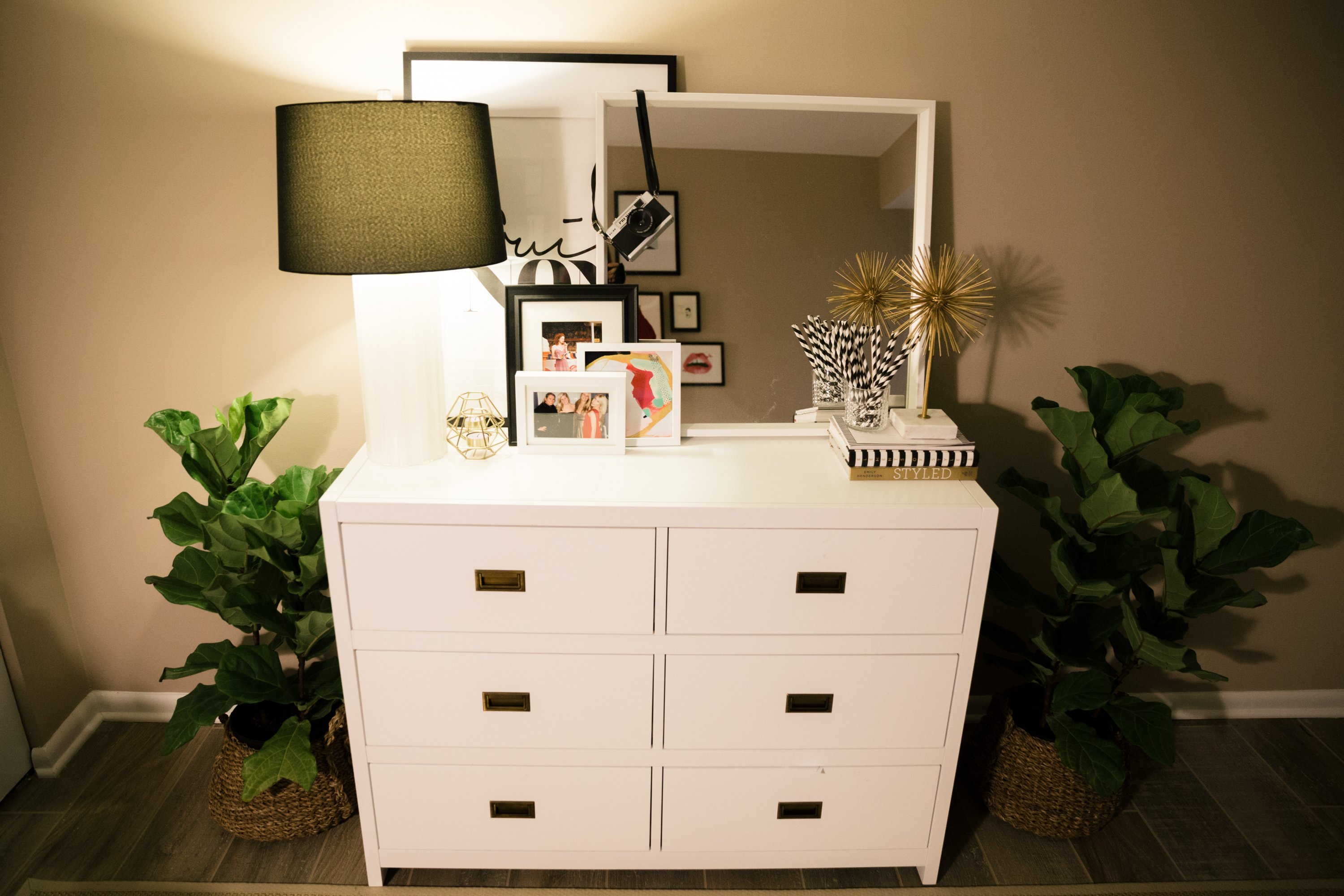 Who lives there: Sarah Beezy Keating, 27, and her younger sister
How long they've lived there: Five years
Approximate square feet: 991
Number of bedrooms: Two
Number of bathrooms: Two
Favorite piece of furniture: The palm fabric bed from Wayfair.
Favorite DIY: All of the gallery walls. Sarah frames everything, she says, and adds her boyfriend "deserves sainthood" for helping her measure and hang it all. She's framed everything from salt-and-pepper shakers to a Kanye West birthday card and book pages. "The publishing business as a whole would be aghast at how often I rip out pages from coffee table books to frame."
Splurge: The full-motion TV mount in the bedroom. "I had a vision of building a gallery wall around the TV and then having it pull out from the wall when I wanted to watch TV in bed, but the full-motion mount cost more than the television."
Steal: The Ethan Allen couch and armchair. They originally belonged to their parents, but they gave them to their daughters when they moved into the spot. "Every time they visit, I worry they are going to ask for it back because it's that comfortable. I have friends who are only friends with me for this couch."
Design advice: "If it is not alive and doesn't need an electrical socket, then frame it." (She recommends Joann Fabric for great deals on a wide frame selection.)
Have a house you'd like to be featured in a Look Inside My Home post? Post a picture of your space on Instagram and tag it with #WashMagHome.