A guide to the newest places to eat and drink.
Maketto restaurateur Erik Bruner-Yang is playing with a new concept: Yangs, a hot pot and taco spot that'll open on H Street Northeast this Friday. (If the combo seems random, albeit delicious, consider that it's located in the Impala Cantina space.) The idea came about because Bruner-Yang and Impala business partner Troy Hickman wanted to do something different for winter—the chef says if the neighborhood likes the concept, they'll keep it going.
"I feel like I always need to have something spontaneous happening," says Bruner-Yang.
At the trendy Line Hotel, the chef toys with tradition at his American-Taiwanese restaurant, Brothers and Sisters, and standing-room-only Spoken English. At Yang's, the hot pot menu reads somewhat more conventional (minus the separate option of tacos, of course). Diners  pick a base broth—a robust Chinese chicken or roasted vegetable—and then tick off items from a 40-odd list of meats, seafood, veggies, tofu, noodles, and dumplings to cook in the simmering liquid. Dipping sauces include flavors like ginger-scallion, crispy garlic-chili, and "really really hot sauce." Rounding out the options are small plates like garlic rice or fried chicken, plus a concise list of beers and wines. Maketto chef de cuisine James Wozniuk is also helming the kitchen here. 
For Impala Cantina fans, there's a separate, much briefer menu offered in the first floor bar area, with $3 street tacos (chorizo, steak), snacks (elote, guac), and no-frills drinks like Modelo and frozen margs. The area is meant to be good for a quick stop-in—or depending on crowds, a snack while waiting for one of the 50-odd hot pot seats upstairs.
Hot pot is a hot trend right now. Yang's is one of several cook-it-yourself soup ventures to open this year, including all-you-can-eat Urban Hot Pot in Rockville; a recent branch of Little Dipper Hot Pot in Fairfax; and Fuyu, a Japanese shabu-shabu pop-up opening at Whaley's mid-December.
Note: This post has been updated from an earlier version, with more information from Bruner-Yang.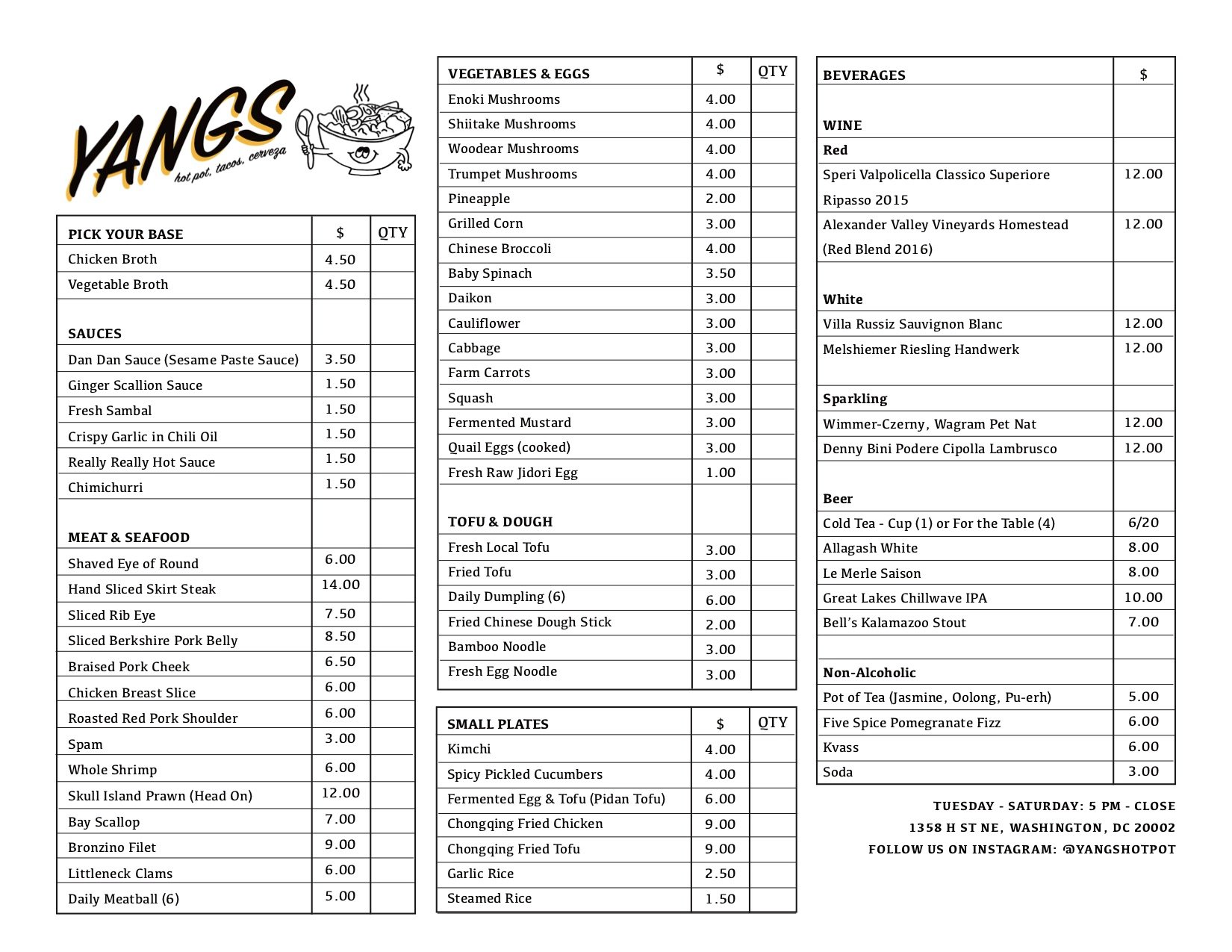 Yangs. 1358 H St., NE. Tuesday through Saturday, 5 PM to close.