Within days of the inauguration of President Trump, VolunteerMatch—an online platform pairing volunteers with nonprofits—experienced one of the busiest days in its 20-year history, with a 76-percent jump in website traffic. Financial giving in general similarly spiked, in a phenomenon that some dubbed "rage philanthropy." Organizations including the ACLU reported record single-day donations within 24 hours of the 2016 election.
Fast-forward to today. Although volunteerism is apparently still up, this year's new tax laws—which decrease incentives to make charitable donations—may curtail the small individual contributions that many nonprofits rely on. The conservative Washington think tank American Enterprise Institute predicts that total losses will be $16.3 billion to $17.2 billion in 2018.
Which perhaps makes efforts by Washington-area companies to raise awareness and encourage philanthropy even more important. Many socially responsible businesses here have made giving a part of their culture since their beginnings—and the ones we spoke with don't seem to be scaling back donations, volunteer efforts, or pro bono work.
We set out to find truly philanthropic companies in the region, with help from local sources such as the Catalogue for Philanthropy. A list of just 18 Washington companies giving back, of course, can't cover the many firms doing so much for our community. Some of the area's largest employers—including Deloitte, Ernst & Young, and Lockheed Martin—do sizable work in terms of overall donations and volunteer help. But for this list, we looked for altruistic work by local businesses of all sizes—especially those that may not make headlines.
This law firm was one of the first in the area to raise a hand when the Washington Lawyers' Committee for Civil Rights and Urban Affairs launched a program in 1979 pairing local schools and lawyers. The firm has worked with Tyler Elementary in Southeast DC for more than 20 years, raising funds to refurbish the library, installing an outdoor classroom, and sponsoring academic-enrichment programs. Newly launched programs are paying off: In the most recent school year, math scores rose by an average of 6 percent and language arts by 2 percent, according to Tyler principal Mitchell Brunson.
Before even opening in April, this urban winery and restaurant commissioned local artists to paint barrels, which were auctioned off to support youth and arts organizations. As it prepares to bottle its first vintage, the winery has already committed to give 10 percent of its production to a variety of good causes. Proceeds from the sale of Statehood Syrah and Statehood Sauvignon, launched in October, support the District's statehood effort through DC Vote. City Winery also created a private-label wine for Knock Out Abuse Against Women, which the organization auctioned off to donors. As a live-music venue, the winery hosted DC Jazz Fest's kickoff concert this past year, with proceeds going to music education. It also donated $60,000 worth of tickets for future concerts to Chefs for Equality, an LGBTQ-rights campaign.
In 2017, this 30-year-old Maryland firm gave away almost $200,000 of food and staffing—including more than $100,000 worth of gift certificates, often for school auctions. It also made cash contributions exceeding $88,000 to local nonprofits, including Phillips After 5, a program at the Phillips Collection designed to foster arts appreciation among millennials. "If our community gets stronger, we will rise with the tide," says founder and Montgomery County native Josh Carin. "At the end of the day, it's a win-win."
This health IT communications company in Rockville does the majority of its work for the National Institutes of Health and the National Science Foundation—and its volunteering similarly focuses on health and well-being, including its work with a mobile dental clinic for the Mid-Maryland Mission of Mercy & Health Equity Festival. For more than a decade, IQ Solutions has been the title sponsor for the Boo! 10K Run and Tidal Basin Walk, which helps fund kidney-cancer research at NIH. The 200-person team at IQ also volunteers at local nonprofits such as Food & Friends and Movable Feast, which both provide meals to those in need, and A Wider Circle, which supports individuals and families transitioning out of homelessness.
When Kicheko Goods founder Sarah Bayot took a volunteer trip to the Democratic Republic of the Congo in 2011 to work on a clean-water project, she saw the pressing needs related to orphaned children. Three years later, her mixed-media jewelry business—she now has a shop on the Arts Walk in Brookland—formed a partnership with Mango Tree Primary School. For each piece sold, $5 to $6 is donated to the school—and that $6 is enough to pay for a month for one student. Over the course of four years, Kicheko Goods has funded 2,500-plus months of schooling.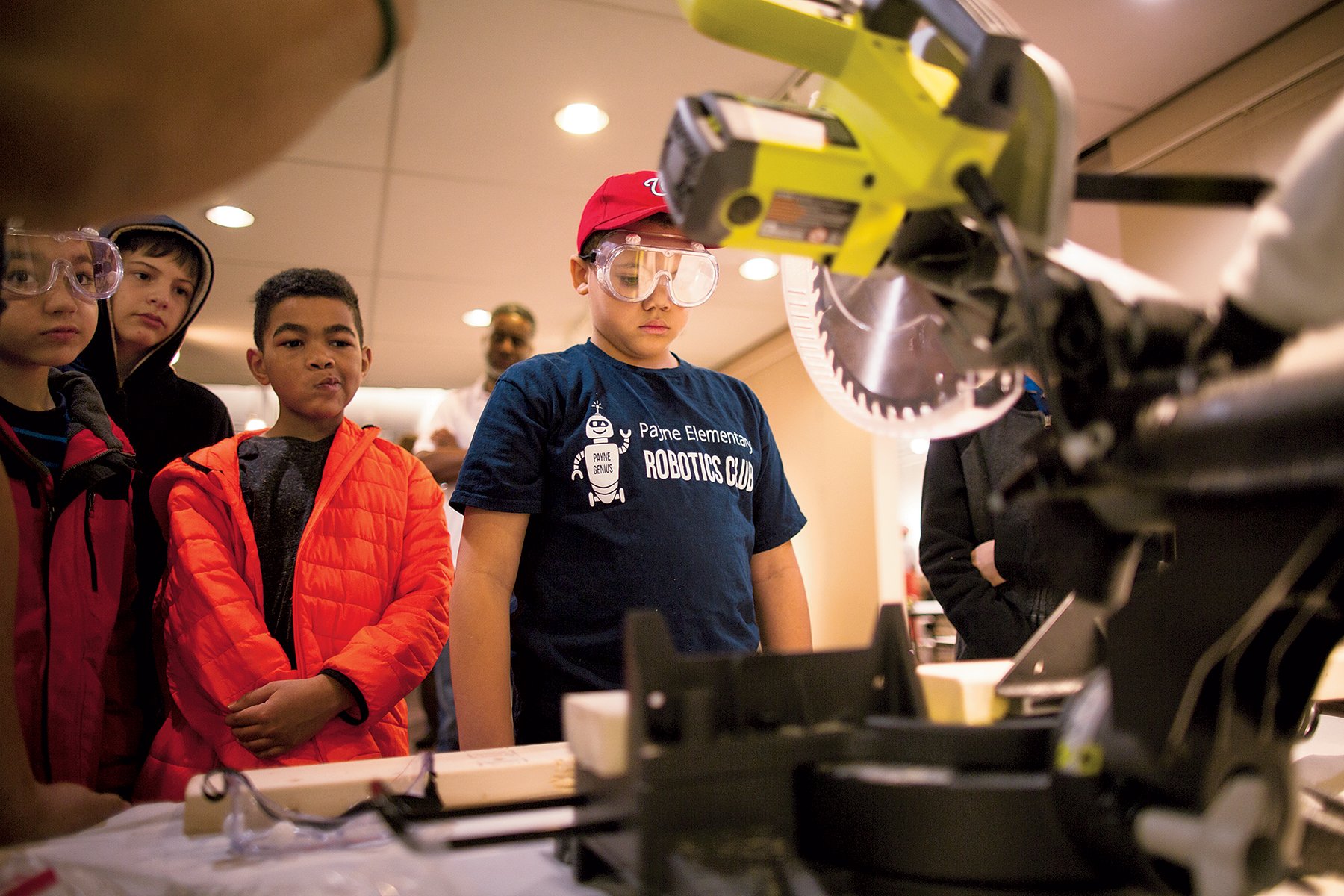 Dogs walk through the crowd at KPS's annual holiday gala clenching buckets of raffle tickets—the proceeds support Hero Dogs, a nonprofit that provides service animals to veterans. That's just one way this Reston IT and consulting firm supports veterans, in both its philanthropy and its business. Founded in 2005 by Bob Eisiminger, himself a disabled veteran, KPS donated close to $120,000 last year to organizations including the Wounded Warrior Amputee Softball Team and Fisher House, which provides free lodging near hospitals for military families. It also is a sponsor of the Redskins Salute program, which gives the nonprofit a chance not only to thank service members but also to introduce veterans transitioning to civilian life to job opportunities at KPS. "We think veterans bring something a little bit different," says Eisiminger, whose workforce is 20 percent veterans. "They continue until the mission is done and are not scared of long hours and hard work."
Each September for the past eight years, McLean Insurance—a 47-year-old firm in Sterling—has hosted a car show to raise money for the Leukemia & Lymphoma Society. It's a small office—just 18 people—but it donates more than 1,000 hours to make Carz Cruizin to Cure Cancer happen. The first car show was held to honor president and CEO Doug Megill's father, who founded the company and died from a rare form of leukemia. This year's event raised $40,000-plus, bringing the eight-year total to more than $200,000. But the company isn't done. To reach next year's goal of $50,000, it plans to host cornhole contests with local bars and restaurants.
In the last three years, this DC construction firm and its MCN Build Foundation have given more than $1 million to the community, along with volunteer help. For example, Bread for the City—which connects low-income individuals to food, clothing, medical care, and legal and social services—called MCN when its bathroom was overflowing. The Prince George's County men's homeless shelter called when its facilities needed an overhaul. When the Metropolitan Police Department was looking for a trailer for its Play It Safe initiative, it turned to MCN. Often, MCN's own employees suggest projects: After an MCN safety superintendent mentioned that Boys Town Washington DC needed an outdoor pavilion for graduations and other celebrations, the firm built one.
This 31-year-old homegrown Maryland chain, with 19 Mid-Atlantic stores, tries to make the world better by sticking to its ideals: protecting and restoring the environment. It likes to say it's an environmental company that also sells groceries. On paid volunteer days or one of 12 to 15 optional paid field trips each year, employees might tend baby-oyster cages in the Chesapeake Bay or raise awareness of climate change by shivering at the Polar Bear Plunge. On a field trip to the Alice Ferguson Foundation—an organization that supports a healthy Potomac River watershed—MOM's employees have the chance to learn how to reduce rain runoff and get a close look at solar panels; the visit often includes a trash cleanup along the Potomac. MOM's donates $500,000 annually to causes that support its mission.
NVO has donated more than $1 million to various causes, many of which have a connection to patients and their families. Dr. Zach Casagrande and his team raffled off a Jeep Wrangler, raising $158,000-plus for pediatric-cancer research and treatment. It's also the title sponsor of the Team Mathias Golf Tournament, which raises money for childhood cancer; NVO closes its offices so all employees can participate. At the Ashburn location's complimentary Cup for a Cure Starbucks Cafe, the practice donates $1 for every coffee served—which in 2017 added up to $20,000 of funding for pediatric-cancer research at Inova Children's Hospital. NVO also supports local nonprofits such as Ellie's Hats, Kyle's Kamp, and the Step Sisters, as well as local schools and sports teams. Marking a decade of giving back, the dental practice recently launched the NVO Foundation.
Since its founding in 2012, Arlington's Phone2Action has offered digital technology to connect campaigns and individuals with elected officials. Employees receive three paid volunteer days a year along with encouragement to participate in activities such as mentoring Washington Economic Club college-scholarship recipients. Cofounder and president Ximena Hartsock prioritizes bringing up the next generation of IT leaders. "Today we have a tremendous shortage in technology, and it's because technology companies are not doing enough to support the pipeline," Hartsock says. Phone2­Action, an office of just 65 full-time staffers and ten year-round apprentices, offers 30 apprenticeships each summer—teaching high-schoolers how to code and work in the field. It's not an unpaid internship; participants earn $16 to $27 an hour and are expected to work eight-hour days. Although the program initially focused on local kids—often immigrant students and those living in areas, such as Anacostia, where there's less access to opportunities in tech—it has since expanded to students from around the country.
The stylists and aestheticians at this North Bethesda salon use their expertise in hair, nails, and skin care to try to build community. They offer free services to men staying in shelters connected with the Montgomery County Coalition for the Homeless. They also provide free services to caregivers at the Children's Inn, a temporary residence for families of kids receiving treatment at NIH, and sometimes visit NIH patients unable to come to the salon. Beyond gifts-in-kind, the Progressions team encourages contributions to salon-hosted drives for food, school supplies, and holiday gift trees. Annually, Progressions also organizes and donates salon gift baskets worth an estimated $30,000.
This accounting group—now known as Raffa-Marcum's Nonprofit and Social Sector Group after a recent merger—gives its DC office unlimited paid leave for volunteering. In 2017, that meant the staff—a little more than 200 people—clocked 14,000-plus volunteer hours, at an average of almost 60 hours a person. Giving back, says CEO Tom Raffa, "is embedded in who we are and what we do." With other local business leaders, he started Companies for Causes, a nonprofit working to boost graduation rates at DC's Eastern Senior High School. Even after the merger, he says, the office will continue its high level of community engagement—which also included, in 2017, almost $300,000 in cash donations and about $2.5 million worth of pro bono work.
Fairfax may be the country's third-wealthiest county, but many residents still struggle with food insecurity, says Lezlie Strothers of Rosenthal Properties, a commercial real-estate company in Vienna since 1999. For more than five years, Rosenthal has focused its philanthropy on Food for Others. As this year's title sponsor and a race supporter for the past two years, it has donated $15,000 to Food for Others' 5K. This year, it brought the largest team to the race—40 employees and family members. The company's annual holiday food drive, which saw 100 percent of its staff donating, packing, and sorting last year, has generated more than 4,000 pounds of donated food in three years. Rosenthal team members also often participate with Food for Others throughout the year in food drives, warehouse packing events, and weekend food packs for Fairfax kids who might otherwise go hungry when school isn't in session.
The company motto of this burger-and-shake chain—"Stand for Something Good"—translates to community engagement. Although Shake Shack isn't headquartered here, each store keeps things hyper-local from the start, using proceeds from its "soft" opening to support a selected community project. The Potomac location, for example, supports the Tree House Child Advocacy Center of Montgomery County Maryland, dedicated to reducing trauma and promoting healing for child victims of physical abuse, sexual abuse, and neglect. The Columbia store supports Grassroots, which provides emergency and transitional shelter and services for those in crisis. The company's six DC stores partner with Casey Trees, which works to restore and protect the city's tree canopy. In the past year, Shake Shack supported 16 tree-planting events by sending employee volunteers and catering breakfast at each one—a total of 157 donated hours and 1,135 free meals. As if it couldn't get any sweeter, Shake Shack donates 5 percent of proceeds from its signature Pie Oh My "concrete" frozen-custard dessert to each store's local charity partner.
Since starting its own foundation, the Driver Fund, in 2016, Social Driver—a 50-person social-and-digital-media agency—has donated $100,000-plus to nonprofits. It contributes more than money; it also offers pro bono workshops—say, to LGBT chambers of commerce or the Capital Region Minority Supplier Development Council. To nurture the next generation, Social Driver offers fundraising and mentoring to LearnServe, a high-school entrepreneurship program that helps students pitch and launch projects tackling social challenges. Says cofounder and chief strategy officer Anthony Shop about employee engagement with the program: "When people are engaged in things they believe in and are passionate about, they're more in the flow with everything they do."
This national chain, headquartered in Bethesda, has given more than $100 million to charity since opening its first store in 1991. It's perhaps no surprise that Total Wine is often asked for wine-related in-kind gifts—say, private winetasting classes or even gifts of alcohol where permitted—for an auction or gala. Its most popular auction item? Wine getaways to places such as California's Napa Valley or Italy's Tuscany region. The groups the company works with, says vice president of public affairs and community relations Edward Cooper, include small community nonprofits as well as big organizations such as JDRF, which funds type 1 diabetes research.
Much of this Rockville research firm's giving aligns with its specialty areas—transportation and health. For example, its child-passenger safety techs have worked for a decade with Safe Kids Montgomery County to check the proper installation of child-restraint seats at monthly events. Westat has also supported the Children's Inn at NIH since 2008 by preparing dinners for families, sponsoring the annual fundraising event Evening for Hope, doing pro bono analysis on what NIH patients and families need, and getting together as a team to handcraft gifts for patients. (This past October, that meant creating 75 travel tic-tac-toe games.) In other charitable efforts, Westat has sponsored 40 scholars through Achieving Collegiate Excellence and Success, a program that helps high-school students not only get to college but also graduate.
Want to nominate a charitable local company for future articles? E-mail Sherri Dalphonse.
This article appears in the December 2018 issue of Washingtonian.