The first African-American painter commissioned for a presidential portrait works out of his home studio in Silver Spring. Here's what brought him there—and why he's never left.
Artist Simmie Knox considers a commission by Supreme Court justice Thurgood Marshall to be his big break. But when the Clintons asked him to paint their portraits to be hung in the White House, he thought it was a joke at first. By then, he'd already painted many other famous faces, including those of Justice Ruth Bader Ginsburg; Muhammad Ali; and Knox's childhood friend, baseball player Hank Aaron. With the Clinton assignment, he would become the first African-American painter commissioned for a presidential portrait.
While growing up in an Alabama sharecropping family, Knox started drawing as a form of eye therapy after he was hit in the face with a baseball at age 13. Following his graduation from Temple University's Tyler School of Art, he taught at Bowie State University and DC's Duke Ellington School of the Arts. At 83, he continues to work out of a two-level converted garage at his Silver Spring home. His grandkids—who have their own paint sets next to his works in progress—often keep him company.
Why did you decide to do only portraits?
The Washington area is an ideal place for a portrait painter. I didn't move here for that reason, but I was at the right place at the right time. I have been blessed with the chance to paint a lot of significant subjects. I like to show the story.
What's it like to be considered a trailblazer?
There is a quote by Winston Churchill, "Success is stumbling from failure to failure with no loss of enthusiasm." Once you can overcome the fear of failing, you'll succeed.
Being the first African-American to paint a presidential portrait is rather rewarding. That is what you hope for as an individual—that your presence will make a difference.
What brought you to Silver Spring?
We moved here in 1993 because our children had gotten to high-school age and Montgomery County had good schools. We were living in Adams Morgan before that. Silver Spring is a good location for us. There's not a lot of traffic where we live. I like to get outside with the grandkids and fly kites. I can walk around here a lot.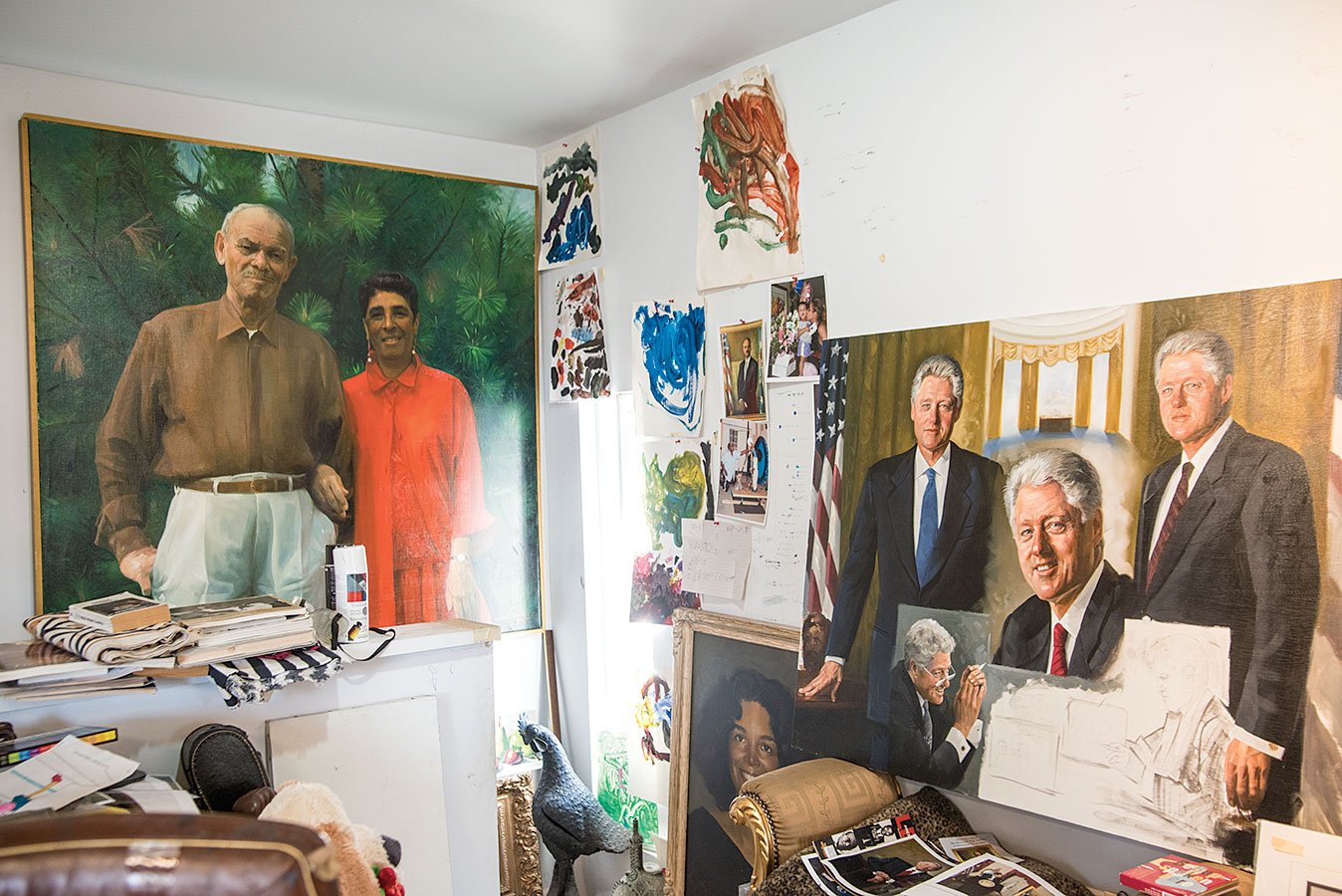 What's your favorite thing about Silver Spring?
I think it's one of the future cities of America. There's a lot of construction in downtown. It's accessible. The public transportation is good, and there are a lot of stores and great restaurants. I'm so happy that I ended up here.
What was your reaction when the Clintons called to ask you to paint them?
I said, "You got to be kidding." I thought it was a prank call. Justice Ginsburg then said, no, she had spoken with Hillary Clinton and she recommended me. The White House—that's like the Super Bowl.
How do you try to capture your subjects?
I like to show my subjects at their best. I just look at people and their gestures and capture their likeness—that is the key in portrait painting. If you don't get their likeness, then you get a painting, not a portrait.
Everyone has an opinion in portraiture. That's what I like to solicit from my subjects—how do you want to be portrayed? I'll ask the wife or the husband [about the subject]. I will include items to show in the painting—a Medal of Freedom, a book. There's always some thing or event that affected us and shaped the person we are now. I try to include that.
Have you ever turned down a commission?
No.
What would you do if Donald Trump called you to paint his portrait?
Sure, I would paint his portrait. Because I'm in the business. I mean, I have experienced discrimination. I don't like his politics. But it's not my temperament [to say no].
How long does it take you to do a portrait?
I don't put a time limit on it. If you don't do it right, you don't get it done. The best referral any portrait painter can get is a pleased client telling another friend. I'm up at 4 am working. It's a tough craft, a very challenging way to make a living. You have to give it your all. I work very hard not to fail.
This article appears in the February 2019 issue of Washingtonian.