If you're a Chiefs fan: Blackfinn
1620 I St., NW
Smells like team spirit. As the official meeting place for the Chiefs fan club, Blackfinn offers themed drinks like the "Magic Mahomes," "Marty 'Shot'Enheimer," and liquor from the J. Reiger distillery in Kansas. But don't let the flags and Chiefs-gear-clad staff intimidate you: this bar is open to all sports fans.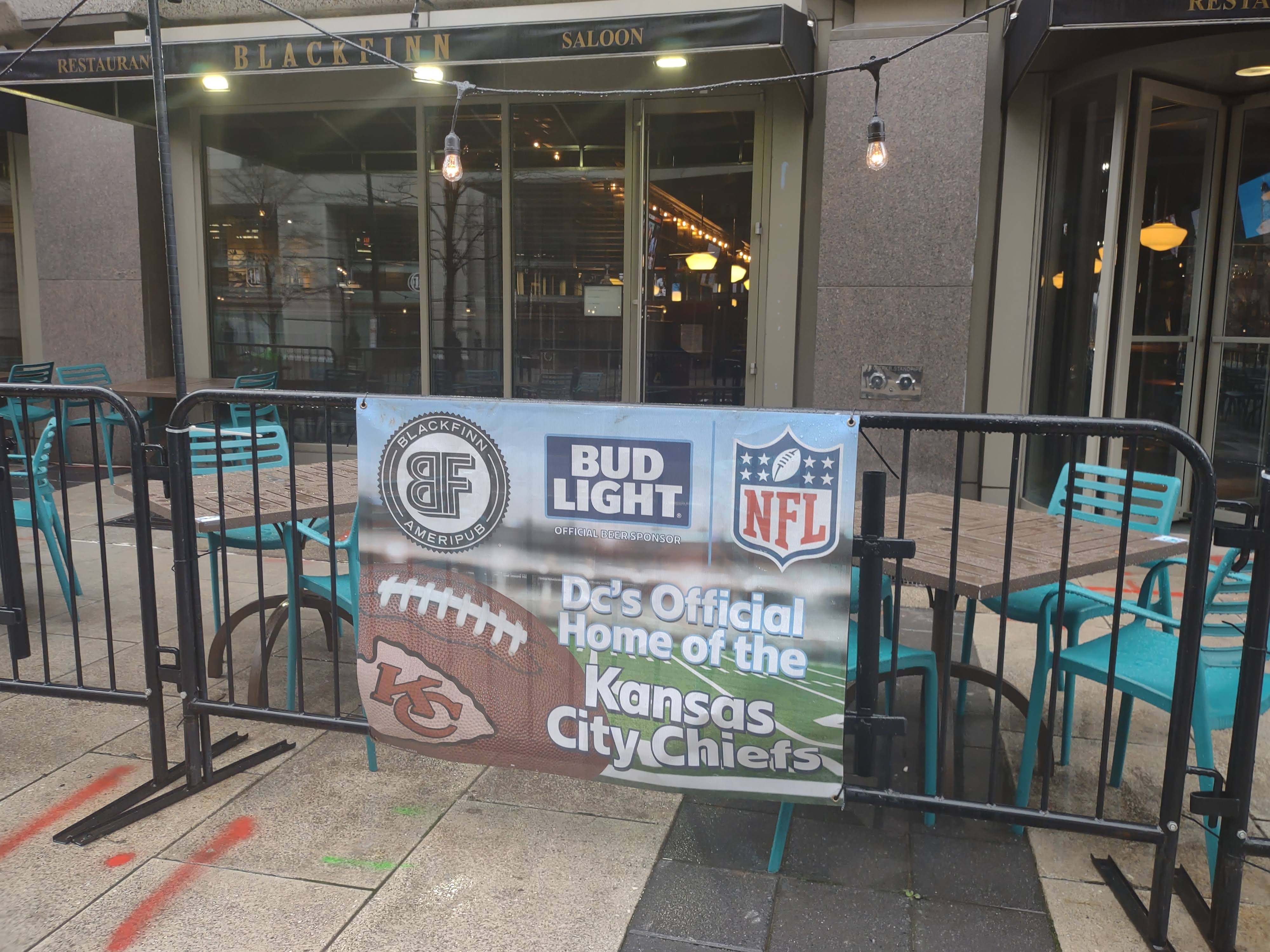 If you're an Eagles fan: Sign of the Whale
1825 M St., NW
The self-designated "#1 Philly Bar" is a go-to for Eagles fans, who enjoy watch parties there all season. Expect bar food classics and sea of green gear. Arrive before 6:30 p.m. for best seating.
View this post on Instagram
If you're still deciding who to root for: Fight Club
633 Pennsylvania Ave., SE
This diplomatic Super Bowl menu is serving up items inspired by both teams. Try a Funyun-packing Philly Style Steak and Cheese, a Kansas City CB with burnt ends, or drinks unique to both hometowns. The restaurant encourages making reservations or calling 202-885-9714 for parties of 6 and up.
If you're just here for the Puppy Bowl: Bark Social
935 Prose St., North Bethesda (within Pike & Rose); 3822 Boston St., Baltimore
Just because your dog doesn't have the chops to go pro doesn't mean they should stay home. From noon to 4, humans and dogs alike are welcome at Puppy Bowl and pre-game watch parties at both locations, which are co-hosted by Animal Planet and will offer drinks, food, and chances to win prizes. Adoption events co-hosted with local rescue groups will also begin at noon. Halftime at the Bethesda location will feature a corgi race, which is accepting sign-ups here. Reserve a spot for the watch party and related events here.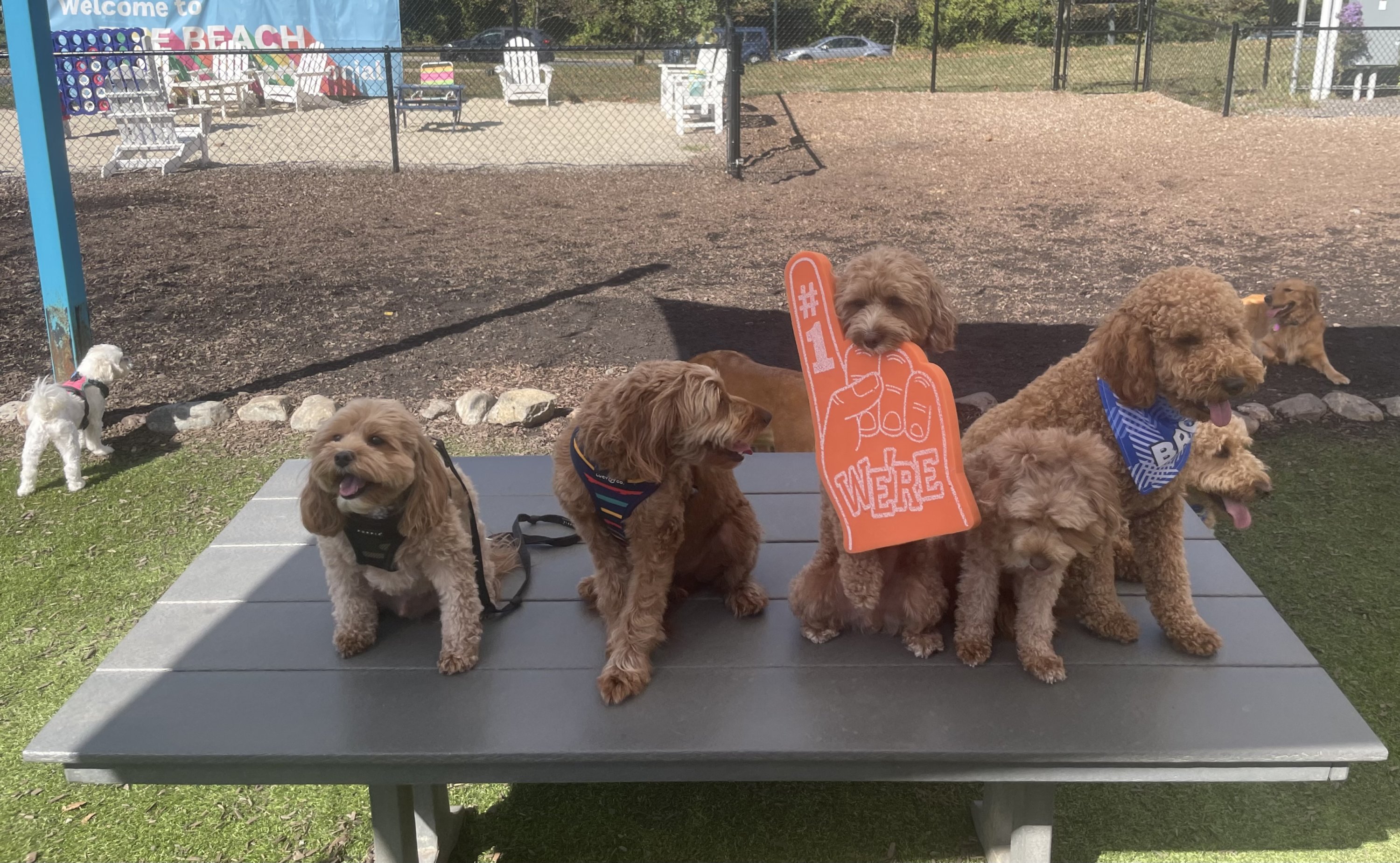 For jumbo-sized viewing: Tom's Watch Bar
781 Seventh St., NW
True to its name, this place is designed for optimum game-watching. It has three "stadium" screens and a 360-degree viewing room with personalized audio at every table and more than 120 high-definition screens. Game day will be first come, first served. No reservations.
For a storied Super Bowl dish: Stoney's on P
1433 P St., NW
Grab a bite of Super Bowl history at this 50-years-and-running institution. According to Stoney's owner Tony Harris, the restaurant's signature "Super Grilled Cheese" debuted around the time the first Super Bowl aired in 1967. Stoney's menu includes five other grilled cheese options, as well soups, salads, and an array of sandwiches.
For self-serve beer options: Walter's Sports Bar and Restaurant
10 N St., SE
As former Super Bowl halftime performer Lady Gaga says: Rain on me. With 24 self-pour beer stations on a giant beer wall and a pay-per-ounce system, Walter's offers customers a highly customized drinking experience.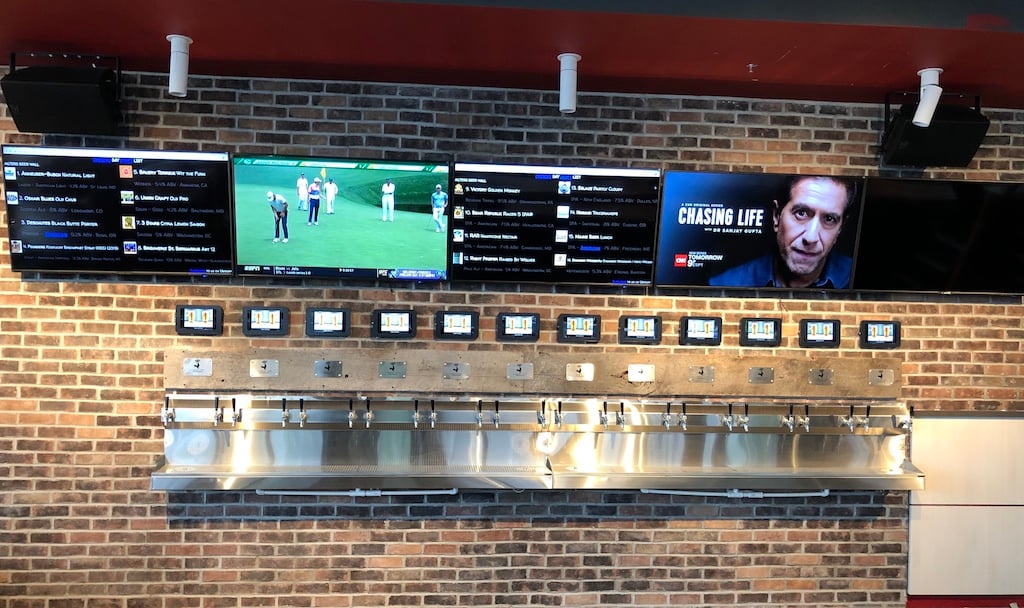 For fresh pizza: Lou's City Bar
1400 Irving St., NW
Whichever way you slice it, Lou's has something for every sports fan: The bar has 23 HDTVs, 30 beer taps, fresh pizza from their pizza oven, and a covered, temperature controlled outdoor patio.
For bar games: Penn Social
801 E St., NW
If you're not a fan of Super Bowl commercials (impossible), spend the downtime playing one of 23 games available at this massive event space. Options include ping pong, Skee-Ball, giant Jenga, cornhole, and more.
For classics with a twist: The Game Sports Pub
2411 18th St., NW
Serving Filipino-influenced bar food and more than 30 whiskeys, the Game Sports Pub provides a casual sports-watching environment with salty, sweet, and all-around decadent dishes. 
View this post on Instagram
For all you can drink: Union Pub  
201 Massachusetts Ave., NE
Starting at 6 p.m., Union Pub is hosting an all-you-can-drink Super Bowl party. For $57, customers can get select beer and rail drinks and access to the "Pub Grub" buffet. An AYCD tailgate will begin at 3 p.m. for an additional $20. Purchase tickets for one or both events here.
For the other pigskin that matters: Ivy and Coney
1537 7th St., NW
With chili dogs, Chicago-style dogs, roast beef sandwiches, and cheap beer, this Midwestern cash-only dive is the stuff of savory dreams.
For family style: Urbano
116 King St., Alexandria; 2985 District Ave., Fairfax
Sharing is caring at Urbano's two locations. Starting at 6 p.m., the restaurants will offer $6 beers, and two platters for four-to-six people: The Super Bowl XLVII Plate includes wings, quesadillas, taquitos, and nachos for $21, while the Taquito Plate includes four chicken tacos, four beef tacos, blended cheese, guacamole, sour cream, and habanero sauce for $26.
For free food: Last Call Bar
1301-A 4th St., NE
Losing is easier when you can dry your tears with free honey garlic wings. The free food begins at 6 p.m. while great drink deals kick off at 4, with $4 Miller Lite pints, $15 High Life buckets, and $9 spicy margaritas and palomas. First come, first served. No cover charge.