Waldorf Astoria
1100 Pennsylvania Ave., NW
At the Waldorf's tea room, Peacock Alley, diners gather around a large indoor cherry tree, speckled with hanging chandeliers and surrounded with garlands of pink blossoms. The limited-time Cherry Blossom Clocktower Tea Service is full of sweet, local treats with notes of cherry. (And, yes, we know: cherries are not the same as cherry blossoms.) Think cherry blossom macarons, cherrywood smoked salmon, and their special cherry blossom tea. Seatings are available on Friday, Saturday, and Sunday afternoons until May 31. Tea service starts at $90 a person; you can reserve one here.
Willard InterContinental
1401 Pennsylvania Ave., NW
Cherry Blossom afternoon tea, hosted in the Willard's own Peacock Alley, features several elegant options. For tea, guests can choose from a variety of black, green, white, and herbal teas—with such choices as cherry citrus mint, Japanese green sencha, and the signature Willard cherry blossom berry tea. Their blossom-season food menu includes smoked duck and red onion marmalade sandwiches, tomato basil tarts with mozzarella and mascarpone emulsion, cherry blossom eclairs, and more. Tea starts at $90 a person. Tea times are available on Friday, Saturday, and Sunday afternoons until April 30. You can reserve a table here.
Fairmont
2401 M St., NW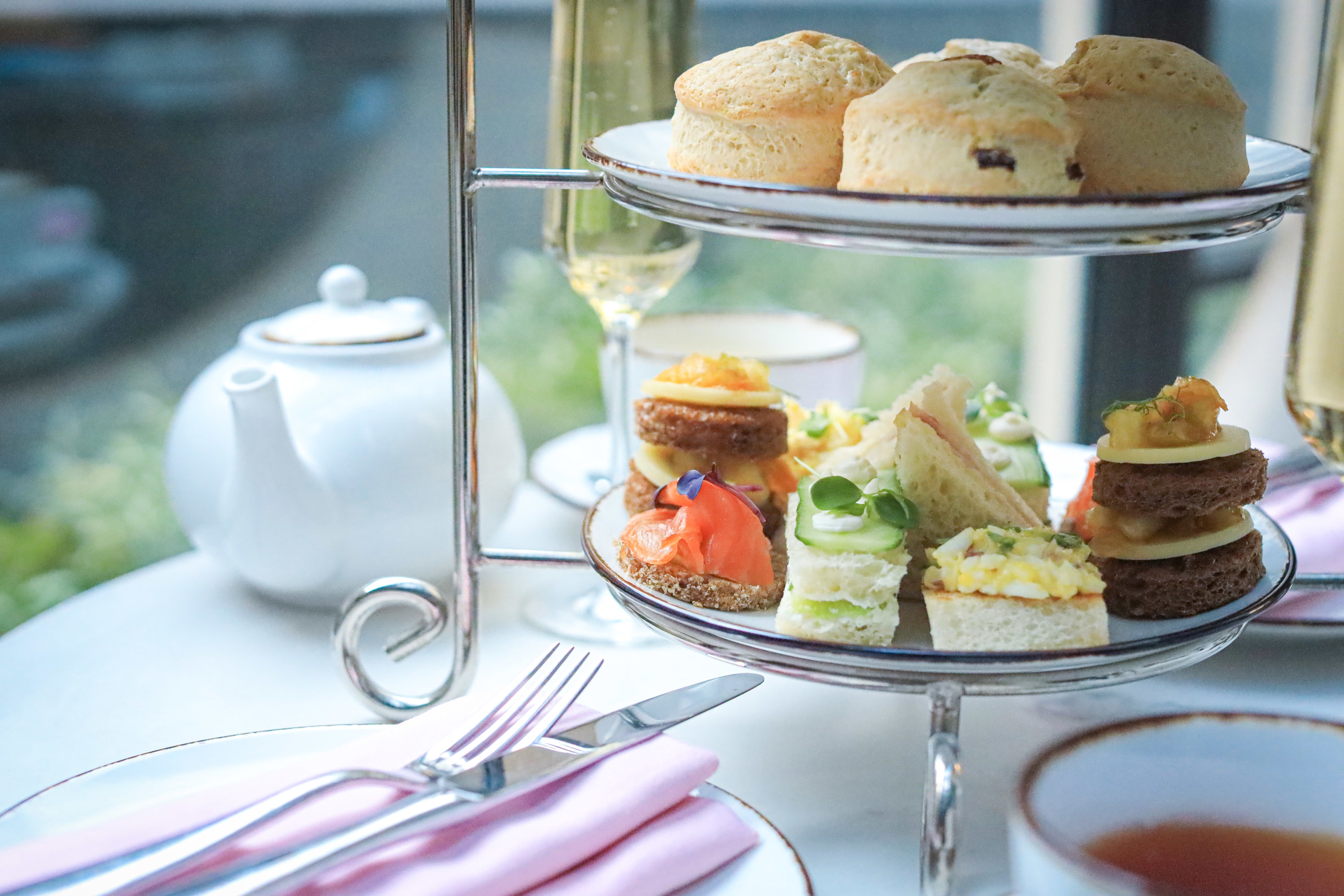 Full of savory and sweet treats, the Fairmont's tea service can be enjoyed with a view of the cherry blossom trees in the hotel courtyard. Sip on loose-leaf teas from Lott 35, including the intriguing Kyoto Cherry and Rose green tea. The service features tea sandwiches such as the pink lady apple cherry tart or curried chicken with cherry marmalade on brioche. Cherry-themed sweets include a layered cherry and champagne cake, bing cherry cookie choux, and more. Service is available Friday, Saturday, and Sunday afternoons until April 2. Tea starts at $75 a person. To make a reservation, email here.
The St. Regis
923 Black Lives Matter Plaza, NW
Each tea table at the St. Regis lounge will feature a gold cherry blossom tree centerpiece, with delicate sweets hanging in glass ornaments around its branches, and savory snacks laid across the base. Guests can sip on a luxury tea selection from Dammann Frères, including the St. Regis exclusive Cherry Blossom Tea. Plus, try their cherry blossom cocktails or champagne pairings. This seasonal tea time is available Wednesday through Sunday afternoons until May 13 and starts at $89 a person. You can reserve a time here.
Ritz-Carlton Pentagon City
1250 S. Hayes St., Arlington
This tea at Santé, the hotel's Mediterranean restaurant, has specials geared for even the youngest tea-lovers. Teddy Bear Tea, for guests ages 12 and younger, features kid-friendly bite-sized treats, a choice of hot chocolate or tea, and a teddy bear for kids to take home. The grown-up tea includes the Ritz Carlton's exclusive cherry blossom tea blend, plus warm scones and tea sandwiches. Tea times are available on Saturday and Sunday afternoons until April 16. Adults cost $75, kids $55. You can book a visit here.
Henley Park Hotel
926 Massachusetts Ave., NW
The Henley Park will offer a cherry blossom tea in its restaurant, the Tavern, for the next several weeks. The seasonal menu includes finger sandwiches, scones, macarons, berries and cream, a glass of champagne, and cherry blossom tea. The special menu is available every afternoon until April 9 for $70 a person. You can reserve a table here.
Watergate Hotel
2650 Virginia Ave., NW
At the Kingbird restaurant in the Watergate, you can enjoy a fun cherry blossom tea, with glasses of champagne served with cotton candy and seasonal treats. Pair your scones with signature Kingbird jam, or try their fruit tartlettes along with limited-time Sakura Kyoto Cherry Blossom tea. The seasonal tea is available Saturday and Sunday afternoons until April 30. The tea is $75 a person; you can reserve here.
Opaline Bar and Brasserie
806 15 St., NW
The French restaurant's afternoon tea, Le Goûter, has a seasonal cherry blossom theme every Saturday afternoon through the end of April. Try the sweet white forest cherry cupcakes or cherry frangipane tarts. For something savory, explore the smoked salmon and leek quiche or the croque-monsieur. While there are several tea options, try their Kyoto Cherry Rose organic Blue Nile chamomile if you'd like to stick to theme. The tea is $65 a person; you can find more details here.
Salamander DC
1330 Maryland Ave SW
Sip tea while looking out on the garden terrace. Pastry chef Lasheeda Perry's menu features seasonal treats such as cherry blossom macarons, strawberry sake cream puffs, and matcha raspberry crepe cakes. Try the desserts with Japanese-inspired finger sandwiches and cherry blossom tea. The afternoon tea is available until April 16. Services start at $95 per person, reserve your spot here.
---
---