Cherry blossom peak bloom was just announced for March 22 through 25, but there are already a ton of cherry blossom food and drink specials. It feels like every DC bar, restaurant, and hotel gets in on the action—meaning a spring fever-dream of pink drinks, maraschino-dotted desserts, and other things no one wants to consume.
That said, not all cherry blossom specials are lame! A native Washingtonian's general rule of thumb:
Nay: Maraschino cherries (toxic dye, yum); pink or red food coloring; sugary cherry syrups; things that taste like grandma soaps; corporate overlords looking to cash in.
Meh: Luxardo cherries and Maraschino liqueur. What do you think this is, Abruzzo in June? Save it for the Italian cherry festival.
Yay: Japanese dishes and drinks that nod to the blossom's heritage; sakura (salted cherry blossom petals) as an ingredient; sake and sochu tastings; immersive menus; cool collabs; specials with views of actual cherry blossoms.
Here's a running list of specials worth checking out, which we'll update throughout cherry blossom season.
Katana Kitten x Silver Lyan 
900 F St., NW (inside Riggs Hotel)
When: Monday, March 27 through Saturday, April 1 (tickets on sale now)
Two globally celebrated bar talents are teaming up for a cherry blossom-themed pop-up in Penn Quarter. Masa Urushido, owner of NYC Japanese-American cocktail bar Katana Kitten, and London-based Ryan Chetiyawardana (a.k.a. Mr Lyan), will collaborate for a second year at Silver Lyan. Guests can reserve a "hanami picnic" that includes a bento box with sweet and savory snacks and cocktails like a cherry blossom spritz (tickets are $85). There is also a special a la carte menu of snacks and creative drinks like the Hibachi Highball (Toki whiskey, white miso, chrysanthemum soda, and "volcano bitters"), and the Mochi Martinez  (Roku gin, matcha blanc, almond, sushi rice and cedar).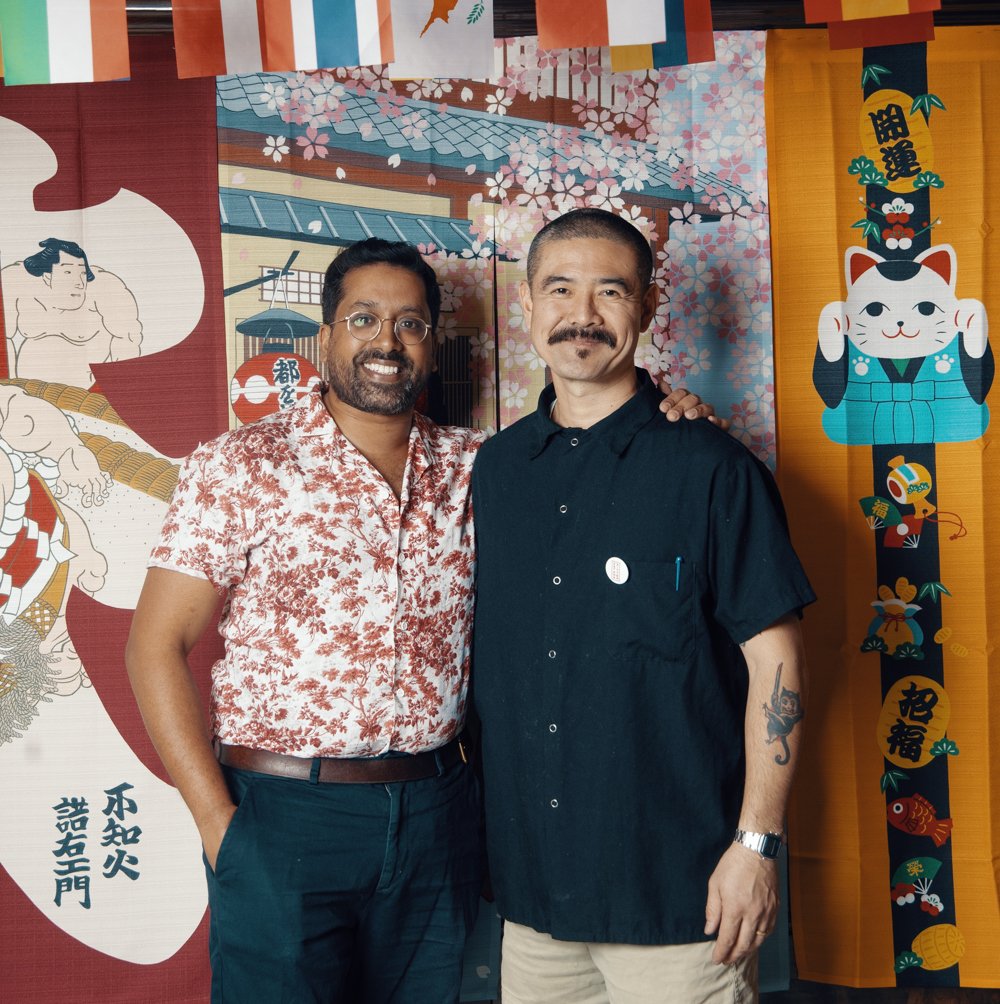 Winter in Tokyo Menu at Captain Gregory's

804 N. Henry St., Alexandria
When: Now through Sunday, April 30
The Old Town speakeasy—located behind a secret door in a Sugar Shack Donut shop—is celebrating the Japanese origin of the cherry blossoms with a "Winter in Tokyo" cocktail menu starring Japanese spirits, flavor profiles, and citrus. Reservations are encouraged.
Cherry Blooms at Wilson Hardware 
2915 Wilson Blvd, Arlington
Wilson Hardware goes soft for spring with a garden terrace and rooftop bar decked out in pink blooms. Refreshing drinks ($12-$13) like a Garden Spritz—made with gin, pear puree, and prosecco—or a Margarita splashed with rosé nod to the season.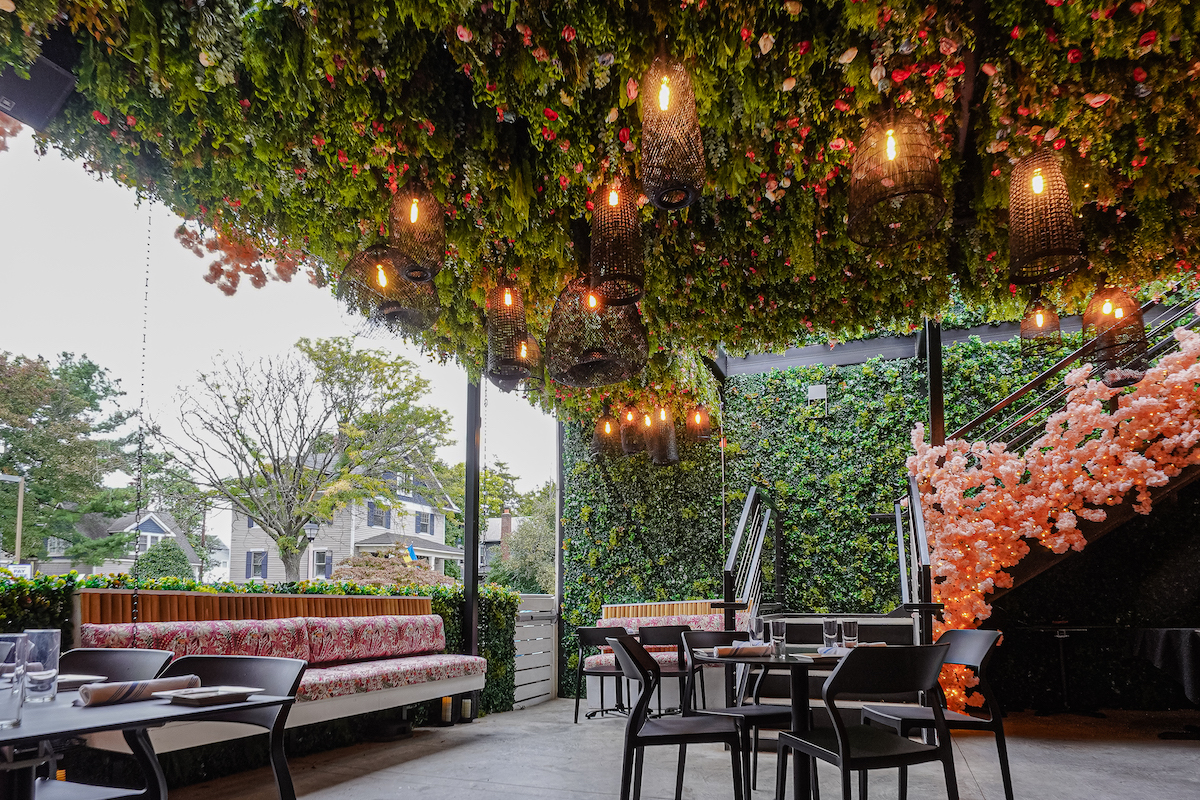 Cherry Blossom Party at Lost Boy Cider
317 Hooffs Run Dr., Alexandria
When: Friday, March 10 from 6 to 9 PM
The Alexandria cidery is releasing a limited-edition cider with Japanese cherries, Shenandoah apples, and jasmine flowers—plus they'll have sake tastings for the event. Party-goers can expect blossom-themed décor, a performance from traditional Japanese dancers courtesy of the Regional Onoe Schools of Dance, and more activities.
Miss-En-Place Cherry Blossom Dinner at Estuary 
950 New York Ave., NW (Inside the Conrad hotel)
When: Monday, March 20 at 6 PM
Estuary chef Ria Montes teams up with Masako Morishita of Japanese restaurant Perry's for a four-course dinner with sake pairings by Reiko Hirai of DC Sake Co. A portion of the ticket sales will benefit Posh Pack, an organization that provides students with feminine hygiene products. Tickets are available here for $125 per person. While you're at the hotel restaurant, stop by the Conrad's art installation—a partnership with DC's Heather Cooper (former Resident Artist and Designer at the White House). She's created an piece with 4,000 silk flowers woven into the metal veil in the hotel's third-floor atrium.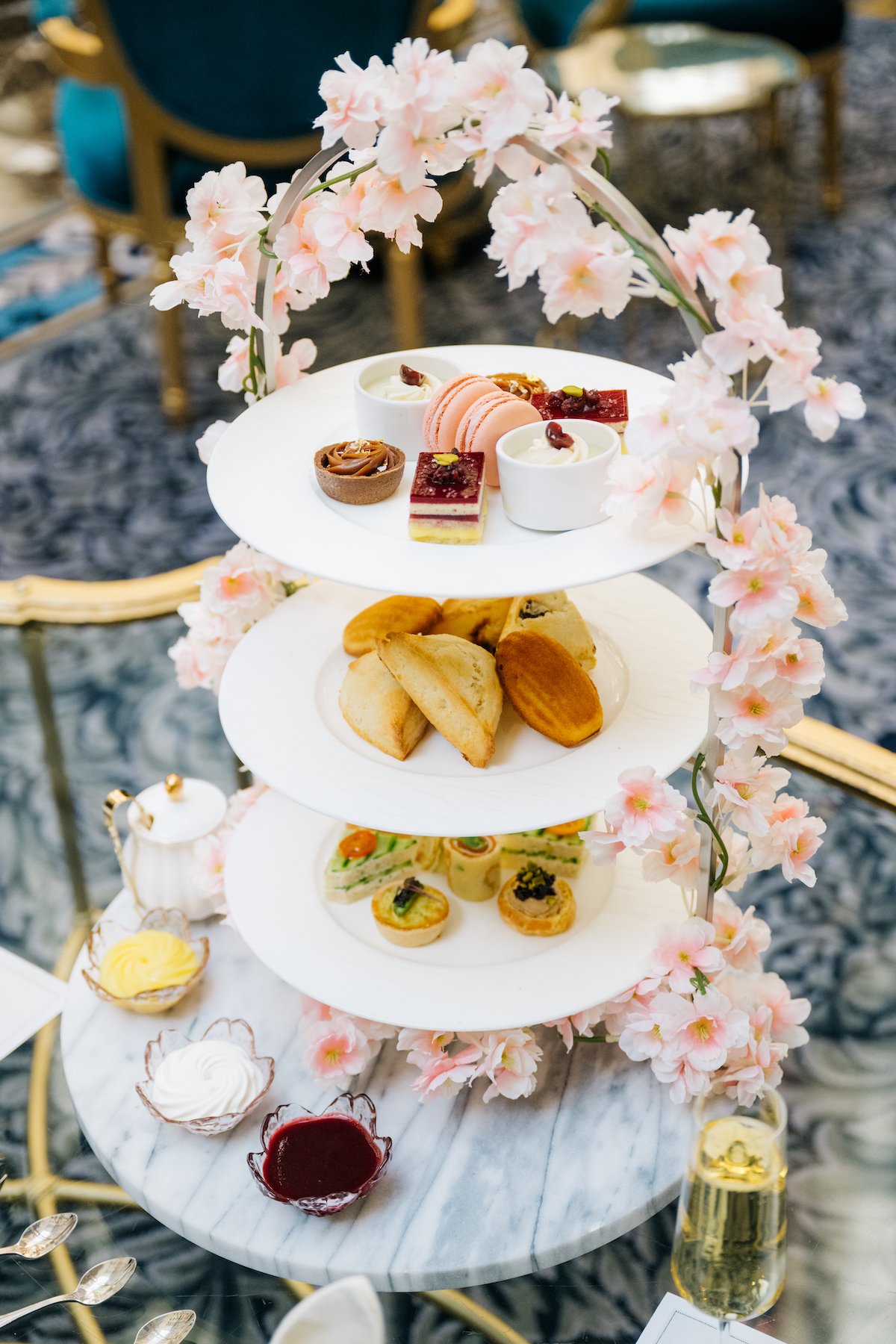 Cherry Blossom Tea at Waldorf Astoria 
1100 Pennsylvania Ave., NW
When: Starting Friday, March 17 (Friday through Sunday)
Sure, cherry blossom teas may dabble in theme-y cherry foods. But let's be real—those little tea cakes are delightful and we'll allow it. Cherry blossom tea service in the new Waldorf's Peacock Alley mixes savory and sweet treats like shaved-asparagus quiches, foie gras mousse, orange-cherry scones, and local macarons ($80 per person, or $95 with Champagne). Reservations can be made here.
Cherry Blossom Tea at the Salamander DC
1330 Maryland Ave., SW
When: Friday, March 10 through Sunday, April 16
Visiting pastry chef and Food Network alum Lesheeda Perry is behind the sweets and savories at the new Salamander DC (formerly the Mandarin Oriental). The afternoon tea service—which can also be packed to-go in a cherry blossom picnic basket—includes a glass of bubbles and a Japanese-influenced menu of bites like tea-smoked-duck-and-foie tartlets, strawberry-sake cream puffs, purple milk buns, and more. Optional add-ons include Petrossian Caviar and Dom Perignon. In addition to being a short walk to the Tidal Basin, the hotel also grows cherry blossom trees in its garden, where guests can take tea. Reservations ($95 per person) can be made here.
Sip and Paint at Moonraker 
655 Water St., SW
When: Saturday, March 25 and Saturday, April 1
The rooftop terrace bar at the Wharf's new Pendry hotel offers bird's eye views of the blossoms around Haines Point. It's hosting two sip-and-paint sessions (one hour each, with seatings at 3 and 4 PM) with local artist Samantha Testa of Right Place Studio. Guests will be guided through a cherry blossom painting experience while sipping a cocktail with gin, yuzu, Luxardo cherry, and egg white. Tickets are $50.
Cherry Picks Bar Menu at Cranes
724 Ninth St., NW
Chef Pepe Moncayo's Michelin-starred "Spanish kaiseki" restaurant is participating in the Cherry Picks Festival with an enticing three-course menu ($55 per person), only available at the restaurant's bar. Japanese-influenced courses include a torched wagyu short rib, smoked salmon rice with ikura and snap peas, and citrus cheesecake with matcha ice cream. Add an optional cherry blossom cocktail with sochu and yuzu ($15).