23900 Old Hundred Rd., Dickerson
This historic farmhouse and beer garden at a lovely rural junction has views of Sugarloaf Mountain and plenty of leaf-peeping opportunities. Live music and events continue into the chilly fall, and there's also an indoor dining room.
2000 Mt. Vernon Ave., Alexandria
The summer-y Texas-inspired newcomer behind the Evening Star Cafe breaks out the fire pits and heaters for its first fall since the beer garden and barbecue patio opened in June. Complement your chile con queso, fajitas and smoked brisket with autumnal beverages like local cider and hearty German-style beers.
5000 Olney Laytonsville Rd., Olney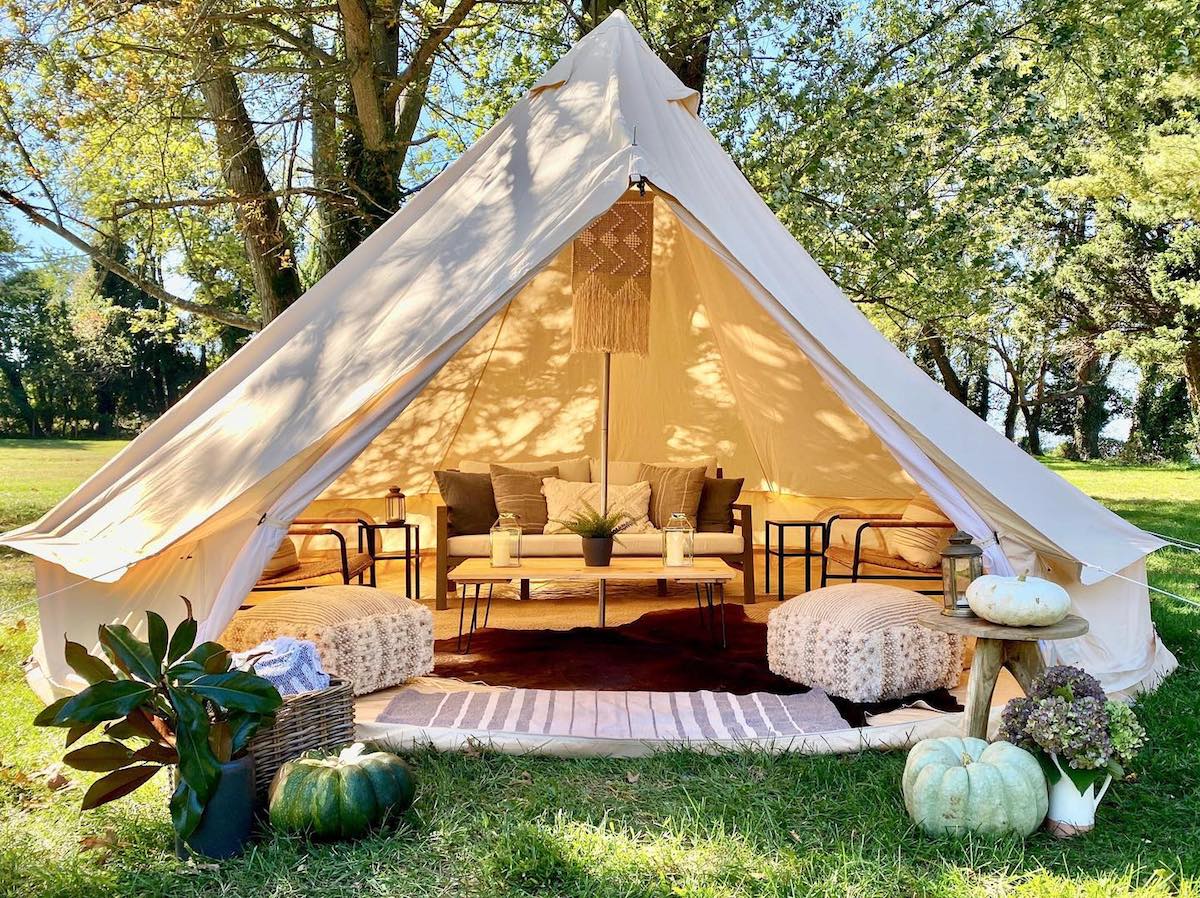 This farm and brewery in Olney is a great destination for a group. In addition to small and large glamping tents, heat-seekers can book fire pits with seating for up to six around a wood-burning blaze (note: there's a fee of $85 per fire pit reservation). Expect seasonal brews and beer-friendly fare like pretzels and pizza.
1306 18th St., NW
The trendy Dupont Circle hangout goes all-out with seasonal decor, whether it's cherry blossoms in spring or a winter lodge. Autumn brings a canopy of fall faux-liage, comfy blankets and pillows, and seasonal treats like crispy foie gras fritters and spiked Mexican coffees.
1309 Fifth St., NE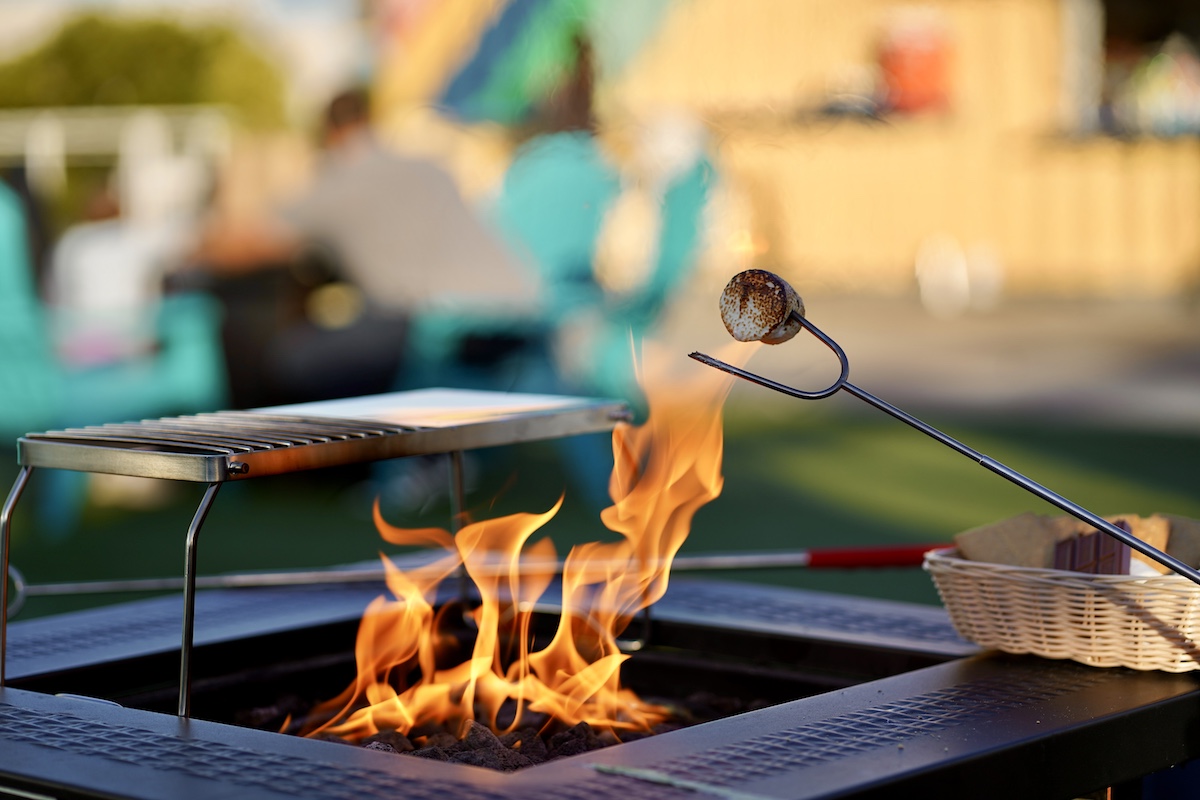 Union Market's massive rooftop bar/restaurant combines 360-degree views with fire pit seating and hot cocktails for chilly nights. Plus, there are autumn events coming up like the three-day Boot n Scoot country music fest (October 13 through 15) and a Halloween party on October 28.
476 K St NW
The wood-fired Mexican restaurant is made for outdoor service, with a cactus-dotted 80-seat front patio that is adaptable to all weather, with heaters and pergola shields that automatically cover diners when it rains. The lead up to Día de los Muertos brings inventive specials like a smoky sweet-potato margarita and a purple corn Oaxacan old fashioned.
1825 Capital One Dr, Tysons
This Japanese-inspired hotel eatery, one a few new restaurants that has reinvigorated the Tysons dining scene, has private gas fire pits and outdoor lounge seating on its rooftop. Autumn cocktail specials include the Where The Sidewalk Ends, a mix of scotch, miso honey, and ginger. 
1307 New Hampshire Ave., NW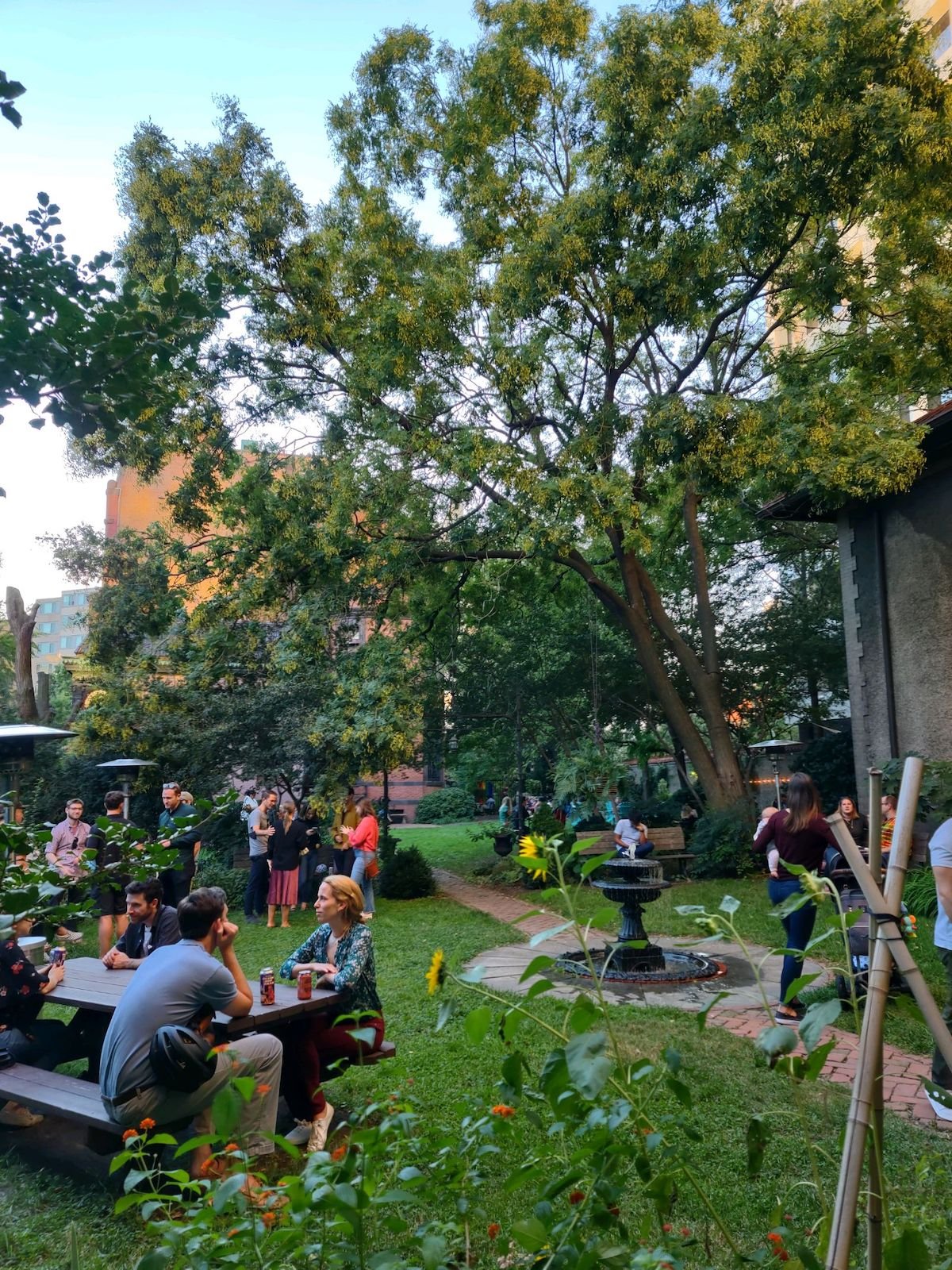 The historic Dupont Circle estate and museum rolled out a bar in its Castle Garden, open Wednesday through Saturday. Guests can warm themselves by fire pits and heaters in comfy Adirondack chairs. Wines and batched cocktails are available alongside interesting brews like Senate Beer, the museum's revival of a historic DC beer with Right Proper Brewing Company.
1705 14th St., NW
The boldly decorated 14th Street cocktail emporium will keep its outside patio open through the fall with heaters and blankets. Jane Jane's new fall cocktails include the Jane Jane Mule, with bourbon and sherry, and an Earl Grey gin martini.
6124 MacArthur Blvd, Bethesda
This summer, the stalwart Spring Valley delicatessen and butcher brought its Pitmasters Back Alley BBQ operation and a small market to the quaint Bonfield's historic service station just outside DC. As the weather cools, Wagshal's plans to set up a heated tent for the outdoor area, which is shaded by a big maple tree. 
1401 Pennsylvania Ave., SE
The beer garden at the Roost, Capitol Hill's 12,500-square-foot "culinary clubhouse,"  features 50 taps and a focus on low-ABV selections. It's also got a heated, covered patio looking out onto a leafy street lined with row houses. 
2915 Wilson Blvd., Arlington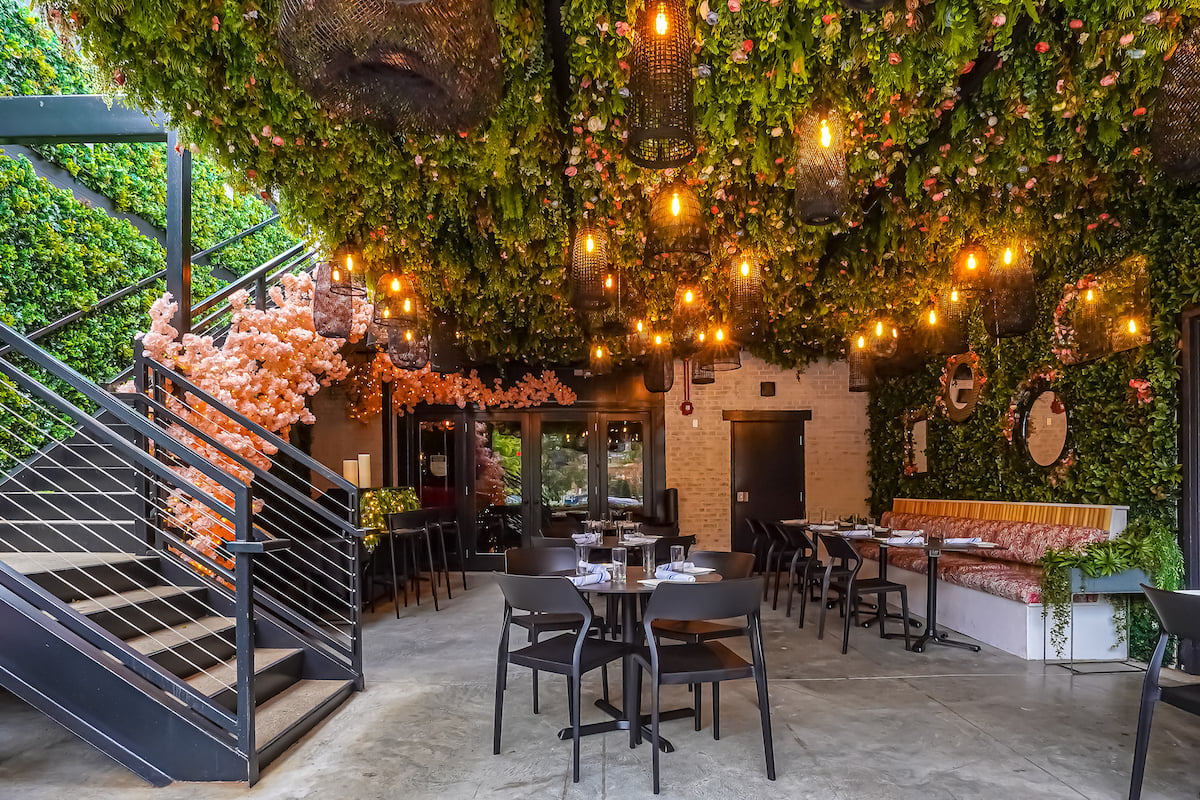 Following a million dollar renovation, the Arlington hangout reopened last year with a huge, heated rooftop bar and lush garden terrace set with glowing lanterns. Drinkers can get in the seasonal spirit with a pumpkin spice martini. Happy hour deals are good, too—including $3 off share plates like short rib sliders, wings, and dips (offered weekdays, 3 to 7 PM).
1734 N St., NW
One of DC's prettiest patios is ready for cool weather with fire pits and seasonal libations under the century-old wisteria vines. Chef Tony Chittum's locally sourced, Mediterranean menus boast warming dishes like mushroom arancini, oak-roasted meats and fish, or focaccia pizzas during lunch.
9201 Colesville Rd., Silver Spring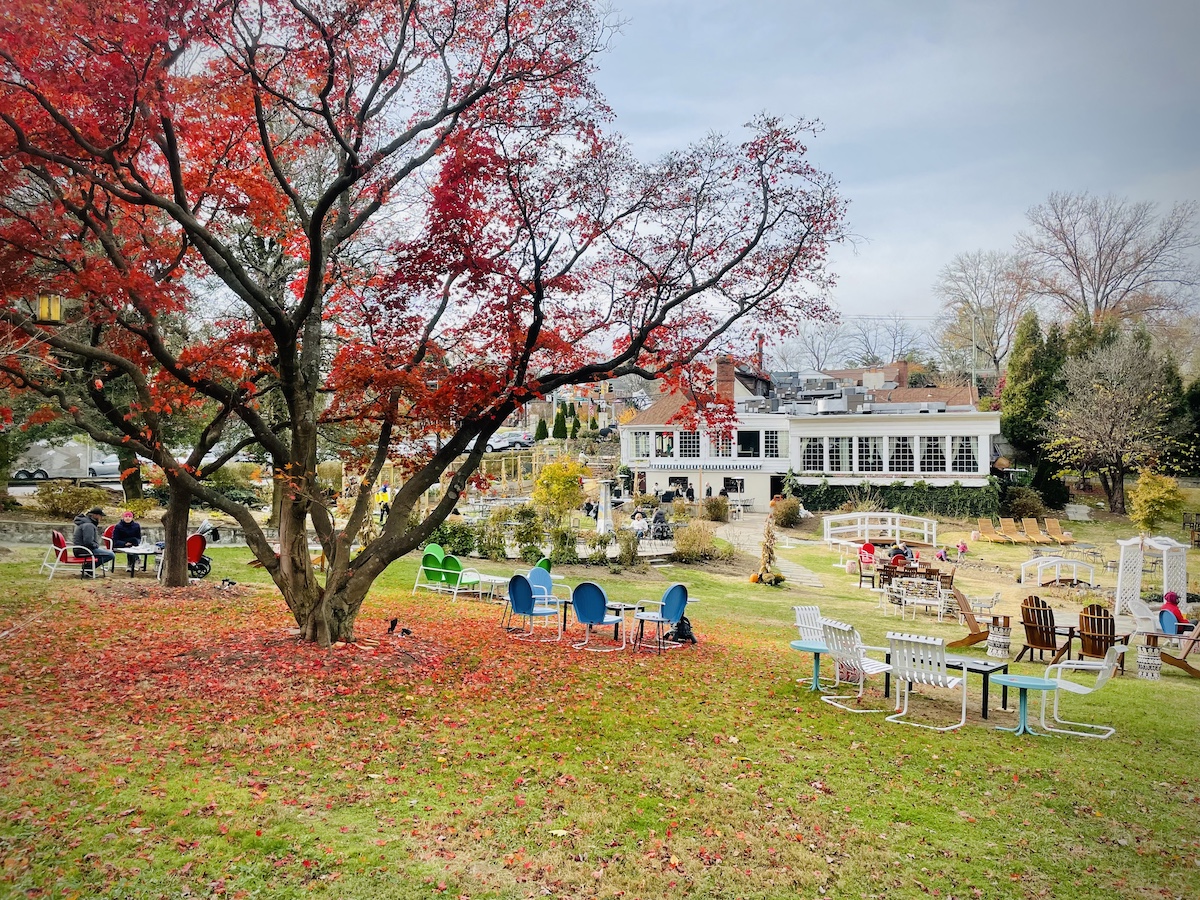 Silver Spring's sprawling restaurant and garden—which took over the historic Mr. K's Tollhouse space—is an all-seasons destination. Patrons can make reservations for Oktoberfest-style patio seating, or for space in the garden (fire pit reservations are available later in the year). Head chef Danny Wells dishes up comforting al fresco eats like short rib sliders and steamed mussels.
332 Springvale Rd., Great Falls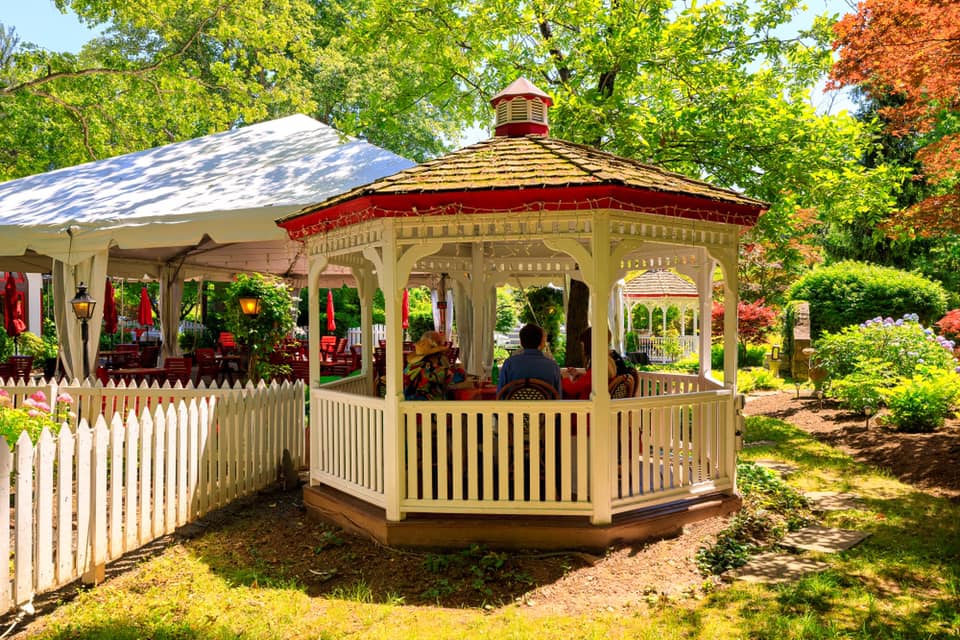 Chef/owner Jacques Haeringer's elegant Great Falls restaurant feels more like a French country escape than ever. A lovely garden and koi pond is ringed with patio tables as well as private gazebos that can seat up to seven guests. Produce from the garden makes its way onto the lunch and dinner menus, filled with French classics. Late October brings a variety of Alsatian Oktoberfest dinners and fall wine tastings.
1940 11th St., NW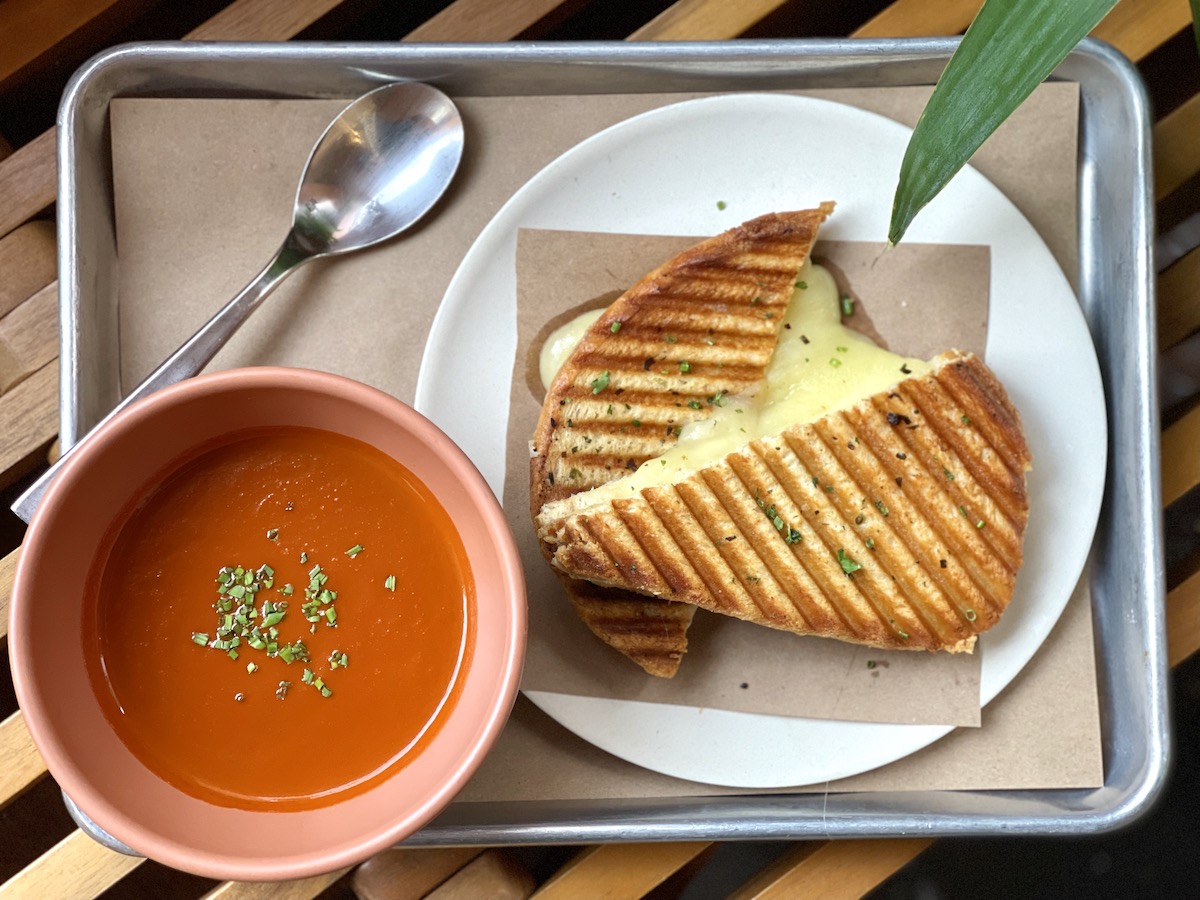 If your fall vibe is more desert rose than pumpkin patch, this Southwestern-inspired wine garden is your place. Diners can warm up with new happy hour specials like a Hatch chili burger on the front patio, or find a pillowy nook in the rear courtyard. Both are lined with heaters and retractable roofing to beat the chill, plus wood-burning chimineas that'll fire up when the temps drop.
1101 First St., NE
NoMa's huge beer garden has big stein energy—and the fire pits to match. Over 20 drafts are joined by hot cocktails when temperatures drop. Groups can also reserve cozy outdoor cabanas, which generally fit five to 10 guests, with no minimums (booking fees vary by date and time).
This post has been updated from an earlier version.