Whether you want to ditch the shopping, walk off a day of feasting with family and friends, or just get some peace, quiet, and fresh air, here are several places around DC where you can spend the day in nature:
For relaxing strolls with family
Virginia
1. Burke Lake Park's shoreline trail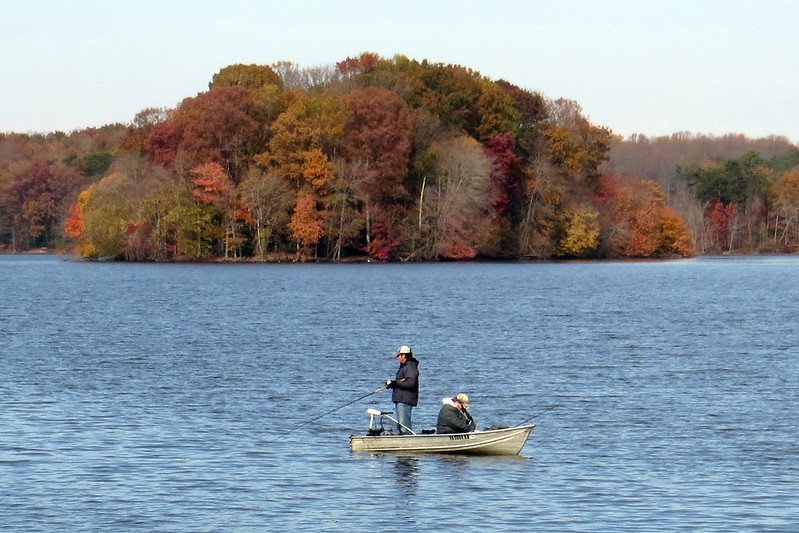 Nearly five miles of tree-lined trail loop around this Fairfax park's 218-acre freshwater reservoir, which is filled with walleye and largemouth bass and popular with local fishermen. The easygoing nature of this mostly flat trail, which has benches for taking in views of the water, make it a great option for family members of all ages (including the family pup, as long as it's leashed). Also on site: playgrounds and picnic areas for enjoying those Thanksgiving leftovers.
Maryland
2. Wheaton Regional Park's trails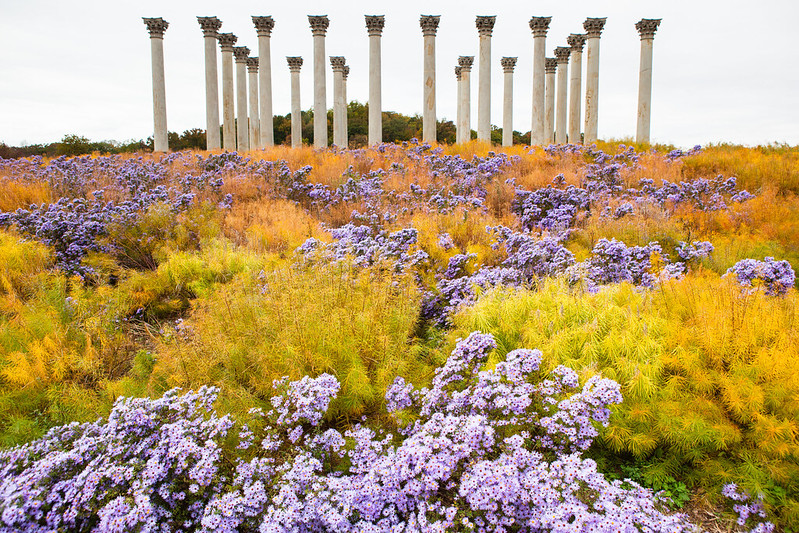 This 536-acre park, located about five miles north of Silver Spring, features both hard-surface and natural walking trails. For easy access to the park's natural surface trails, begin at Brookside Nature Center, where you'll find interpretive boardwalks and a 1870s homestead as well as the Oak Ridge and Pine Lake trails. Or, start at the park's western entrance, where you'll find a playground for kids as well as easy access to the park's four miles of hard-surface trails, such as the Wheaton Regional Trail. (For another enchanting walk, stay until dusk or evening for the Garden of Lights holiday show at Brookside Gardens, located within the park.)
DC
3. National Arboretum's Camellia and Asian Collections
With more than 7,000 species of plants, the National Arboretum is filled with colorful treasures year-round, such as its fall-blooming camellia collection that one Washington Post writer called the "queen of late-autumn blossoms." Weather-permitting, the park's camellia collection will bloom through winter and is located with the arboretum's Asian collections, where you can also admire broadleaved evergreens, conifers, and bamboo during your late-autumn stroll. Afterward, enjoy the slow-paced solitude of the National Bonsai & Penjing Museum, also located within the arboretum.
For burning off that second helping of stuffing
DC
4. Rock Creek Park's Western Ridge Trail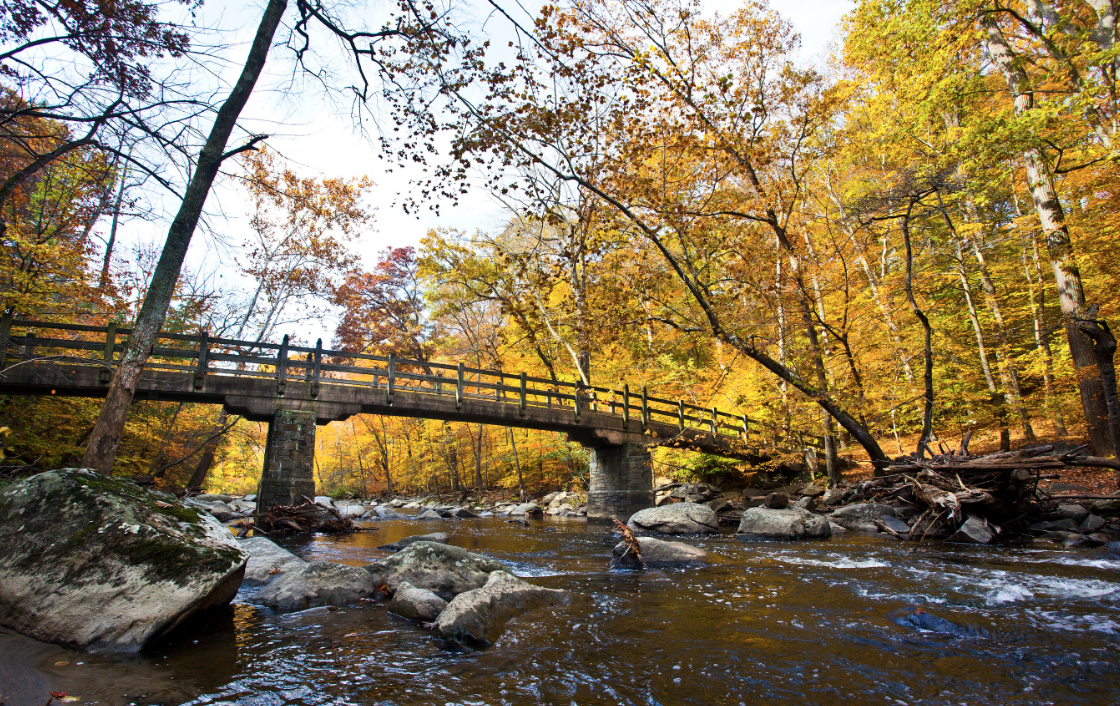 As one of Rock Creek's two major north-south trails, the Western Ridge Trail runs most of the length of the 1,754-acre park—from the northern boundary bridge straddling DC and Maryland to Bluff Bridge near Cleveland Park. In other words, the five-mile trail (or double if you hike it out and back) makes for a great post-feast jaunt where you can admire the park's trees and wildlife (keep an eye out for those big, pterodactyl-like pileated woodpeckers). Considered moderately challenging, the trail—marked with light green blazes—splits into two options, one moderate, the other challenging, once you're south of Pierce Mill.
Maryland
5. Great Falls' Billy Goat Trail (Section A)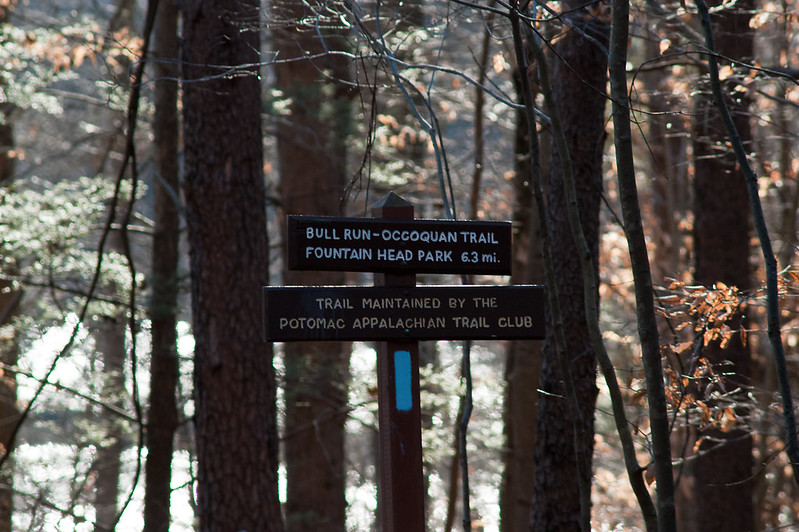 It's one of the area's most popular hikes—and also one of the trickiest. For those looking for a craggy challenge that rewards you with panoramic views of the Potomac River and Mather Gorge, head to Great Falls Park for Section A of its Billy Goat Trail (parking is available at Great Falls Tavern). Despite being less than two miles, the uneven, one-way trail is considered quite difficult, so be sure to wear good hiking boots and make sure you feel comfortable traversing technical boulder scrambles. For an overview of conditions to expect and safety precautions to take, watch this helpful NPS video.
Virginia
6. Fountainhead Regional Park's Bull Run Occoquan Trail
At nearly 20 miles long, the Bull Run Occoquan Trail is considered the longest natural-surface path in the NOVA Park system, passing through Fountainhead Regional Park, Hemlock Overlook Regional Park, and Bull Run Regional Park. For a bit of cardio, try this Fountainhead Park portion of the trail (about seven miles long when done one way) where you'll climb a few hilly inclines and perhaps even spy a whitetail deer, red-tailed hawk, or wild turkey (who'll likely be relieved to have escaped the dinner table).