Adam Teicholz, 27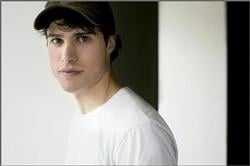 Lawyer; teaching fellow at Georgetown University Law Center Single
When do you feel most beautiful? When I'm walking down the street and someone does "the pivot."
If someone were making a movie about you, who would star? Woody Allen. I'd be curious to see what he'd do with my character.
If you could be great at one thing, what would it be? I'd want to understand the mechanics of the world around me. I love cars, but I'm completely intimidated by what's under the hood.
What's the craziest thing you've done? My friends think of me as the guy with crazy anecdotes. A couple of weekends ago, I called a friend to meet for breakfast. I said I'd put on my tux and crumple the collar and put some lipstick on it, and she should wear a formal dress. We could pretend we'd just left an all-night party. Sometimes it's fun to live theatrically.