Roberto Alvarez, 61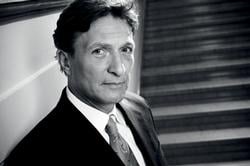 Ambassador of the Dominican Republic to the Organization of American States; co-owner of Jaleo, Zaytinya, Café Atlántico, Oyamel Single
What do you get the most compliments on? People always say, "Are you really 61?" I say I am, but there are several ages. There is the age you feel, the age that others think you are, the age you wish you were, and so on.
Do you have any beauty secrets? I apply sesame oil to my face for suppleness. I've been a vegetarian for 30 years. I often go to cleansing clinics where you eat only raw foods and you fast. I feel energized afterward.
Where's Washington's most beautiful place? The approach to National Airport at night is breathtaking. You see the city laid out, the beauty of the lines, and the buildings.
What's your favorite item in your closet? A white linen suit. It's the quintessential Caribbean suit. It's romantic and glamorous, a throwback to another era.
How do you pick up women? In all of my relationships, the pickup has come through the eyes. There is a linkage, a feeling of warmth, and a feeling that something clicks.