Sarah Lee, 34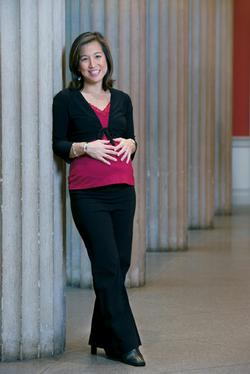 Reporter, ABC7 News Married to a government-relations consultant
How does it feel to be called beautiful? Great. I'm eight months pregnant, so I don't really feel that beautiful.
Where do you hang out? I have to wake up at 2 am for work, so my husband and I sleep in separate beds during the week. On weekends, we love to stay in and cook and rent movies. My mother-in-law calls us the thoroughly modern couple—we leave each other Post-its.
Do you mind working the night shift? Nah. I drive to work around 3:15 am. The commute is so easy. I like when the sun comes up. It's like watching something come to life.
Have any beauty secrets? There is a Bobbi Brown eyeliner I use that stays put whether I'm in a rainstorm or 100-percent humidity. When I'm done with a live shot, I use Huggie baby wipes to get the extra makeup off. Otherwise, water and sleep. I can't function on less than seven hours.
Your favorite item in your closet? My one and only pair of Jimmy Choos. They're sandals with a stiletto heel. My husband has no idea what I paid for them.