Pam Roberts's closet is filled with designer handbags—a red Hermès Birkin, three Kellys, and others from the likes of Louis Vuitton, Gucci, and Prada. She's loved handbags practically since she was born. "My first teething ring was in the shape of a Chanel handbag," she says.
Roberts, 51, the owner of Commerce­Basix, an Alexandria firm that provides consulting to the defense industry, discusses her passion for pocketbooks:
Why do you love handbags?
"You can match a handbag to your mood, while clothing has to go with the occasion: I can wear my Chanel biker bag with a conservative black suit for a business lunch at Charlie Palmer or with jeans to A la Lucia. Also, they hold important things."
How many handbags do you own?
"Close to 200."
When did you start collecting?
"From the time I could walk, I wouldn't go out of the house without a bag, usually a small Kelly or a Chanel, which I had snuck out of my aunt's closet."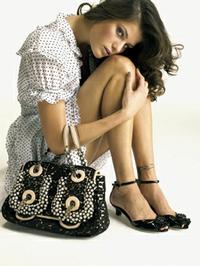 Do you have a favorite pocketbook?
"I love all my handbags and change the one I carry two to three times a week. My fa­vor­ite style is 'supersize,' as it's called this spring. I can't live without a bag that fits everything—sunglasses, checkbook, Filofax, cell phone, wallet, makeup case, and if I'm going to a meeting, my Louis Vuitton portfolio. It may be heavy, but at least it's all in one bag."
Favorite handbag designer?
Chanel.
Most expensive bag?
Her Birkin, a bag that was about $6,500.
Least expensive?
Bags by Calleen Cordero and Isabella Fiore, which can run $300 to $500.
Where do you shop for bags?
"I'm a regular at Saks Jandel. Barbara Bellis keeps my must-have list, pulls everything I need for the season, and sends it to my door for approval. Also, I like Hysteria in Alexandria, Chanel, Neiman Marcus, and Saks Fifth Avenue."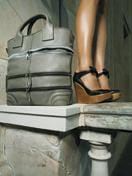 What bag will you use for work—for those Pentagon meetings—this spring?
"A Fendi B bag—the large one."
For evening?
"Either a Chanel or Fendi mini. I'll put my lipstick and credit card in it and leave the bag that has the rest of my stuff in the trunk of the car."
How do you think your love for fashion affects your career?
"I've received some of the best compliments from generals—one always comments on my handbags, particularly when I walk into his office with no briefcase and pull out a pen, portfolio, and glasses. The greatest compliment is that they see my experience first, then the fashion."