This article is from 2006's Best Dressed Women package. To see 2007's Best Dressed Women package, click here.
Attorney at Perkins Coie and wife of DC mayor-elect Adrian Fenty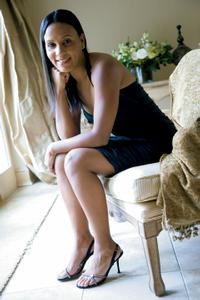 Who are your favorite designers? I like Calvin Klein for work clothes because of his classic straight lines and monochromatic colors. I love Vera Wang for evening—her dresses can be classic feminine and subtle. Tracy Reese is great, too. She uses so much color.
Do you have a fashion inspiration? I love Sarah Jessica Parker, some of her evening gowns. She seems to like Oscar de la Renta. You put on those clothes and you feel like a princess. I like Halle Berry—she's worn a few suits recently that seem to be things that I would wear.
A dream item you'd love to own? I've seen a few pairs of Manolo Blahniks that I wouldn't mind paying $800 for. They're like sculptures. You'd buy them and wouldn't even want to wear them.