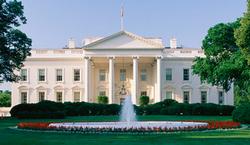 Glu Mobile, a California-based company that creates mobile entertainment for cell phones, is about to launch Monopoly Here & Now, a cell phone version of the famous board game. A company press release says the program "brings a classic game into the modern era with new properties, a set of animated tokens, and current real estate prices."
In this new, high-tech version of Monopoly, the White House has its own square with the "current real estate price" of $3.2 million. Considering three-bedroom townhouses in Georgetown can go for more than $3 million, the figure seems low.
According to DC tax records, which split the property into three parcels, the assessed value of the White House and grounds is about $935,000,000.
But Washingtonians need not feel snubbed—the game valued San Francisco's Golden Gate Bridge at $2.8 million, Nashville's Grand Ole Opry at $1 million, and Boston's Fenway Park at $3.5 million.