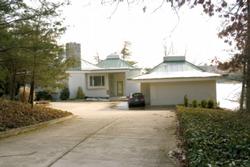 Two bigwigs with connections to the Bill Clinton White House recently made real-estate deals.
Walter Dellinger, who was a legal adviser to Clinton, and his wife, Anne, bought a two-bedroom, two-bathroom condo in a building near Dupont Circle for the list price of $1.1 million. Dellinger heads the appellate practice at the DC law firm O'Melveny & Meyers. During the Clinton administration, he was US solicitor general and worked in the Justice Department. Anne Dellinger, also a lawyer, has worked at Hogan & Hartson in DC and was a special assistant to then-FBI chief William Webster in the 1980s.
Democratic lobbyist Tony Podesta sold a two-bedroom stone-and-stucco contemporary in Falls Church's Lake Barcroft neighborhood for its list price of $1.9 million. The renovated house has water views. Podesta, brother of former Clinton White House chief of staff John Podesta, heads the Podesta Group in DC.
As the 2008 presidential campaign ramps up, we couldn't help but wonder whether Podesta will put some of that $1.9 million to work helping one—or all—of the eight Democratic hopefuls.