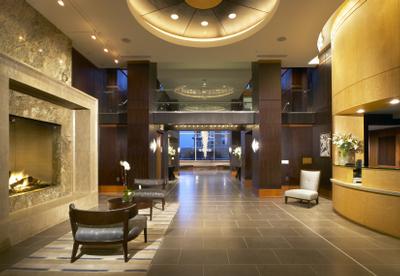 By: Rebecca Shillenn
What: Midtown Reston Town Center
Where: 11990 Market St., Reston
Number of Units: 293
Prices: One-bedroom units start in the low $500,000s; penthouses with two or three bedrooms go for more than $1 million.
Unit Choices: Choose from two buildings: the 21-story Midtown Towers or the six-story Midtown Lofts. The towers include penthouses and traditional units, and the lofts offer modern condos with open floor plans.
Luxurious Touches: Hardwood floors, six-foot soaking tubs, Kohler fixtures, and nine-foot ceilings. Ceilings are ten feet in penthouses, eleven feet in the lofts. Penthouses and lofts come with bamboo or maple flooring; basic condos have oak.
Building Amenities: Each building has a resident lounge with a fireplace and gaming tables. The Lofts building has a media room with movie-theater seating for 18. There's also a sports club with massage rooms, an outdoor heated pool, and an artists' workshop.
Unique Offering: The towers sport a demonstration kitchen that seats about 22 people.
Last Chance: These condos are already 80 percent sold—about 25 penthouses and 15 regular condos are still available.
Expected Delivery: March for the towers, summer for the lofts.
Drawback: The closest Metro stop is the West Falls Church station, at least 20 minutes away by shuttle ride. Plans for the Dulles Metro extension include a stop less than a mile away—but that won't be built at least 2015.
Ratings
Metro Accessibility: 2 out of 5
Swankiness: 4.5 out of 5
Cool Neighborhood Factor: 3.5 out of 5
Overall Exclusivity: 4 out of 5
Total: 14 out of 20