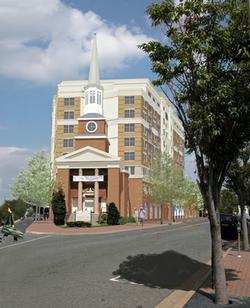 Despite neighborhood opposition, a church-apartment building development in Arlington is still in the works.

The Church at Clarendon got approval from the Arlington County Board to build The Views at Clarendon, a 116-apartment building, in 2004. This won't be the only condo-church combination in the area—The First Congressional Church of Christ in Gallery Place is planning a mixed-use project. But The Views at Clarendon plans have met much more resistance.
Neighborhood residents complained that the nearly 97-foot-tall building would overshadow their houses and the community; the church argued that it planned to incorporate affordable condos into the building, leave the steeple in place, and set aside the first two floors for church business.
The conflict pushed the issue to the Virginia Supreme Court last fall. The court ruled that the Arlington County board approved the building in violation of a zoning ordinance.
In response, the board amended the ordinance and rezoned the area, which means the Church at Clarendon can continue with its original plans.
The neighborhood's still up in arms. Here's a map from The Post showing the crush of development in Clarendon that concerns residents. If The Views at Clarendon are completed, here's what they'll offer: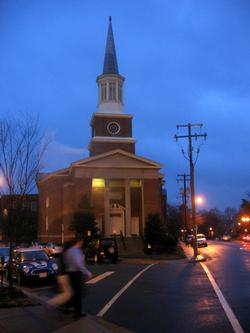 What: The Views at Clarendon.
Where: 1210 N. Highland Street, Arlington.
Number of units: 116, including 70 priced at less than market rates for families with an income roughly half the area median.
Pricing: For the six cheapest units, monthly rents range from $620 for efficiencies to $720 for two bedrooms. Rents for the next price group start at $750 for efficiencies and $1,325 for three bedrooms, the only ones available in the building. Market-rate units range from $1,000 for efficiencies to $2,250 for two-bedrooms.
Amenities: Parking garage, fitness center, 180-child daycare, and meeting space. The church can seat 450 people and runs services for Spanish, Vietnamese, and Ethiopian congregations.
Closest Metro stop: Clarendon, less than a block away.