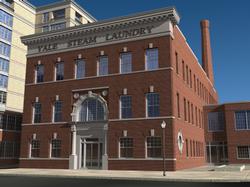 The Yale Steam Laundry, which once washed linens for the White House, has sat vacant since it closed in 1976. Developer Scott Fuller says the site, at the corner of New York Avenue and 4th Street near Mount Vernon Square, has been "a big mud hole" for years. But Fuller is changing that. With architect John Ronan, he is transforming the 100-year-old structure into condominiums and adding two high-rise towers.
The main building will contain 16 loft-style condos, a fitness center, billiards room, and a rooftop pool. Ronan's challenge is to offer modern amenities but retain the building's historic charm. The lofts will feature the laundry's original white glazed brick plus joists, 14-foot ceilings, and large, square-paned windows reminiscent of the industrial era. The finishes—maple cabinetry and contemporary countertops—will be modern.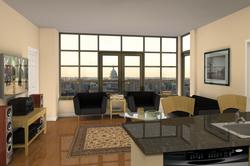 The new towers also will keep with the laundry's historic style. One will offer two units housed in the laundry's renovated carriage house. And they have an advantage over the lofts: panoramic city views from 12 stories up. Fuller boasts that you can see every major landmark in Washington, including the Capitol, Washington Monument, and National Cathedral.
While the developers tout the location as a "coveted residential destination" and a "vibrant community," the area is not a hotspot yet. Dingy liquor stores and New York Avenue's strip of fast-food chains are nearby. Still there is a lot of new construction. In a few years, buying a condo here might prove a great investment.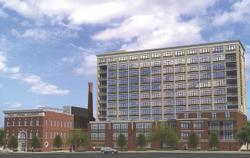 What: Yale Steam Laundry Condominium
Where: 437 New York Avenue, NW.

Number of Units: 359—16 in the main building, 133 in Yale East, 210 in Yale West.

Pricing: Lofts in the historic building have not been priced, but will likely range from the high-$400,000s to the $700,000s. The towers offer studios, one-, and two-bedrooms priced from the mid-$200,000s to the high-$500,000s.
Expected Completion: The historic building and Yale East should to be completed this fall. The developers have not set a completion date for Yale West.
On Sale? Yale East is for sale; lofts in the historic building go on the market May 10th.

Closest Metro: Mount Vernon Square, on the Green and Yellow lines, is about three blocks away.