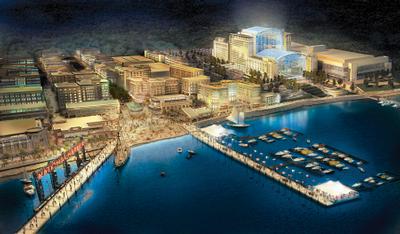 After more than a decade of planning and negotiations, National Harbor is taking shape. Just south of the Woodrow Wilson Bridge in Prince George's County, the 300-acre site of the mixed-use development bristles with construction cranes. When completed, it will command a mile and a quarter of the Potomac River waterfront and include 4,000 hotel rooms, 2,500 condos and townhouses, 500,000 square feet of offices, and one million square feet of retail, dining, and entertainment space. Due to the project's massive size, the developers have broken it into several phases. Phase one of development, to be completed in April 2008, will include:
• The cornerstone of the project, the Gaylord National Resort & Convention Center, whose skeleton is rising from the banks of the river. It will house 2,000 hotel rooms, 470,000 square feet of exhibition and convention space, a 20,000-square-foot spa and fitness center, and 65,000 square feet of outdoor space for events.
• One National Harbor, a mixed-use building with 40,000 square feet of street-level retail space and 253 condos. Condos go on sale this summer—prices start in the $300,000s for one bedrooms, $400,000s for two bedrooms, and $600,000s for penthouses.
• Five hotels, including a Westin, Residence Inn by Marriott, and Wyndham Vacation Resorts.
• A marina with two piers, boat slips, and water taxi service to Old Town, Mount Vernon, and Georgetown.
• Ten restaurants, including Rosa Mexicana, Sequoia, McCormick & Schmick's, Grace's Fortune, and Ketchup, a Los-Angeles based eatery whose celebrity ownership includes actors Ashton Kutcher, Wilmer Valderrama, and Tara Reid.