A look at the best—and most interesting—furniture for sale on Craigslist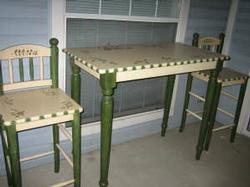 Here's my pick of the week: a hand-painted breakfast bar with two matching bar stools for $100. The bright green and white design would go well in the corner of a kitchen or on a screened porch. More pictures here.
More Cool Stuff:
• Art deco walnut clock for $120
• Two white, modern sofas for $1,400
• Dining room table with 4 chairs for $450
• Antique mirror for $120
• White wicker chaise lounge for $75
• Wine rack for $30
• 1940s winged-back chair for $50
• Oak coffee table for $40
• Cherry sleigh bed for $390
Thanks, Craigslist!