A weekly look at the best—and most interesting—furniture for sale on Craigslist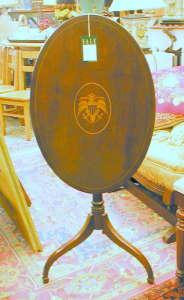 This oval-shaped, mahogany tilt-top table is being offered for $180. The painted eagle gives it a unique look—and I bet you could haggle the price down.
Craigslist was packed with cool, hard-to-find furniture today. Here are a few that jumped out at me:
• Persian wool and silk rug for $1,995
• Oriental armoir for $1000
• Antique end table in dark wood for $400
• 6 Art deco dining room chairs for $250
• Green Trunk with wreath motif for $225
• Iron lamp for $30
• Walnut entertainment center for $125
• Two-tiered glass cocktail/coffee table for $175
• Wicker ottoman from Pier One for $40
• Two bar stools with tan leather seats and iron frames for $20
Thanks, Craigslist!