A weekly look at the best—and most interesting—furniture for sale on Craigslist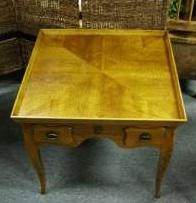 Here's my Craisglist Scavenger pick of the week: a lipped tea table by Baker that looks to be in excellent shape. A great deal for $160, the table's large front drawer is made to look like two smaller ones.
More Cool Stuff:
• Contemporary Grey Sofa (with a funny story that goes along with it) for $600
• Grandmother Clock for $350
• Coffee table by Baker for $170
• Country Wood Dining Table with two chairs and two benches for $300
• Parlor Table for $120
• Patio Furniture for $150
• This End Up wooden desk for $150
• Unused Pottery Barn Rug for $400
• Two black wood bedside tables for $150
• Four stackable chairs from Design Within Reach for $80 each
Thanks, Craigslist!