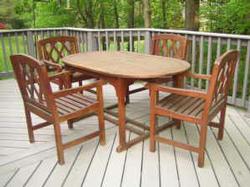 Grilling season is upon us, which means you'll need outdoor furniture. Here's a simple wood set that looks in good condition. For only $175, this table and four chairs would be an inexpensive way to dress up a backyard patio or deck.
More good finds:
• Sofa from Restoration Hardware for $1,300
• Antique dresser for $225
• Mahogany desk for $125
• Dresser from Ethan Allen for $850
• Two stained glass windows for $545
• Pottery Barn floor lamp for $159
Thanks, Craigslist!