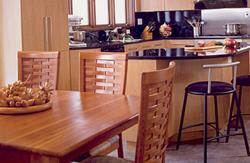 Rockville-based Jack Rosen Custom Kitchens has designed and installed thousands of kitchens in the Washington area. We sat down with the firm's owner, Larry Rosen—whose father, Jack, founded the company in 1982—to ask some questions about kitchen design.
Why is kitchen renovation so popular?
The kitchen is the heart of the home. So much time is spent in the kitchen. With family members going in different directions, the kitchen is always a reliable gathering place.
What do people want in their kitchens? What are the biggest trends?
Our clients seem to want the kitchen to present a theme. It can range from traditional to contemporary, but it often makes a statement and sets a tone for the rest of the house. High-end appliances are desired, including built-in refrigerators, commercial-style ranges, and quiet dishwashers. Two sinks and two dishwashers are desired when the space allows.
What are the biggest mistakes people make when renovating a kitchen?
The biggest mistake people make is rushing into the project. Preferences can change in the course of doing research. Also, time should be taken to find professionals that you feel comfortable working with. Don't compromise on quality. If it means waiting a little longer to increase your budget, it is worth the wait.
Does someone remodeling a kitchen usually recoup most of the cost when selling the house?
I am always happy to read in consumer and investment magazines that kitchens and baths have the highest rate of return among remodeling projects. Also, kitchen remodeling can accelerate a sale.
What's the most expensive kitchen you've done?
The price of the cabinets exceeded $180,000.
What advice would you give someone who is considering a kitchen renovation?
Do your research. Look through kitchen magazines to determine the styles, colors, and features you want. Get referrals from others who have done similar projects.
What's your own kitchen like?
Okay, I admit—I am designing my kitchen now. After years of considering a move or an addition, we have decided that with the children away at college we are happy with the size of the existing space. Also, as I indicated earlier, we will not compromise on what is important to us. Our budget has also increased with the passing of time. I can't wait. The kitchen will be contemporary. Its fun to be on this end of the project.