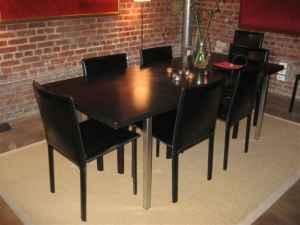 This simple, contemporary dining room table has a black top with brushed steel legs. Although the owner has already sold the chairs, the table is going for $250, reduced from $400.
More good finds:
• Mahogany hutch from Crate & Barrel for $400
• Upholstered queen-size headboard for $475
• Storehouse armoire for $175
• Cream-colored desk from Ikea for $150
• Set of French doors for $1,000
Thanks, Craigslist!