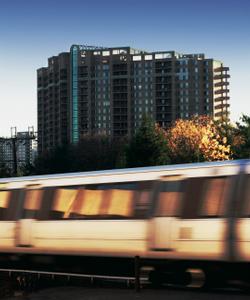 What: Ten Ten One
Where: 10101 Grosvenor Place, North Bethesda
Number of Units: 402 in a 20-story high-rise.
Prices: Range from the low $300,00s for one-bedroom units to the mid $600,00s for large two-bedrooms.
Building Amenities: Fitness center with flat-screen TVs, courtyard with four built-in gas grills, pool, tennis court, 24-hour concierge service, media room, and lounge with WiFi.
In each unit: Hardwood floors, a balcony, and stainless steel kitchen appliances and granite countertops.
You won't find that it the city: The property includes a half-mile jogging trail.
Floor Plan Options: One bedroom, one bath; two bedroom, one bath; or two bedroom, two bath.
Closest Metro: The building is steps from the Metro Red line's Grosvenor–Strathmore station.
Units Sold: Although the building opened in 2005, 132 units are still on the market.
More pictures below