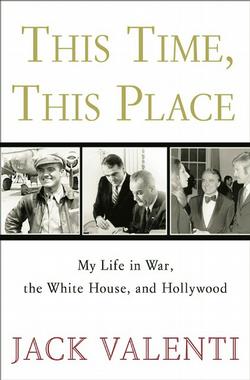 In a town where presidents come and go, there are few people who have known the cast of characters who have crossed paths with Robert Novak and Jack Valenti.
Now their memoirs will be published this summer—Valenti's following his death in April—and cover more than four decades of Washington history, tracing their professional careers and the evolution of the city from a sleepy Southern town to world capital.
The books both open with what history will likely record as the defining moments of their careers—Novak's role in the Valerie Plame leak investigation and Valenti's "longest day" of November 22, 1963, when the Texas political consultant was plucked by LBJ to work with him after the assassination of John F. Kennedy. Valenti's first visit to the White House came that day when he and newly sworn-in President Johnson landed on the south lawn of the White House in Marine One.
From those starting points, the books share a narrative arc of American history—both writers recount seeing FDR when he visited their hometowns (Valenti in Houston and Novak in Joliet, Illinois). Novak's arrival in Washington in 1957 as a 26-year-old Associated Press reporter predated Valenti's arrival by six years.
After that, both men spent nearly half a century at the top levels of Washington, Valenti mostly as the head of the Motion Picture Association of America and Novak as half of the influential Evans and Novak newspaper column.
Given so much history to cover, it's no small feat that the books are breezy and fun to read—although readers should be thankful that Novak's The Prince of Darkness: 50 Years Reporting in Washington was trimmed from its original 1,400 pages to 672. Valenti's This Time, This Place: My Life in War, the White House, and Hollywood clocks in at 440 pages—about ten pages for every year he was in Washington.