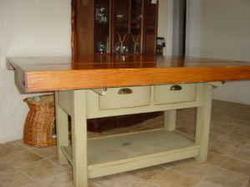 Since Craigslist can often fill up with Ikea hand-me-downs, we are always looking for something different.
Today, we found a farmhouse style dining room table that could double as a work bench. It's going for $500; the poster also is offering six chairs for another $500.
More good finds:
• Couch, loveseat, and chair for $600
• Solid pine dresser for $325
• Oak freestanding kitchen cupboard for $325
• Four antique oak chairs for $500
• Mahogany end table/night stand for $115
Thanks, Craig!