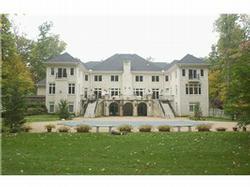 Where: 10021 Bentcross Drive, Potomac
Listing Price: $6,500,000
Time on the Market: 11 months
Bedrooms: 11
Bathrooms: 13
This seven-year-old estate in Potomac's Falconhurst neighborhood has 21,000 square feet of living space—nearly nine times the size of the average American home. With three levels, it has a master bedroom with sitting area and deck, a marble foyer with a 25-foot ceiling, and two full kitchens. There's also a library, a wet bar, a game room with a pool table, an exercise room, and maids' quarters. Outside is a three-car garage and pool.