Fourteenth Street's transformation into a furniture-store district continues with the opening of Hunted House, a vintage retailer that specializes in modern and art deco pieces from the 1920s to the 1970s.
Owner Mark Johnson, who used to be former DC Council Chair Linda Cropp's press secretary, has long collected furniture. His hobby grew from outfitting his Columbia Heights house to selling pieces on Craigslist to running a stand at Eastern Market. When fire tore through Eastern Market in April, Johnson's loyal following encouraged him to start his own shop.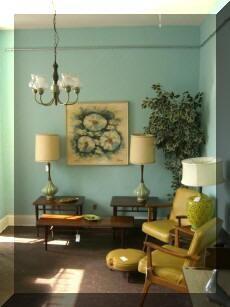 The store, which opened two months ago, looks more like a rickety old house than a furniture store—and that's the idea. "As opposed to a big open showroom, it feels like an actual house," says Johnson. "It helps people visualize what the furniture might look like in their own home." Rooms are stocked with pieces Johnson finds at auctions and estate sales. Recent items have included a retro dinette set with six chairs ($450), a set of four Eames-era chairs with red padding ($200), and a tricolor ceramic lamp ($100).
Hunted House | 1830 1/2 14th Street, NW | 202-549-7493