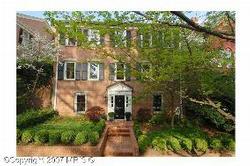 Where: 1609 31st St., NW
Listing Price: $3,650,000
Time on the Market: three months
Bedrooms: five
Bathrooms: five
Details: This 4,200-square-foot brick Colonial is across from Tudor Place in Georgetown. The home was built in 1980 and remodeled last year. Among the renovations are three updated bathrooms, wood floors, marble flooring in the entry and master bathroom, and French doors to the patio.
The three-level estate sports a pool, library, three fireplaces, and a kitchen with two dishwashers, two ovens, two sinks, and a Sub-Zero refrigerator.