Good Deals on Meals
Little-known secret: At CityZen (1330 Maryland Ave., SW; 202-787-6006), in its sleek bar/lounge, a $50 three-course tasting menu is always available. Sample Eric Ziebold's terrific dishes—CityZen is number three on The Washingtonian's 100 Best Restaurants list—without breaking the bank; the normal three-course dinner is $75.
At the Majestic (911 King St.; 703-837-9117), an Old Town institution recently revamped by Cathal and Meshelle Armstrong of Restaurant Eve, Nana's Sunday Dinner is a meal for four for $68. The menu changes monthly, but there's always an entrée, a salad, two sides, and dessert.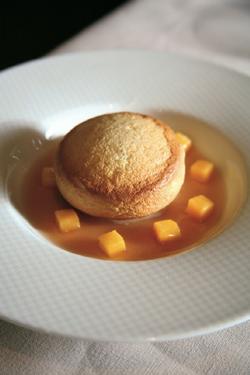 Bargains on great steaks are hard to come by, but on Sunday nights you'll find them at Ray's the Steaks in Arlington (1725 Wilson Blvd.; 703-841-7297). Pay $25, $30, or $35—the price varies by the cut of meat—and get soup or salad, an entrée, two vegetable sides, and dessert. Another reason to wait out the crowd: $5 of each dinner bill goes to charity.
Sweet Sips
At Cleveland Park's Dino restaurant (3435 Connecticut Ave., NW; 202-686-2966), Wine Wednesdays offer flights of three wines and three appetizers for $25. On Sundays and Mondays, bottles of $50 or more are one-third off.
Bethesda's Olazzo (7921 Norfolk Ave.; 301-654-9496) supplements its Italian fare with half-price wine bottles on Mondays and $5 martinis on Tuesdays.
When two employees left Olazzo to open Cava (9713 Traville Gateway Dr.; 301-309-9090), a Greek small-plates spot in Rockville, they rolled out the same specials but reversed: $5 martini Mondays, half-price wine on Tuesdays.
Every Monday, wine bottles are half-price at Chef Geoff's (1301 Pennsylvania Ave., NW, 202-464-4461; 3201 New Mexico Ave., NW, 202-237-7800). At sister restaurant Lia's (4435 Willard Ave., Chevy Chase; 240-223-5427), happy hour lasts all night on Mondays and Wednesdays, with $5 burgers and discounted drinks.
Live Theater at Movie Prices Theaters don't advertise it, but there are cheap seats to be had for some of the best shows in town.
Goldstar Events offers discounted tickets for live entertainment; sign up for free weekly e-mails of what's available at goldstarevents.com. Goldstar does charge a service fee and doesn't have tickets for every show every night, but tickets are often half-price.
The Cultural Alliance's TicketPlace, at 407 Seventh Street in Northwest DC, offers half-price day-of-show tickets. It's open Tuesday through Friday 11 to 6, Saturday 10 to 5. Tickets for some events can be purchased online at ticketplace.org.
Many theaters offer discounts for seniors, students, and those under age 25. Some, including Round House in Bethesda and Woolly Mammoth in DC, offer pay-what-you-can nights. Arena Stage invites its neighbors in Southwest DC to buy $20 tickets for a Friday performance in each production.
There are last-minute deals. Signature Theatre offers $10 rush tickets if a show isn't sold out; they go on sale 30 minutes before curtain. Two hours before a show, Woolly sells $15 "stampede seats" for the side balconies. Shakespeare Theatre Company offers standing room spots for $10 cash at sold-out performances; they go on sale an hour before showtime, and there's a limit of two to a customer.