Breakout Kid
In the old days, if you had a problem with a product, you called an 800 number and waited through ads and boring music for an operator to help.
Now, using software created by Vienna-based Parature, companies such as Home Depot and Office Depot deliver help online. The service saves companies money by cutting their calls and labor costs. And it can save customers time and frustration, says Parature CEO Duke Chung: "People don't want to wait for a customer center to open. They want it now, 24/7."
While attending Cornell, Chung—who grew up in Potomac—created software for college students to post events online. After graduation, he returned to Washington and pitched his ideas for moving this technology into the marketplace.
Today Chung, 29, is a rising star in Northern Virginia's dot-com industry, which is flexing muscle again after short-circuiting in the late 1990s. Seven-year-old Parature—short for "paradigm of the future"—has some 500 customers ranging from Advantage rental cars to the Weather Channel. The $13.5 million it secured from venture capitalists Valhalla Partners and Sierra Ventures was seen as a breakout.
"We see our market as literally every business," Chung says. "We're just getting started."
—Drew Bratcher
Hot Read
Nothing gets Jeff Kleinman going like a good story. He devoured Milton's Paradise Lost in one rhapsodic weekend. He bawled his eyes out reading T.H. White's The Once and Future King.
This enthusiasm has made Folio, Kleinman's start-up literary agency, one of the hottest shops in town. Of Robert Hicks's novel The Widow of the South—which Kleinman sold to Warner Books for six figures—he says, "I'm so passionate about it, it makes my fingernails ache and my hair hurt."
Kleinman—a 41-year-old who cut his chops at the DC literary agency Graybill & English until it closed in 2006—insists he's not a salesman. He calls what he does "sharing something I love with people I think will love it, too." But in its first year, Folio sold 125 books to publishers from Random House to Penguin. Each day, book proposals from as many as 50 writers hit his desk.
"I have no idea how they ever hear about me," he says. "Maybe they find my name on a bathroom wall."
—Drew Bratcher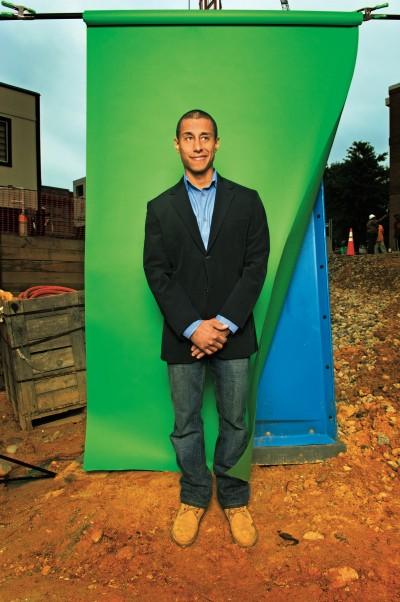 New Voice For Old Neighborhoods

Jair Lynch, 36, came home to Washington in 1997 with a silver medal in gymnastics from the 1996 Olympics, a Stanford degree in civil engineering and urban design, and a vision for revitalizing historic neighborhoods.
He bought a house in DC's Shaw and started the Jair Lynch Companies in his bedroom with a laptop, a cell phone, and a staff of one—himself. Lynch now plans, builds, rehabs, and finances projects all over the city. District officials hired him to help develop a plan to revitalize the Southwest waterfront.
Many of his projects are private-public partnerships. Lynch says he learned the business from construction and finance veterans. What have they learned from him? The importance of preserving the soul of a neighborhood. A façade-improvement property that Lynch developed on Georgia Avenue was honored by the American Institute of Architects for sparking a renaissance in the area near the District-Maryland border.
He's passionate about building neighborhoods integrated by race, class, and age, and he's pushing for innovative projects that preserve a sense of place.
That's the lesson he learned in competitive gymnastics: "You can't win with the same old routine. You need to come up with something more exciting."
—Leslie Milk
Lost Treasures
If a celebrated painting hangs in a dark room and no one sees it, is it really a masterpiece?
Philip Brookman, the Corcoran Gallery's new chief curator, refuses to consider that conundrum. For 13 years, Brookman stewarded the museum's photography and media-arts exhibits. Last year, he moved into the top curatorial job. His new mission: to reclaim and renovate old rooms, adding as much as 70,000 square feet of exhibition space for treasures now stored out of sight.
"The more art is accessible," he says, "the more different types of people will come."
In his new job, Brookman will still curate and write. On top of this fall's Annie Leibovitz and Ansel Adams exhibits, the gallery will showcase the late Richard Avedon's portraits of power in 2008.
"Phil's thought to be one of the great photo curators," says Corcoran director Paul Greenhalgh. "But he's a man with universal knowledge."
—Ruth Samuelson
Standing Tall
After 16 years as a lobbyist for the American Cancer Society, Kerrie Wilson saw an ad seeking an executive director for Reston Interfaith, a charity providing shelter, childcare, and other services to the needy. Though she had never led a nonprofit or worked for a community-based group, she was drawn to the mission.
In 2002, a year after she was hired, Herndon officials asked for help with the men hanging out on a main street looking for day work. Wilson's group and town officials agreed to set up a job site and training center for day laborers, setting off a firestorm. Opponents packed town meetings to blast the idea that tax dollars would support day laborers—most of whom, they claimed, were illegal immigrants.
The center opened in 2005, but pressure mounted to check the immigration status of workers who used it. She said that was the job of their employers: "I refused to get drawn into the immigration debate."
Herndon now plans to close the center. Although Wilson lost the battle, her tough stand won her admirers. Last year, the Meyer Foundation honored her as one of Washington's up-and-coming nonprofit leaders.
Says Wilson: "I'm motivated every day by being able to go home at night saying that I made a difference."
—Mary Clare Fleury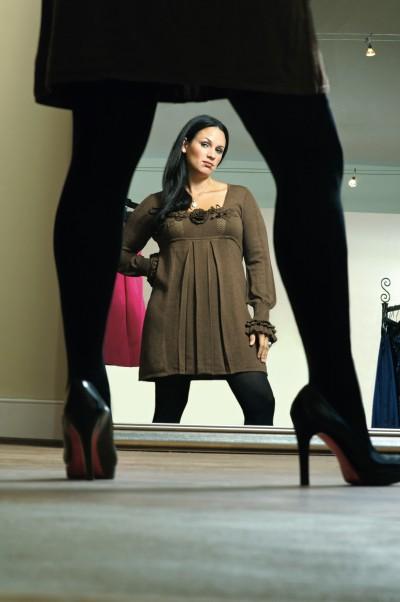 Almost Famous
When Desperate Housewives star Eva Longoria says your boutique is one of the best she's ever visited and the Bush twins are regulars, you can consider your shop a success.
But when Lindsay Buscher opened the fashionably girly Urban Chic in Georgetown four years ago, she was just hoping to stay afloat. Buscher has always loved fashion—she remembers saving up for a pair of Guess jeans when she was 13—but the Long Island native never considered it a career possibility. "I was one of those people who didn't know what to do," she says, "so I just kept going to school." After she got a master's in political science, her husband nudged her to think about a boutique. Her father-in-law bankrolled the startup.
Buscher opened over-budget and facing tough competition, but her mix of designers in a range of sizes (many boutiques ignore anything over a size ten) caught on with customers—and celebrities.
A couple of years later, Buscher started a second Urban Chic south of Columbia, and in September she unveiled her biggest store yet—for women's, men's, baby, and maternity clothing, plus shoes—in Baltimore. Though she's expecting a second child in February (daughter Emerson is two), she's planning four more boutiques—in Annapolis, Bethesda, the upcoming National Harbor in Prince George's County, and Orlando, Florida.
By 2009, Buscher, 30, hopes to expand to New York City and California. That should make Hollywood starlets like Longoria happy.
—Ann Limpert
Big Plans
Though Harriet Tregoning grew up within walking distance of her high school in a St. Louis suburb, she had to get there by bus because an interstate highway cut off the school from her house. It was a pleasant revelation when she went to Washington University in the city's downtown, where she could bike to campus and walk to nearby shops and parks. "I've never lived anywhere but a city since," she says.
Tregoning, recruited by Mayor Adrian Fenty to head DC's Office of Planning, brings with her experience at the Environmental Protection Agency and as a Cabinet secretary for "smart growth" under former Maryland governor Parris Glendening.
DC's planning office oversees historic preservation and reviews plans for large-scale developments. That means she'll be mixing it up with developers on the Southwest waterfront, the area around the new baseball stadium, and St. Elizabeths Hospital. Her goal, she says, is to make the city more transit-oriented, more walkable, more environmentally friendly, and more affordable for the middle class.
—Larry Van Dyne
Moving Onto Campus
When Steven Knapp was a top administrator at Johns Hopkins University, he lived on a small sheep farm 20 miles north of Baltimore. Now, having been named president of George Washington University, he'll walk to work. The university is renovating a historic Foggy Bottom building—once the F Street Club—as its presidential residence. He will be the first president to live on campus.
GW, with 24,000 students, is among the nation's largest private universities, and its 8,000 employees make it DC's largest private employer. It's very much a big-city institution—just like Hopkins, where Knapp spent 13 years as dean of arts and sciences and provost after a career as an English professor at the University of California at Berkeley.
With his broad experience at leading universities, one of Knapp's jobs is to raise GW's standing as a research institution. Its endowment of just over $1 billion is smaller than that of many universities its size, so expect Knapp to spend lots of time raising money. "Our endowment," he says, "is not as large as our aspirations."
­—Larry Van Dyne
Art of the Deal

When Anne Corbett went to work for the nonprofit Cultural Development Corporation in 1998, she was the only employee and managed a budget of $50,000. Today Corbett oversees ten staffers and $1 million. In the past dec­ade, she's had her hand in almost every new arts facility in downtown DC.
Corbett says her role is to be a matchmaker between the arts and business communities. Acting as a real-estate broker and advocate, she helps arts organizations and artists find space. Among the dozens that owe thanks to CuDC are GALA Hispanic Theatre, the Atlas Performing Arts Center, Woolly Mammoth Theatre Company, and Artomatic.
Last year CuDC bought the debt-ridden Source Theatre on 14th Street, saving it from becoming a bar and pool hall. The group is restoring Source's building as a new performing-arts venue.
In 2006, CuDC expanded its reach into the suburbs, where it has forged partnerships with VisArts, a visual-arts center in the new Rockville Town Center, and Arlington's Cultural Affairs Division.
"So many cities are becoming soulless, covered in Ann Taylor Lofts and TGI Fridays," says Corbett. "It's rewarding to shape the city in a way that makes it feel authentic."
—Mary Clare Fleury
Beer Popsicles and Haute Pizza in the Suburbs
Ten years ago, Michael Babin felt stuck.
A lobbyist by day and Georgetown law student by night, he'd lost interest in both career paths. When a professor asked him to craft a plan for a small business, he indulged his passion for food and wrote about opening a restaurant, a small dining room in Alexandria.
As an undergrad at Yale, Babin had outfitted his tiny dorm room with a two-burner stove. Now he wondered if he could turn his class project into a real restaurant. "I thought, 'This is completely insane,' " Babin recalls. But chef/restaurateur Ann Cashion's endorsement gave him the confidence to go for it.
In 1997, the funky Evening Star Cafe was born in Alexandria's Del Ray. Babin's Neighborhood Restaurant Group has since opened five more spots—all original-thinking, all in Northern Virginia. There's Vermilion, an Old Town destination starring talented chef Anthony Chittum; Tallula, a wine-centric Lyon Park bistro with a gastro-pub, EatBar, next door; and Buzz, an all-dessert bakery and lounge in Alexandria across from Rustico, an haute-pizza joint.
The goal, says Babin, is "to embed each restaurant in the neighborhood." These places deliver details you'd never see at a chain: house-made hot dogs, beer popsicles, and a by-the-glass wine list with more than 70 boutique choices.
On the drawing board are more fresh ideas: a chef-run butcher shop as well as a farm (with restaurant) in the Virginia countryside that will supply Babin's kitchens.
—Ann Limpert
Another Katharine the Great?
Katharine Weymouth, head of advertising at the Washington Post, is considered the "heiress apparent" of the area's preeminent family business. Namesake of the late Katharine Graham, niece of Post Company CEO Don Graham, and daughter of globetrotting Newsweek correspondent Lally Weymouth, she is the only one of Kay Graham's grandchildren who seems interested in running the company.
Weymouth, 41, is no trust-fund brat or Georgetown social climber. A divorced mother of three children under eight, Weymouth lives in Chevy Chase DC and says she prefers "to stay out of the limelight." She studied at Harvard, Oxford, and Stanford Law School and worked for the high-powered Williams & Connolly law firm. In 1996, when the firm agreed to lend a lawyer to the Post's general counsel's office, Weymouth volunteered. "What a perfect way to dip my toe in the water," she said then.
Eleven years later, she won't talk to the press about whether she'll become CEO when Don Graham, 62, exits. In the meantime, Weymouth—who last year made $280,000 in salary and bonus—has her work cut out for her: Advertising generates more than half of the Post's revenues, and it's no secret that the Internet has cut into newspaper ads.
If the stress gets too much, she might distract herself with the Talking Heads, the influential punk band. Her aunt, Tina Weymouth, was a founding member.
—Alicia C. Shepard
More People To Watch
Andy Shallal. The Iraq-born restaurateur has a hit with his Busboys and Poets cafe and bookstore in DC's U Street neighborhood. He added a second branch in Shirlington this summer and is planning others in DC and Hyattsville.
Victor MacFarlane. The head of a big San Francisco real-estate investment firm bought DC United, then announced a joint venture with JBG to redevelop nearly 100 properties in the area.
Kimberly Moore. The former George Mason intellectual-property professor was recently appointed to the US Court of Appeals—at 39, the third-youngest ever to sit on the federal judiciary.
John Deasy. He's been on the job for only a year as schools chief in Prince George's County, but his early initiatives have won praise.
Jim Dinegar. The new head of the Washington Board of Trade has pledged to make the alliance more of a player on local issues.
Ellen Weiss. In April, the 25-year veteran of NPR moved into the top news-management job at the powerhouse network, where she runs a staff of 400 and more than 50 hours of programs each week.
Ernie Jarvis. Son of Southeastern University president Charlene Drew Jarvis, he's a rising star in commercial real estate.
Maureen Mahoney. The next Supreme Court nominee? An acclaimed appellate lawyer, she's on the short list if a Republican takes the White House.
Thomas Matzzie. A guru on Internet strategy in politics and Washington director of MoveOn.org.
Matthew Quinn. Heads the seven-year-old Jack Kent Cooke Foundation, which is making a difference with college scholarships for outstanding low-income students.