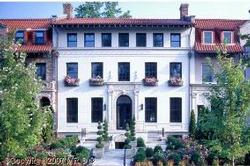 Where: 2216 Wyoming Avenue, NW
Listing Price: $5,995,000
Time on the Market: three weeks
Bedrooms: eight
Bathrooms: seven
This Mediterranean-style Kalorama rowhouse was built in 1912 and remodeled earlier this year. The restoration included a new plumbing and electrical system, kitchen, and bathrooms. A whole-house sound system also was added.
The two master bedrooms have bathrooms with multiple-head, computerized steam showers. The kitchen has hand-carved teak wood flooring and two dishwashers. There's also a basement recreation/media room with front and back entrances as well as a 1,500-bottle wine cellar with a temperature- and humidity-control system.