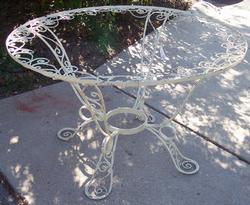 This off-white wrought-iron table from Anthropologie is $150. The post says it retailed for $695 and was never used. I like the weathered, antique look—it could be used indoors or out.
More good finds:
• Wicker sectional outdoor sofa from Restoration Hardware for $1,500
• Painted and distressed cabinet for $100
• White bathroom hutch for $75
• Over-size armchair from Crate and Barrel for $45
• Kitchen table and four chairs for $100
Thanks, Craig!