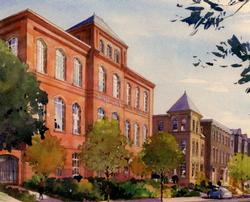 An 1885 Georgetown schoolhouse will soon open its doors again—but not to schoolchildren. Wormley Row, formerly the Wormley School, will be a new collection of luxury condominiums and townhouses on Prospect Street. The building has been empty since the 1950s, but Encore Development is restoring the original brick building and transforming it into luxury living spaces.
What: Wormley Row
Where: 3325 Prospect Street, NW
Number of units: 13—seven condominiums and six townhouses.
Prices: One-bedroom, one-and-a-half- baths (1,395 to 1,460 square feet): $1.3 million to $1.4 million; two-bedroom and two-and-a-half-baths (1,460 to 2,410 square feet): $2.35 million to $3 million; four-bedroom and four-and-a-half baths (3,975 to 4,120 square feet): $4 million to $4.5 million.
Expected completion: Condominiums will be finished this spring; three townhouses will be done by the end of 2008, and the rest by spring 2009.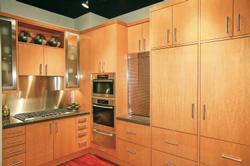 Unit perks: Four units have outdoor terraces. Each townhouse will have its own elevator.
Special touches: Radiant heat, 14-inch crown moldings, underground parking, and a garden with benches and trees out back.
Kitchens: Appliances in the sleek, European-style kitchens include a Viking gas cooktop, three Miele ovens, a deep, single-bowl stainless steel sink, and Sub-Zero refrigerators.
Location, location, location: Wormley Row is just blocks from the corner of M Street and Wisconsin Avenue, the retail hub of Georgetown.
Sold: Only one condominium is under contract so far.