Where: Arlington's Ballston neighborhood
Size: 1,250 square feet
Type: Two-bedroom bungalow
Move in date: August 1, two weeks after returning from our honeymoon
Why Ballston? "We moved to Arlington about three years ago into a one-bedroom apartment with a balcony, pool, gym, and free street parking. It was great. But as the wedding date drew closer and wedding gifts started to arrive, space became a problem. Plus, we wanted to start our married life in a new place, preferably a house. We stumbled onto this house as they were literally hammering the "For Rent" sign in the yard. We ran home to call the Realtor and make an appointment to view it. Two weeks later, the place was ours—twice as big, twice as cute, and practically in our backyard."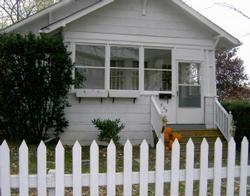 Want to see more photos from Washington events and parties? Click here for Washingtonian.com's photo slideshow page.
Overall Look? "The house is fairly small and low-set, so we wanted something minimal and modern but comfortable and lived-in. Our last apartment always had a cluttered feel because of the lack of space and our large furniture—gotta love hand-me-downs. We wanted to scale things back a bit and really open the space up. We chose pieces with cleaner lines and neutral colors to give the house more versatility and flow."
Inspiration? "I read magazines constantly, especially In Style, In Style Home, Real Simple, and Domino. I save my favorites. I've even decorated a little side table in the guest room with old copies of In Style. Plus, there are always Crate & Barrel and Pottery Barn catalogs in my mailbox or on my coffee table. Rich can get on board with those because they're never too flowery or overdone. Just classic and comfy—that's us!"
Biggest decorating challenge? Making everything fit and blend together. As I said before, we have a lot of really big pieces. This house has forced us to pick and choose our favorites, which meant finally throwing some old college dorm remnants away and actually buying "grown-up" furniture. Embracing the less-is-more mentality has been a challenge, but a good one. Having a basement to hide extra pieces helps, too!
Favorite element? Our couch. We bought it from Crate & Barrel, thanks to gift certificates and store credit from returned wedding gifts. It completely transforms the room and gives it a much more sophisticated feel.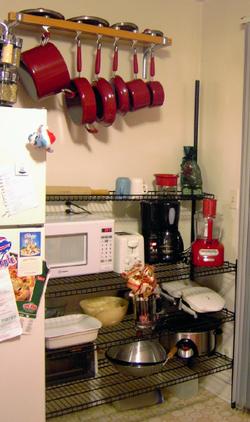 Least favorite? "This house has some of the weirdest outlet placements, which has a big effect on furniture configuration. The same goes for light switches. Some rooms have several, and some have none! Power strips have become our friend.
"Storage is another problem area. There are only two closets—one in each bedroom. No hall closet, no linen closet, no coat closet. Cabinets in the kitchen are few, too. But these can all be worked around with creativity. A baker's rack, a shelving unit, and some decorative wall hooks help."
What's next? "I hate white walls—they're so institutional. A coat of paint is one of the easiest ways to inject color into a room. I want to start with the master bedroom and paint it a nice shade of dove gray to pick up the trim in our bedding. The room is a little dark, and the former tenants didn't take great care of the walls. So I feel like the gray would give it a tranquil feel."
Advice? "A house is very different from an apartment. Floorplans in an apartment can be so predictable and limiting. But houses, especially older ones, have character. We've really learned to appreciate the unique details of ours, like the built in china cabinet in the corner of the dining room and the half walls separating the living and dining room. It's also made us realize what great furniture we already had. The fake fireplace—which Rich's grandfather made—looks like it was made for the house. I was set to completely redecorate, but once we moved everything in, we realized that wasn't necessary. We had the makings of a great house all along; we just needed a house to put it in!"
Open House is looking for more apartments and homes to feature—send pictures of your place to MFleury at Washingtonian dot com.