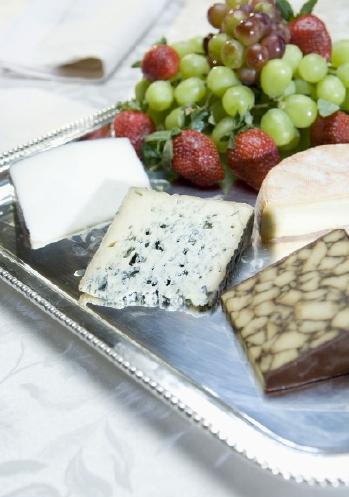 Haylee and Adien, my team's fictional bride and groom, have been busy working on the details of their wedding. They've selected Dana Point, California, as the spot for their beach wedding and picked fuchsia and orange as the colors. Because they're on a tight budget, instead of flowery centerpieces for the beachside reception we've suggested creating a centerpiece of floating candles with daisies mixed in.
We're also helping Haylee and Adien cut costs on drinks. Instead of having an open bar, they'll have just two signature drinks available (plus the typical Champagne toast). The drinks will be created to represent the couple's heritage: an Irish-based one for Adien, and a Hawaiian-based one for Haylee.
If you really want an open bar, don't fret—I can give you some money-saving tips there, too. If you're inviting children, have a sandwich tray available. You can feed the sandwiches to your vendors as well. No need to pay $39 per person for lobster—the kids will be just as happy with mac and cheese. Having a no-kids wedding? Serve passed hors d'oeuvres, and don't go crazy. Instead of filet-mignon bites, try cheaper—but still delicious—choices such as fruit, cheese, veggies, and bread. Having someone pass them around instead of serve-yourself stations will cut down on the number of hors d'oeuvres served, keeping your budget on track.
Although Adien and Haylee are on a budget, I've learned that there are a few budget cutting no-nos. Never have a relative pour the alcohol. It might be cheaper than hiring a licensed bar tender, but the liabilities aren't worth the risk. On the same note, while your Aunt Betty may be just great at cooking for regular family dinners, you should stick with a licensed caterer. And finally, while you might think a cash bar is the way to go, I would think twice: Making guests pay is considered tacky. You want them to remember how beautiful and perfect your wedding was, not how you made them pay for everything! There are plenty of other ways to cut costs—and I'll be back with more of them next week.
If you're a newcomer to this feature, check out Maria's previous blog entries.
To read the latest Bridal Party blog posts, click here.