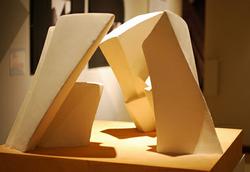 What: Philip Johnson: Architecture as Art
Where: The Kreeger Museum, 2401 Foxhall Road, NW; 202-338-3552.
When: The exhibit runs through July 31 and is open Tuesday through Friday—tours (reservations required) are at 10:30 and 1:30. Also open Saturdays from 10 to 4.
Cost: $10 for adults, $7 for students and seniors.
In the video that anchors this exhibit, the late American architect Philip Johnson peers out over his signature circular glasses. Holding a model in his hands, he explains where he got the ideas for his geometric structures: "I like to be compressed and cuddled, and yet look out, you know?" Johnson, who designed the Kreeger Museum as a home for Mr. and Mrs. David Lloyd Kreeger and exhibition space for their art collection in 1963, died in 2005.
The exhibit showcases models, drawings, and photographs of designs made by Johnson while in his 90s—many of them never realized. A visitor might confuse the exhibit with a toy store filled with geometric doll houses. A red shelf holds sculptures of spirals, cones, blocks, and pyramids that inspired the 1999 Children's Museum in Guadalajara, Mexico. You'll also see the beginnings of his more recognizable works, including a rendering of the Cathedral of Hope in Dallas, a model of Wiener Trio, a famous sculpture in Vienna, and drawings and photographs of his first building, Glass House, now a museum in New Caanan, Connecticut.
A corner of the museum is dedicated to Johnson's Habitable Sculpture, which was eventually realized on New York City's Park Avenue. Zoning restrictions in SoHo made the original design impossible, so Johnson's firm replaced it with a similar glass structure. In hopes that it would one day be built, he made several silk screens and models of his original idea. Kreeger curators collected them for this exhibit.
Worth a second look: the small model of Oasis House, a private residence in the Israeli desert that Johnson designed in 1999. The property includes a below-ground tennis court, a circle of palm trees, and sculpted pavillions.
More>> Open House Blog | Homes | Real Estate