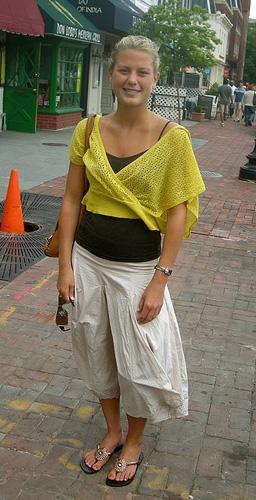 Jessica Cope, 21
Student, Medical University of South Carolina.
I chatted with her and her mother, Mary, who were taking a shopping break outside of Le Pain Quotidien in Georgetown on Saturday.
What she's wearing: A skirt from the Cage in Virginia Beach, her mother's tank top (double the wardrobe!), and a breezy, citron-green sweater. Her bag is Cole Haan. Her earrings are from a street market in Charleston and were less than ten bucks.
How do you like to dress? "I like flowy clothes," says Cope, who'd just left Intermix with a filmy patterned dress that fits the bill perfectly. "I would never wear really preppy stuff, like Lily Pulitzer."
Because Cope hails from Charleston, she told us where to shop and eat the next time we're there, including Intermix-like Biton, the boutique Luna, and restaurants like Cypress and S.N.O.B., which is a cute acronym for the location of the popular (but not at all snobby) eatery Slightly North of Broad.
Rachel says: Jessica looks both comfortable and pretty in a soft and unfussy way that's ideal for hot summers. She's planned for the heat by putting her hair up—in really cool braids—instead of waiting for it to bother her. The soft, breezy cardigan, perfect for popping into air-conditioned stores, adds color and interest to the outfit.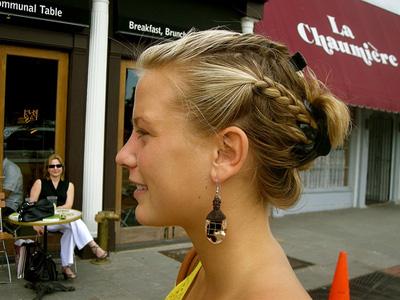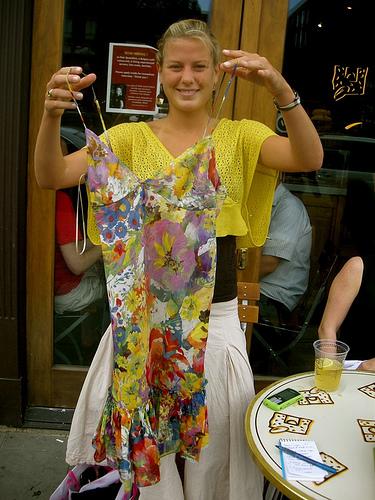 More>> Shop Around Blog | Style | Find a Spa