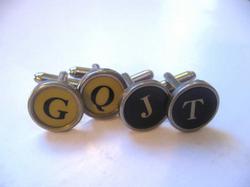 When I was searching for Christmas present ideas for my boyfriend this past winter, a coworker suggested a gift that he'd gotten from his own girlfriend for a past holiday: cuff links made from typewriter keys—one for each of his initials—from What's Your Type? An unusual take on a staple in many men's wardrobes, I thought, and it was a hit with my boyfriend. While I realize no one's holiday shopping right now, here's an idea for any grooms out there searching for a way to thank their groomsmen—or for any bride looking for a little way to say "I love you" to the groom-to-be.
Rachel Hannah started What's Your Type? in 1995, armed with an artistic background and a passion for words. When she met her now-husband, Kerry Loeb, five years ago, he added a marketing background to the company they now run together. They buy old typewriters, then clean and refurbish the keys and turn them into jewelry—from cuff links to bracelets to necklaces. A groom from New York told Rachel and Kerry the cuff links he bought for his groomsmen were a hit: "They are great! Thank you so much for all of your help, and for making this process so painless for me. I wish every aspect of our wedding was this easy!"
I caught Kerry on the phone from the company's home base in Fairfax, California, to find out more about the history of the typewriters and a little about the couple's own love story.
What's the process?
We used to scour garage sales and flea markets. Now we have a number of people who search typewriters out for us throughout the country and the world, and we buy from them. They're usually pretty beat up and rusted out by the time we get them. We clean the keys and send the rest of the typewriter up to an artist in Lake Tahoe, who dissects them and uses the pieces in life-size sculptures. We try to make use of the entire typewriter.
Out of all art elements, why use typewriter keys?
Three things: One, it's recycling. Two, every typewriter has an incredible history. Some of these are 100 years old or even older. Once we bought a typewriter from a woman whose father had taken it with him out of the house before escaping a train to Auschwitz. Every typewriter has an incredible history of people typing letters and notes to friends. Third is Rachel's fascination with different combinations of letters and numbers. Nobody could beat her at crossword puzzles or Scrabble. She's really good.
For cuff links, do people usually order a first and a last initial?
About 60 percent do first and last; 40 percent order two last-name initials.
What are some other interesting combinations customers have asked for?
An X and an O, or a Q and a T for "cutie." People also order two of the number-4 key, which has the dollar sign.
Typing had a hand in how you two met.
We met on Craigslist. Rachel placed a funny post, and ten guys responded. She went through the process of elimination, and fortunately I was the one left standing.
A pair of cuff links costs $38. Find prices for other jewelry items and order at whatsyourtype.com. Get 10 percent off orders of six pairs or more.
This story is party of our Bridal Party blog. To read more posts like this, click here.