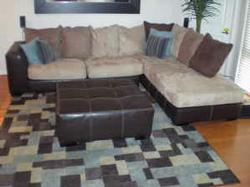 This couch/chaise combo and matching ottoman are available for $850 in Clarendon. The cushions are cream-colored microfiber, and the couch frame and ottoman are chocolate-brown leather with contrast stitching. The set screams upscale bachelor pad and looks like a comfy spot to curl up and watch a movie. The furniture is large—the couch is ten-feet wide and the chaise is seven-and-a-half feet long—so plan on bringing a few friends and a large truck for the move.
Other good finds:
• Cherry wood side table with display shelf for $150
• Queen Ann cherry coffee table for $25
• Mosaic bistro table and two chairs for $55
Thanks, Craig!
More>> Open House Blog | Homes | Real Estate