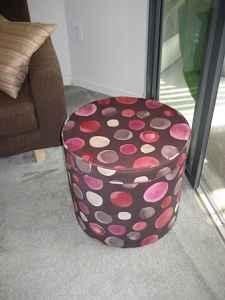 This quirky pink-and-brown polka-dot ottoman is going for $20 in Courthouse. It's covered in soft velour fabric, and although the ad doesn't mention it, the top looks like it might come off for extra storage inside—be sure to ask if you email the poster. Pair it with a chocolate couch or love seat to add a splash of color in the living room. You could also put a circular tray on top and use the piece as a side table.
Other good finds:
• Vanity with mirror and stool for $125.
• Name-your-price coffee table with hidden storage.
• Pub table with two chairs for $210.
• A four-seater hot tub for $1,000.
Thanks, Craig!