After months of toying with the idea of a kitchen overhaul, I dropped by a friend's condo to see her recent renovation. Charlotte was like me. She started talking about renovating her kitchen soon after she bought her place, but she never had the time or will to get started. Also like me, she wanted to take out the wall that separated her kitchen and her living room.
We all have secret means of getting motivated. I refused to fix the drawer face that came off in my hand, with the idea that it would force me to get a new kitchen. Charlotte and her boyfriend took to throwing knives at the wall to see if they could make them stick. Maybe I should have gone with the knives idea, because one day—all of the sudden, it seemed—she had a fabulous new kitchen. It was heartening to see that somebody, somewhere, had made it happen.
I asked for her contractor's contact information. I admit that I have been a bit promiscuous when it comes to the collection of renovation-related contacts. I did the same thing with realtors when I was contemplating buying a place. It's part of my process: Make a decision, buy every related magazine on earth, interrogate everyone I know who has already done it, and on and on. Seeing a finished product, however, was apparently all I needed—this time I actually called.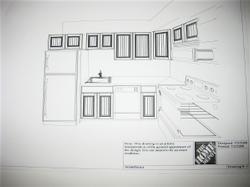 I did not get multiple estimates. I know, it's bad. Honestly, I'm not sure how people do that. I called a few other contractors, but setbacks stacked up before they even got a chance to see my kitchen. I chose one company off of a local referral service, made an appointment, and waited two weeks. An hour after the contractor was supposed to show up, I called his office, only to be told "Oh, he's not going to be able to get there today. Would you like to reschedule?" Um, no.
I quickly learned that my kitchen had limitations. My 1926 building did not originally have air conditioning. In the 1980s, when the building was converted into condos, the owners wisely retrofitted it with central air. The price I pay for that now is awkward duct work, which means there are odd places in every room where the ceiling drops 18 inches or so. I chalked it up to "charm" until I realized my kitchen is boxed in by those air ducts.
I would need extra flexibility in buying cabinets, which immediately eliminated Ikea from the equation. Off to Home Depot I marched, all the way up in Hyattsville. Whether you design your kitchen at Ikea, Home Depot, or Lowes, it seems to work about the same: You go in with pictures and measurements, and a salesperson works up a design before your eyes. At first, it's fun. It's your first glimpse of your future kitchen. Three hours later, you are over it.
The brand of cabinets was dictated by the sizes offered. I want simple white beadboard cabinets—that was the easy part. The woman working with me, who was incredibly nice, could not seem to cram a workable kitchen into the space. When she finally did finish a design, I was exhausted and happy to have one at all. Then, I took another look.
The sink was crammed up next to the refrigerator. Would it be the kind of thing I would get used to, or would I rue the day I signed off on it? Would I be able to use my left hand to do dishes? Also, the corner cabinets on top weren't completely symmetrical. That may sound picky, but you don't know what is going to haunt you for the next ten years. Lastly, my contractor informed me that she had entered many of the measurements incorrectly. Back to Hyattsville. Three more hours.
This time was much better. An equally nice salesperson helped me, and she seemed to have a lot more experience. She had creative solutions to my awkward set up, and she got the kitchen sink six inches away from the refrigerator. We faxed the new plans to my contractors, who tinkered with a couple things, and we all called it a day.
Construction starts in one week.
Diary of a Fixer-Upper is a weekly Tuesday column chronicling home renovations in DC. You can read the archives, including former columnist Heather Goss's renovations, here. Check back every Tuesday for more of Daphne's adventures.
More>> Open House Blog | Homes | Real Estate